Honda has launched the official accessories for its neo sports cafe racer, the CB300R. Spoiler alert: they aren't cheap
The add-ons are divided into four categories: premium, protection, sports, and standard.
Prices for the accessories start from Rs 341 and goes all the way up to Rs 15,009.
There are no performance-enhancing accessories though.
The accessories are expensive as they are imported into the country and thus attract high taxes.
Last month, Honda launched the all-new CB300R at Rs 2.41 lakh (ex-showroom Delhi). If you have already bought the entry-level neo sports cafe racer or if you are planning to buy one in the near future, we have news for you. Honda has revealed the official accessories for the CB300R that you can buy through the 22 Honda Wing World outlets spread across India.
As both the CB300R and the accessories are brought in via the CKD route, they attract quite a premium. Also, Honda dealers have said that these accessories are not covered under any warranty. You are probably better off looking for third-party aftermarket parts provided they do not void your bike's warranty.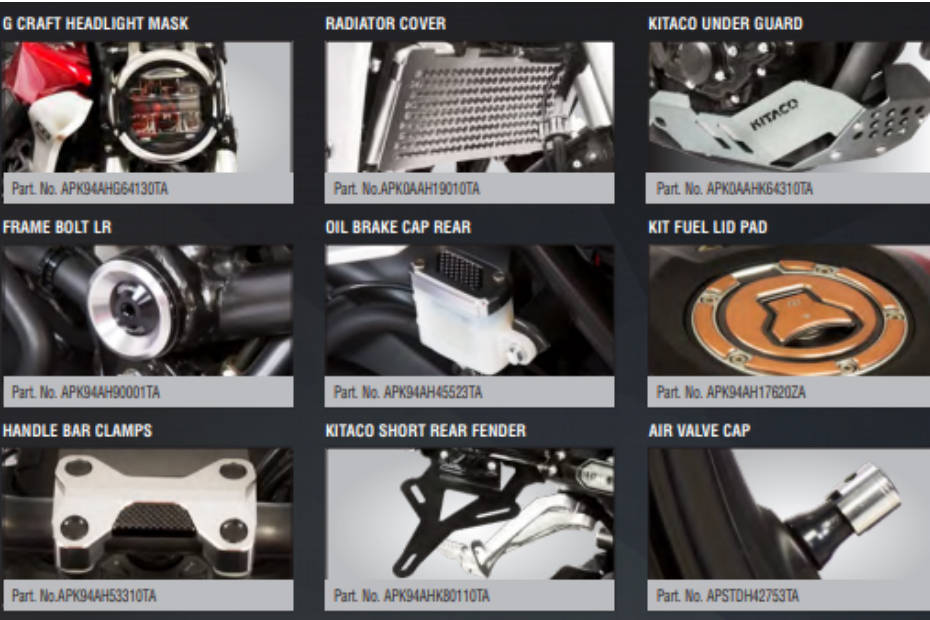 In all, there are 16 add-ons on offer and you can either choose a specific accessory for your bike or buy the whole kit. What Honda has done is that it has segregated all the accessories into four main parts: premium kit, protection kit, sports kit and standard kit. The premium kit consists of accessories such as handlebar clamps, oil brake cap, oil filler cap, handle grip weights, a washer set and frame bolts. The protection kit, on the other hand, is the most expensive kit of the lot. Priced at Rs 35,895, it includes a crankcase cover, a fuel lid pad, a radiator cover, a headlight cover and a Kitaco sump guard. The standard kit, priced at Rs 16,666, is a tad more expensive than the sports kit (Rs 4 to be exact). While the standard kit features a headlight cover, a Kitaco rear fender and a radiator cover, the standard kit gets an sump guard and a radiator cover.
All these accessories give the CB300R an aesthetical update, but we would've appreciated it if Honda had thrown some performance-enhancing add-ons such an exhaust system, an ECU remap and different tyres in the list as well.
Here's a detailed look at the accessory list:
| | |
| --- | --- |
| Accessory name | Price |
| Crankcase cover | Rs 13,431 |
| Radiator cover | Rs 5,137 |
| Kitaco under guard | Rs 15,009 |
| Washer set | Rs 3,497 |
| Fuel lid pad | Rs 1,980 |
| Handle grip weight | Rs 3,168 |
| Oil brake cap | Rs 1,824 |
| Oil brake cap rear | Rs 1,780 |
| Handlebar clamps | Rs 3,168 |
| Frame bolts | Rs 2,371 |
| Headlight cover | Rs 7,898 |
| Kitaco rear fender | Rs 7,112 |
| Oil filler cap (black) | Rs 2,337 |
| Rear service stand | Rs 8,818 |
| Air valve cap | Rs 341 |
| Bike body cover | Rs 999 |