Now you have two colours to choose from for the Versys 1000
The new colour option is called "Candy Lime Green/Metallic Spark Black".
It costs as much as the existing white colour option.
The Versys 1000 was launched in India in February 2019.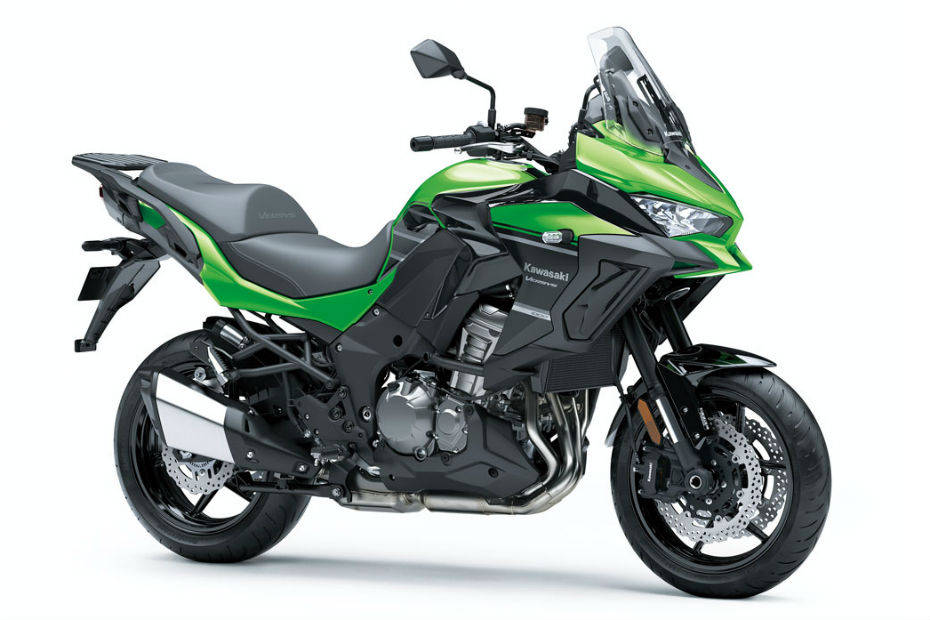 Kawasaki has updated its flagship road-biased tourer, the Versys 1000, with a new colour called "Candy Lime Green/Metallic Spark Black". At Rs 10.89 lakh (ex-showroom India), this new colour option doesn't come at an extra cost over the existing white colour variant. Apart from the new colour, the motorcycle remains the same mechanically.
Interestingly, when Kawasaki announced pre-bookings for the Versys 1000 in the Indian market back in November 2018, it had initially planned to offer the Candy Steel Furnace Orange colour. However, due to customer demand, the brand decided to bring the Pearl Stardust White colour instead. The motorcycle was launched in February 2019 at Rs 10.69 lakh (ex-showroom Delhi), which is Rs 20,000 less than its current price. In a related development, Kawasaki recently updated the Ninja ZX-10R and Ninja 400 with new colour schemes too.
As far as rivals are concerned, the Versys 1000 goes up against the Triumph Tiger Here's Kawasaki's full statement regarding the introduction of the new colour for the Versys 1000:
Press Release:
Kawasaki VERSYS 1000 MY20 Receives New Colour Scheme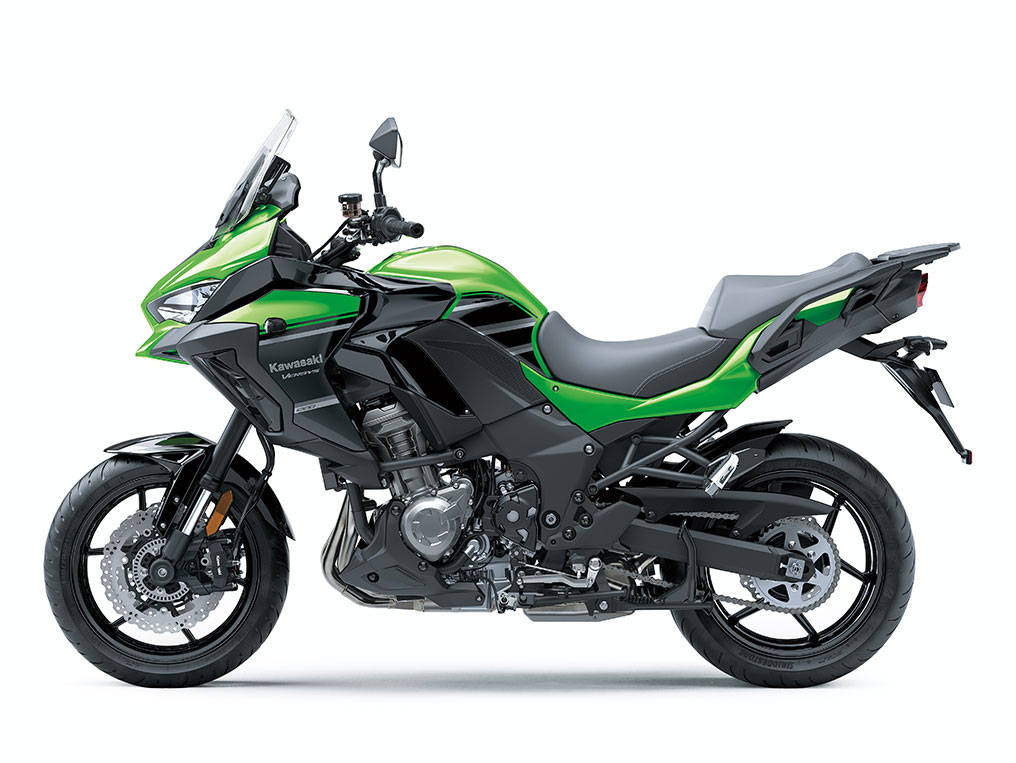 India Kawasaki Motors Pvt. Ltd. (IKM) announces addition of new colour of Versys 1000 'Candy Lime Green/Metallic Spark Black' as variants. The price remains unchanged.
Versys 1000, Any road Any time, A crossover built out of Ninja 1000 and Z1000, having engine and chassis optimised to maximize the riding enjoyment. A proper fusion of required power with all the latest features that makes every tour the best tour. Versys 1000 is the most versatile adventure-style motorcycle Kawasaki has ever made.
Versys 1000 is built to suit plethora of riders to have good times across a wide variety of street riding scenarios. With all-new performance-increasing updates to the engine, suspension, and ergonomics, as well as increased long-ride comfort and advanced rider support technology. Complementing the increased performance and handling advancements is all new, fresh, and unique Versys styling, which showcases the balance of aesthetic appeal and functional design. The straight upright riding position is adequate enough to take the road less travelled.
The Versys 1000 features a powerful but playful liquid-cooled, DOHC, 16-valve 1,043cc in-line four engine, which creates strong low-mid range torque and facilitates smooth power delivery. The engine has been tuned for flexibility and offers superb throttle response, strong torque throughout the rpm range.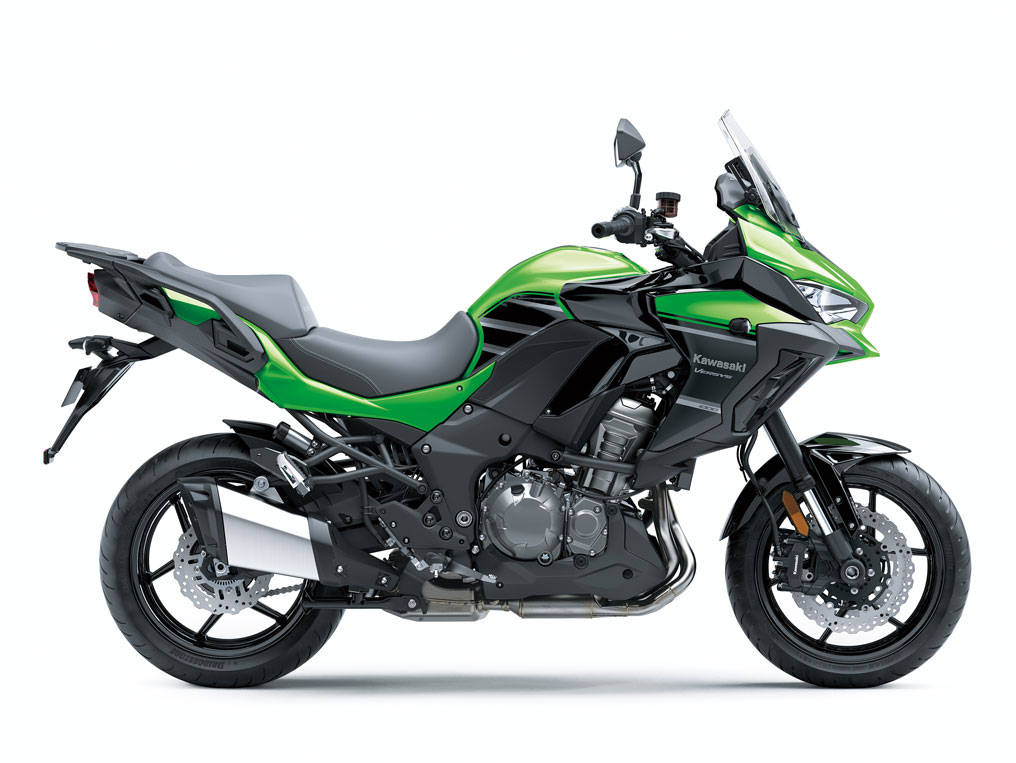 The all-new Electronic Throttle Valves enable the ECU to control the volume of both the fuel and the air that are delivered to the engine, by way of the fuel injectors and throttle valves. The new colour option will definitely lure the customer and will be enough to tickle a thought of purchasing. The price for our new colour variant still remains the same. This price drop for our premium sports tourer litre class segment was a result of using some locally procured parts and manufacturing Versys 1000 in India.
Kawasaki's premium adventure-style tourer allow a wide range of riders to experience the thrill of riding and exploring their agility to new limits. Kawasaki motorcycles possess both power and grace so are often recognised as being different to other bikes. This results from certain guiding principles adopted at the design stage. Rideology is Kawasaki's rider-centric development philosophy focused on how the riding experience offered by a Kawasaki is crafted, ensuring that our machines are fun to ride and rewarding to control. This approach has been the force behind many of our legendary machines, and in our pursuit of all possibilities it will continue to guide the future creation of Kawasaki motorcycles.
Vehicle Features at glance:
Exciting In-Line Four Engine, based on Ninja 1000, with strong torque at all rpm (especially in the low-mid range)
Aluminium twin-tube frame
Suspension: Updated front and rear suspension settings contribute to plusher feeling suspension.
Radial-Mount Front Brake Calipers
Twin LED Headlamps
Adjustable Windscreen
Handy power source (DC socket for accessory)
High-Class Instrumentation
Notable features in Electronics:
Electronic Throttle Valves
Electronic Cruise Control
Kawasaki Cornering Management Functions (KCMF)
Kawasaki Traction Control (KTRC)
Kawasaki Intelligent anti-lock Brake System (KIBS)
We expect this new colour will give more options to customer for making hassle free decision and who are very particular about colour choice.