Who said that the Ninja 650 can't handle the rough stuff?
This custom Ninja 650 is the brainchild of France-based Taverne Motorcycle Garage.
It sports a custom subframe and a custom front suspension setup.
The engine could be the same as the standard Ninja 650.
Features a new SC-Project exhaust.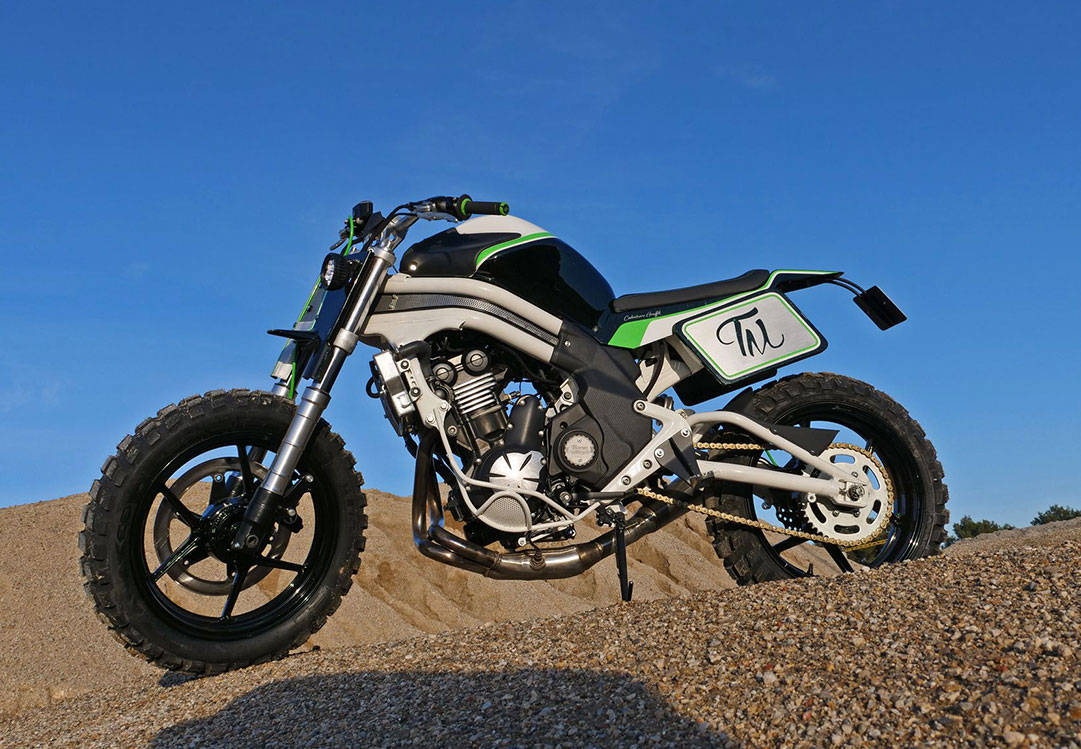 France-based custom bike builder, Taverne Motorcycle, has unveiled its latest creation based on the Kawasaki Ninja 650. Sure, it doesn't look anything like the fully-faired sportbike, but it sure is one hell of a custom build. One of the reasons why this particular model has made it into our good books is because the custom house has changed the entire character of the sports-tourer by turning it into a dirt machine!
While the Ninja 650 is a typical sports-tourer with its full faired look, Taverne Motorcycle has decided to ditch the plastics. In fact, it features a custom handlebar for an easy riding position. Additionally, being an off-roader, it gets long-travel suspension setup at the front. But, not just any other shockers. The custom builder has used the Triumph Daytona 955i's setup. Weird, right? The rear suspension, on the other hand, is a stock unit. Braking hardware consists of a single Beringer disc setup with a custom rotor. The custom-house hasn't revealed the engine details, but we expect the power output might be slightly different than the standard model due to the inclusion of a custom SC-Project exhaust.
The reworked tail section is supported by a lighter subframe, which should make it easier to control while taking it off the road. Speaking of off-roading, it comes equipped with knobby tyres at both ends. Apart from these changes, it is equipped with a custom headlamp, a new seat, a custom paint job and flat-track-inspired number plates on the side panels, all of which serve just one purpose - saving weight.
Now, that you have seen the bike and know all the changes that the custom-house has done, would you transform your Ninja to an off-roader? We would, that's for sure. All we need is a spare Ninja.
Source: imotorbike