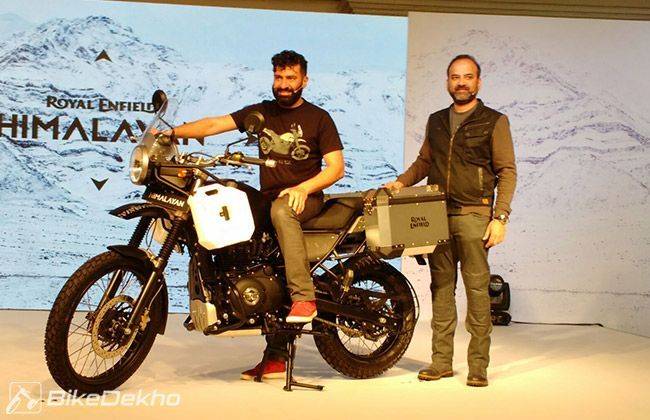 Royal Enfield has finally launched the Himalayan in India at Rs. 1,55,545 (ex-showroom, Maharashtra) and it will cost you Rs. 1,78,872 (on-road, Mumbai). The Himalayan was first unveiled on 2nd February 2016 in New Delhi followed by a media ride a few days ago. The 410cc machine is seen as the first proper entry level adventure motorcycle that will be available at a much affordable price tag in comparison to other bikes in this segment. With its launch, Royal Enfield has finally stepped into adventure motorcycling, which was earlier known for its torquey, thumping cruisers only. The bookings for the Himalayan will start tomorrow and the deliveries will be done in a staggered manner.

The Royal Enfield Himalayan comes powered by a brand new long stroke 411cc single-cylinder engine. This new engine has been tuned to let out 24.5bhp of maximum power and release 32Nm of torque. Even though the power figures don't look like much, they've tuned the engine to give the rider more low end torque and this is what's needed in a motorcycle like this. The long-stroke engine has been engineered for adventure touring and one of its main features is that it will require an oil change only after an interval of 10,000kms. The Himalayan has been built with inputs taken from Harris performance in the UK and Indian Dakar racer CS Santosh.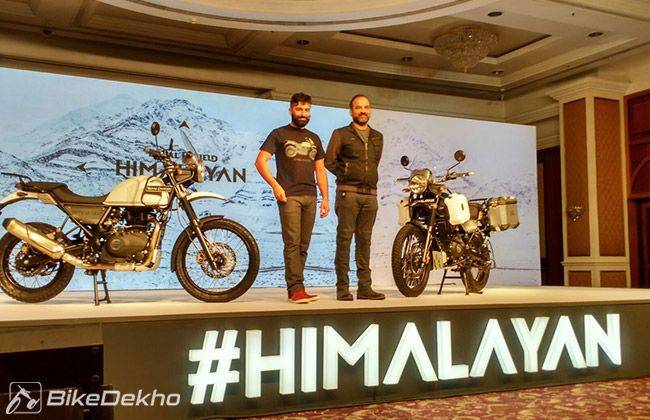 One of the most praised features of the Himalayan so far is the suspension setup. It gets 41mm front forks with a travel of 200mm making it great for riding in rough terrain. For the first time in the history of Royal Enfield, a mono shock is used at the rear. The suspension setup combined with the spoke wheels and on-off road CEAT tyres add to the motorcycles ability to go literally anywhere.
Speaking at the launch of the Himalayan, Mr Rudratej (Rudy) Singh, President Royal Enfield said, "What excites me about our new motorcycle, is that it fundamentally builds on Royal Enfield's core philosophy of balancing aspiration with access. It allows both seasoned riders as well as enthusiasts to do more with just one motorcycle. The Himalayan serves the purpose of a seasoned rider and at the same time opens the roads (pun not intended) to many more people who will get the confidence that they can ride on and off the road less travelled, going beyond their day-to-day commuting needs."
"Functionally - the Himalayan's non-intimidating spartan design, a flat torque curve, accessible seat height and long suspension travel alongside the ease of ownership, make the Himalayan is an extremely versatile motorcycle that is adept for long rides while equally being the definitive choice to navigate our urban jungles. Towards creating and growing a new segment which offers an option for adventure loving motorcycling enthusiasts we are offering the new Himalayan at a price of Rs. 155,545 (Ex-showroom) in Maharashtra and Rs. 178,872 (on-road) in Mumbai" , Rudy added.


The Himalayan comes with a seat height of just 800mm making it convenient for short riders. The front end gets in built mounts for two jerry cans in which you can store water or fuel while going out on long journeys. The rear side panels also receive luggage  panniers but they are sold as accessories while the mounting points are standard so that you can mount your own saddle bags too. The Himalayan also gets a large windshield at the front that should provide good wind protection at high speeds.

The Royal Enfield Himalayan will be available at dealerships soon and will be available in two colours namely Granite and Snow i.e. Black and White respectively. As far as competition goes, presently there is no direct competition to the bike but if you look at the price bracket that it's in, the Mahindra Mojo stands closest to compete with the Himalayan.
Here are the city wise on-road prices of the Royal Enfield Himalayan:
Bangalore: Rs. 1,84,316
Kolkata: Rs. 1,81,517
Chennai: Rs. 1,75,840
Hyderabad: Rs. 1,76,580
Pune: Rs. 1,70,362
Navi Mumbai: Rs. 1,71,065