TVS pleasantly surprised us with this stunning concept cruiser at the Auto Expo 2018. Let's take a look at what the Zeppelin packs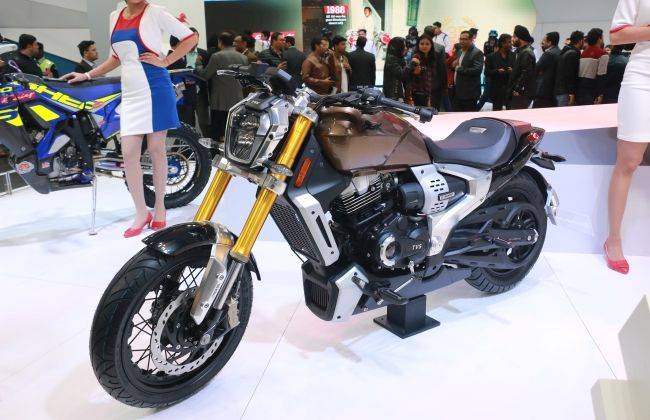 Auto Expo this year didn't have that many surprises for two-wheeler enthusiasts, what with it becoming increasingly tougher for manufacturers to keep secrets in this age of social media leaks and the popularity of cellphone cameras. So since we had prior knowledge of most of the production models that were showcased at the expo, it was upto the concepts to truly wow us showgoers. And wow us was what the Zeppelin did.
TVS pulled a fast one on us - we didn't have any inkling that the Chennai-based manufacturer was even contemplating getting into cruiser territory, let alone a cruiser concept with electric propulsion and a smorgasbord of futuristic technologies onboard.
The TVS Zeppelin is a performance cruiser concept powered by a 220cc single-cylinder engine that's good for 20PS and 18.5Nm. Pretty run of the mill numbers, yeah. The futuristic part starts in the form of something called Integrated Starter Motor or ISG that TVS has patented. Although they didn't explain the tech much further, it helps the motorcycle start up faster by giving it some sort of augmented boost. This reportedly lends the Zeppelin best-in-class fuel efficiency while also enhancing its performance, since it is the acceleration cycle that burns the most fuel. Think of it as a variation of Maruti Suzuki's SHVS smart-hybrid system -- which is used as a torque fill in Maruti's Ciaz and S-Cross diesel motors -- in a scaled down package, if you will.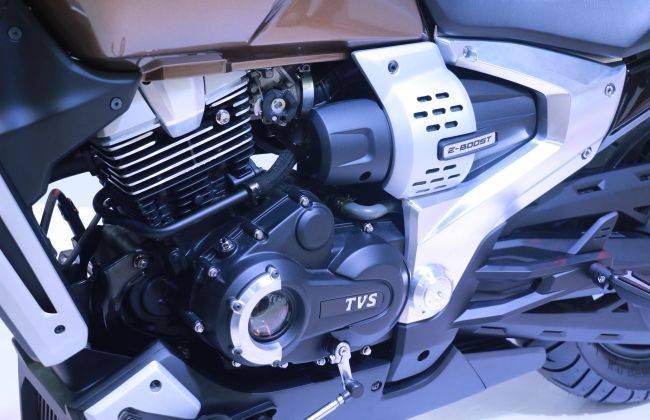 Then there's the 1200W regenerative assist motor. Powered by a 48v Li-ion battery, it enhances the performance of the petrol unit by lending the bike 20 per cent more torque, most of which is available from the get-go. Putting it all down is a five-speed transmission and belt final drive, another first for TVS Motor. Only one performance stat has been revealed: the top speed, which stands at 130kmph.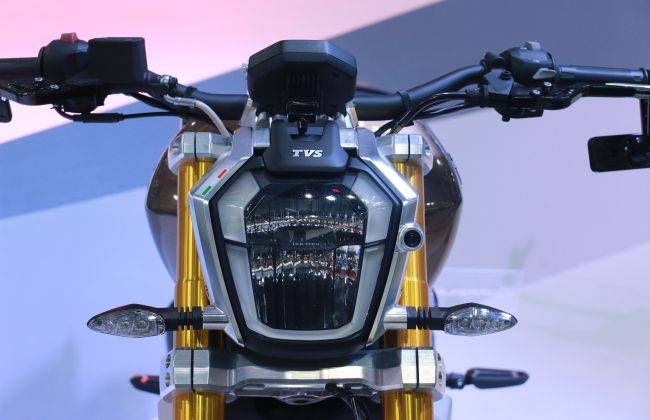 The Zeppelin also looks the business, with beefy 41mm gold USD forks (from the Apache RR310) that add a nice sporty flair to the cruiser. Its headlamp is a pleasantly minimalist design but its shape ensures it not mistaken for being retro, and the tank echoes the same simple yet modern styling. Below the tank lies a large faux radiator that is too large to be just an oil cooler -- but keep in mind that this is a concept motorcycle and they tend follow a more form-over-function philosophy. The fact that the engine is also heavily finned does not point towards liquid cooling. Other standout visuals are the long belly fairing, stepped seat and large rear tyre hugger.
TVS has included a nice wish list of features that include LED lights, internet connectivity, and something called "bio key" that we will have to wait for TVS to explain more about. Then, since it is 2018, there's an integrated action camera in the headlight assembly to capture your travel videos or just plain use as a dash cam.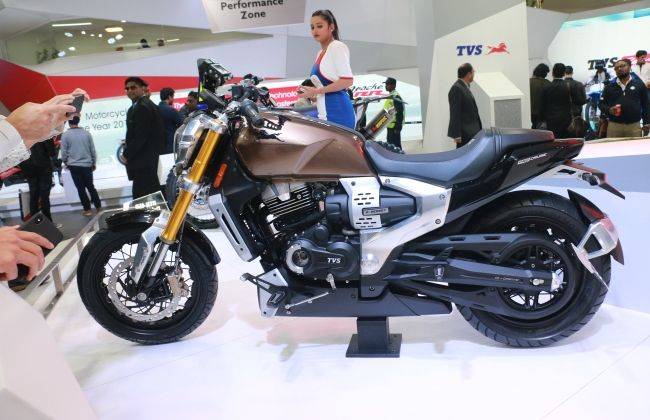 As much as we'd like to see the TVS Zeppelin concept make its way to showrooms exactly the way we saw it at the Auto Expo floor, there's no way that's happening. It's just too far out there. Rather, think of it as a platform to showcase all the new directions that TVS is venturing into. With just the Avenger and now the Suzuki Intruder catering to the needs of customers, the cruiser market sorely needs some competition, some shakeup. A production version of the Zeppelin might just be what the doctor ordered. TVS, pretty please?