The pros: Aggressive looks, well cushioned seats, good ergonomics, an incredible power-to-weight ratio, quick acceleration, braking and handling is quite impressive.

The cons: Hard clutch operation, the bike heats up pretty soon, comfortable for pillion.

The crux: This bike has brutal looks and agile nature of a typical street bike, but it's neither a commuter nor a tourer it's a true blue street bike.

Austria, a landlocked European country, known as 12th most stable economy in the world, and significant one in world history because of the World War era event. But these days this European country is more famous for its orange monsters, yes, the brutal, agile and powerful orange monsters. After ruling this scenic country for decades, these Ready to Race monsters are now ruling the entire Europe. Thanks to our home-grown brand Bajaj, these machines stepped on Indian shores two years back with the brutal but heart robbing KTM Duke 200. And to thrill the speed junkies of the nation, KTM has launched the Duke 390, a docile middle weight bike, which is packed with a bigger 375cc engine on board.
The bike was launched in June, but problems at Bajaj's Chakan plant meant that we had to wait till September to get our hands on this mean machine which I rode to its maximum during its stint with us.
Styling: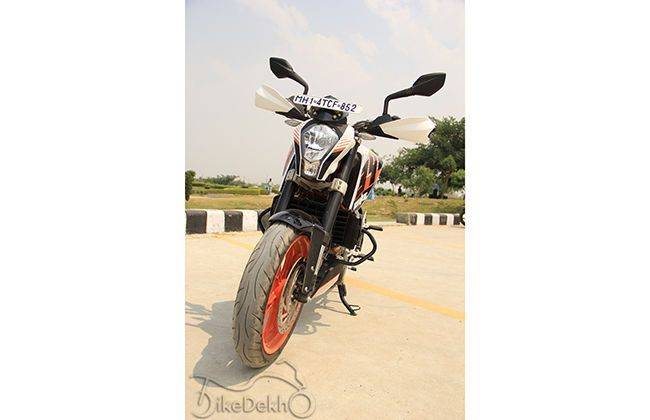 The design and styling were familiar as it adorns the similar design and dimensions that of KTM Duke 200, so Indians are already familiar with the ravishing stance of this brutal looking naked street bike. For me it is one of the best-looking naked street bikes I have ever seen on our roads. Apart from the fact that it comes with minimal body panels the bike has an appeal of its own and it is very photogenic. Starting from the front fascia, the oval shaped headlight with a rectangular beard-like pilot lamp below it surrounded by a thin fairing giving it a distinctive and aggressive face. The headlamp cluster along with the sleek turn indicators attached to this cowl altogether gives a masculine face. I liked the angular rear-view mirrors, which also enhance the sharpness of the design.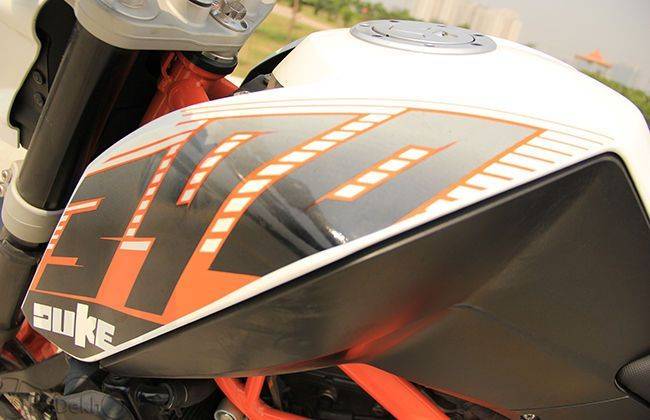 If you look at it from dead center the headlamp coupled with the fat front tyre, unique compact fender, muscular front forks and the tiny visor with a number plate, provides an aggressive feel to the front. There are some unique touches to this machine including the 10 spoke alloy wheels, which dipped in orange unlike the Duke 200, look flashier than the blackened out version. The motorcycle although having a muscular appeal, however has a lean body language throughout the side silhouette. In the process of mass centralization this bike also has a under belly exhaust.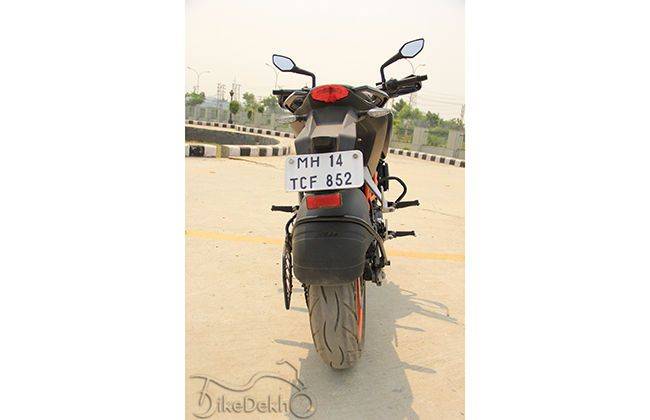 Following the true naked bike styling, the Duke 390 features minimalistic body panels; however its tubular Trellis steel frame painted in Orange looks lustrous. The pointed and aerodynamic tank, flowing through the small-sized under cowl, and the extended edgy rear body panels give it a stance that you can't resist yourself to stop and stare at it twice. The split seats with the grab rails mounted on the rear cowl also does the act of garnishing here. Moving to the rear there is a big rear fender with a tiny LED tail light mounted on its top adding to its brutal appeal. No complaint on designing but still it is the same Duke 200 apart from the Orange alloy wheels and factory fitted hand guards.
Switch Gear and Ergonomics: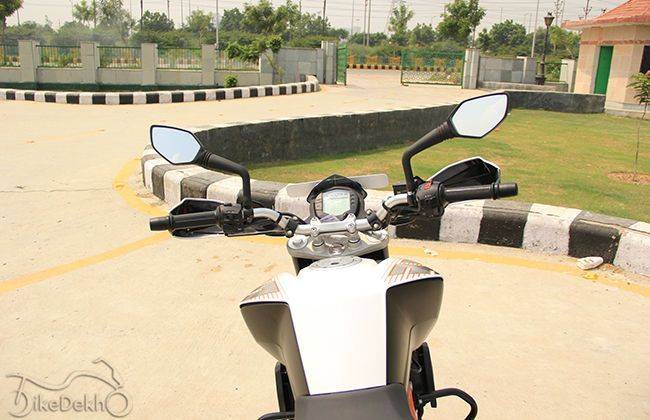 Just like the Duke 200, the Duke 390 also uses the same typical Bajaj Pulsar's backlit switch gear, that's a good thing as most of us are well aware of that switch gear. The instrument console is also the similar unit which comes with the Duke 200. It has a small rectangular orange-colored LCD screen, having plethora of information like speedometer, tachometer, odometer, 2 trip meters, fuel gauge, temperature gauge, gear indicator and much more in a digital fashion. Though being fabulously designed, the tiny size of the fonts and cascading tachometer do require some serious concentration to be read. The other important basic tell-tale lamps are placed around this screen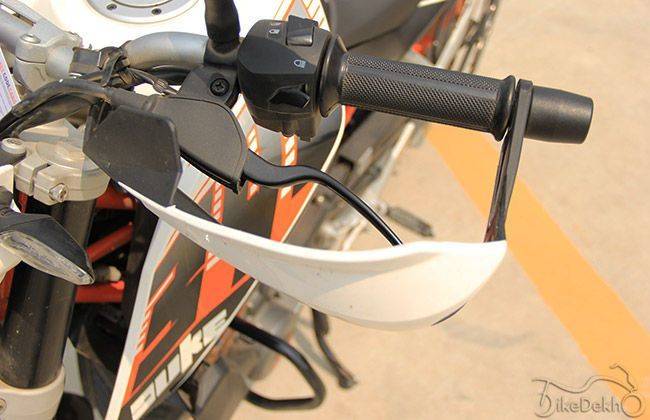 In a true street bike fashion the Duke 390 comes with wide handle bars, upright seating position and rear set foot pegs, which provide better riding position to roam around the street on high speeds. The split seats are wide and well cushioned. All in all, I like the build quality and fit & finish, which are top notch with a typical European soul to it.
Engine and performance:
KTM Duke 390 comes with a single-cylinder, liquid-cooled, fuel-injected, 4-stroke, 373.2cc heart, which pumps out a maximum power of 44bhp @ 9000 rpm and an utmost torque of 35 Nm, which is churned out @ 7250 rpm. The bike is mated to a slick 6-speed manual gearbox, with a one-down-five-up pattern, which offers you the most accurate gearshifts out there. The celestial relationship of this utter wild engine and the extra-light tubular frame (the dry weight being just 145 kg) results in an incredible power-to-weight ratio, and this is felt instantly once you rev the throttle wide open. This wonderful nature of the chassis makes the motorcycle cover up the sprint of 0-100 kmph in a light-fastening 7 seconds.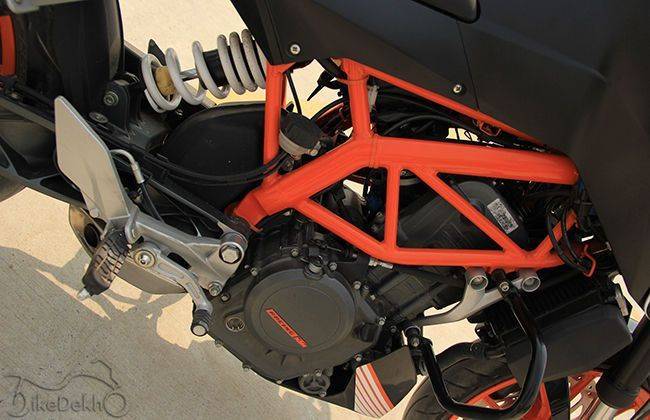 The super-slick and smooth gearbox, boasting of well-matched gear ratios, should be given full credits here, because of which the power is utilized to its fullest. Rowdy demons need not to be loud and gruff, and this 373.2cc engine proves it. This powerhouse is refined and vibe-free even at the speeds of 150 kmph. The awesome low-end and mid-range grunt makes this bike one of the fastest single-cylinder motorcycles available on the Indian soil. This performance is not reserved for flat-straights, but can be utilized for rough and irregular terrains as the chassis is much flexible for off-roading credentials too, complemented with its high ground clearance of 170mm. I like the responsiveness of the engine, as there is a lot of torque available on all the gears. However, when riding in low gears and rpms, the bike heats up pretty soon, which is an irritation thing in the traffic, this thing certainly limits it commuting abilities. Another thing its clutch, which is progressive but it is heavier to pull and even hard to hold for longer. There is a significant windblast past 130kmph, which is quite irritating. However, I managed to hit a top-speed of 165kmph.
If I talk about mileage, it returned an impressive fuel economy of 28kmpl in city and 35kmpl on highways.
Ride and handling: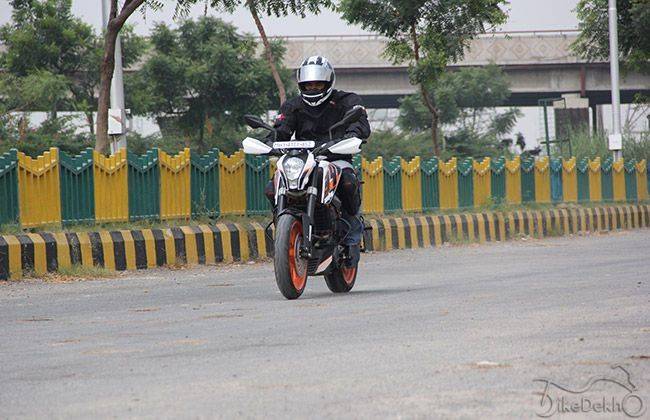 Here I want to quote Mr. Spiderman that 'great power comes with great responsibility', and it goes with the motor bikes as well because a bike without proper handling and braking will be a dangerous affair. And like always, KTM has taken care of the braking and handling qualities quite seriously. Its typical street bike like siting posture gives optimum comfort and superior flickability through city traffic and long rides, a natural trait only associated to commuter bikes. Though the perch for pillion riders is not that comfortable for long highway jaunts for a full-sized adult.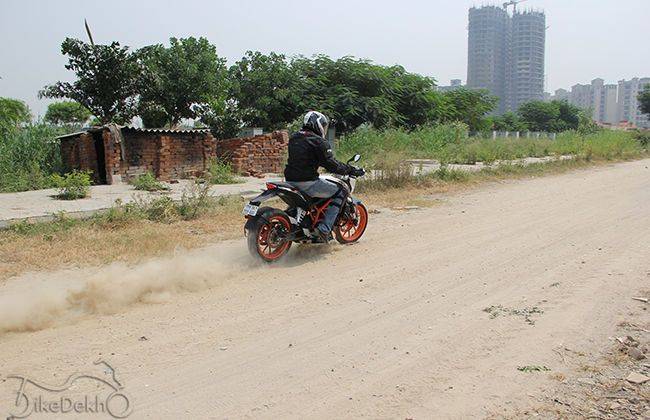 The fantastic race-inspired suspension setup of upside-down 43mm dia WP hydraulic forks at front and monoshock at rear enables you to steer this bike with full confidence at any corner or at any speed. The tires are also very much trust-worthy; the super-special Metzeler sportec tubeless rubbers - 110/70 front and 150/60 rear – are a first for any Indian bike, which provide you ample grip to be stable in wet or dry condition. These tyres, though costlier, provide more grip than the same-sized MRFs found on the 200cc version. The brakes too are responsive to bring to halt this enormous amount of performance on tap. The 300mm front disc and a 200mm rear disc, supported with the Bosch standard ABS system which can be switched off when not in use, have the perfect bite which offers you the least possible stopping distances and the ABS giving the extra stability in wet terrains. This whole amalgamation of fabulous engine, Trellis chassis, suspension, ABS and brakes is a boon for performance lovers, especially stunt riders.
Verdict: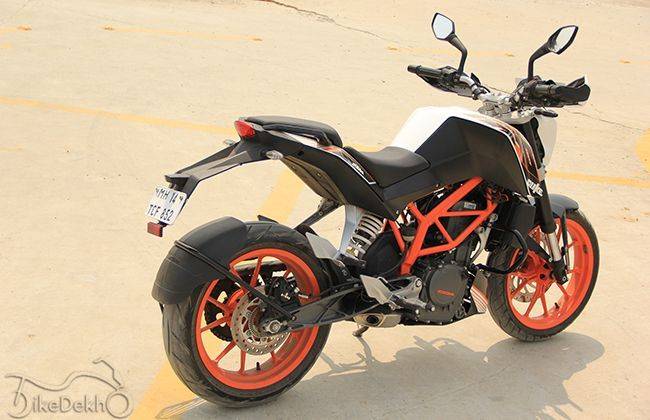 Big bikes are becoming famous in India with every passing day, but these imported bikes come at hefty price and one needs to have a deep pocket in order to buy and maintain these biggies. However, the KTM Duke 390 is a different case here, this 375cc bike has that big bike DNA and its Rs. 1.80 Lakh (Ex-showroom, Delhi) price allows you to buy it without having any second thoughts. This bike has brutal looks and agile nature of a typical street bike, but it's neither a commuter nor a tourer it's a true blue street bike. However, at the same time Duke 390 is the best value for money product in quarter litre and above capacity bikes.