We rode the new Yamaha R15 V3.0 on the Madras Motor Race Track and came back mighty impressed! But can it make a mark out in the real world too? We put Yamaha's entry-level supersport through our comprehensive test cycle
Here since 2008, the Yamaha R15 has been one of the few 150cc motorcycles that could excite newbies and experts alike. While its 150cc motor is small on capacity, it makes up for it with sharp riding dynamics and supersport styling. Fast forward to 2018 and two generations later, the YZF-R15 V3.0 is finally here. It has a slightly bigger, more powerful engine, even sharper handling and a design that will get a unanimous thumbs up. But is that enough to help it stay afloat in a market where there are plenty of similar or better performers from Bajaj and TVS with a lower price to power ratio? We pottered around the city and carved through some ghats for answers.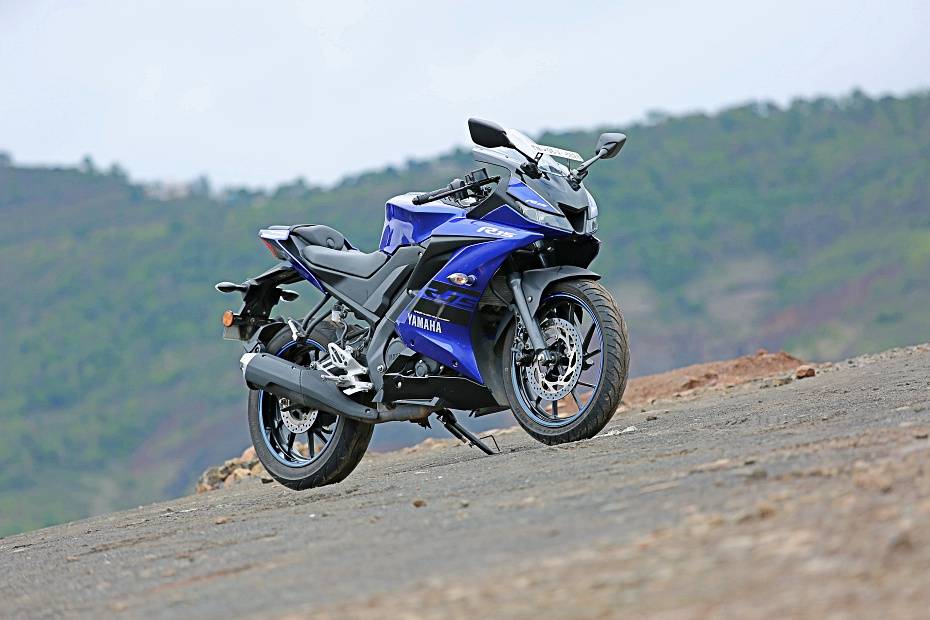 Design and Features
While all three generations took design cues from the R6 and the R1, the current R15 is the one with the most well-proportioned design. Viewed head-on, the R15 V3.0 is certainly a head-turner as it gets a gaping centrally located faux air duct flanked by slim LED headlamps. The side profile has lost the sharpness of the second generation and looks a little rounded in comparison. Dimensionally, it has grown in length by 20mm, in width by 55mm and in height by 65mm.
The fuel tank receives shark gill-shaped vents which look really cool but come at the cost of storage capacity which, at 11 litres, has gone down by a litre. With the absence of a pillion grab rail, parking it in tight spots will be tough, especially when you factor in the slightly flimsy screw holes under the seat holding the tail panels. The rear end has a clean look and features a triangular LED tail light unit.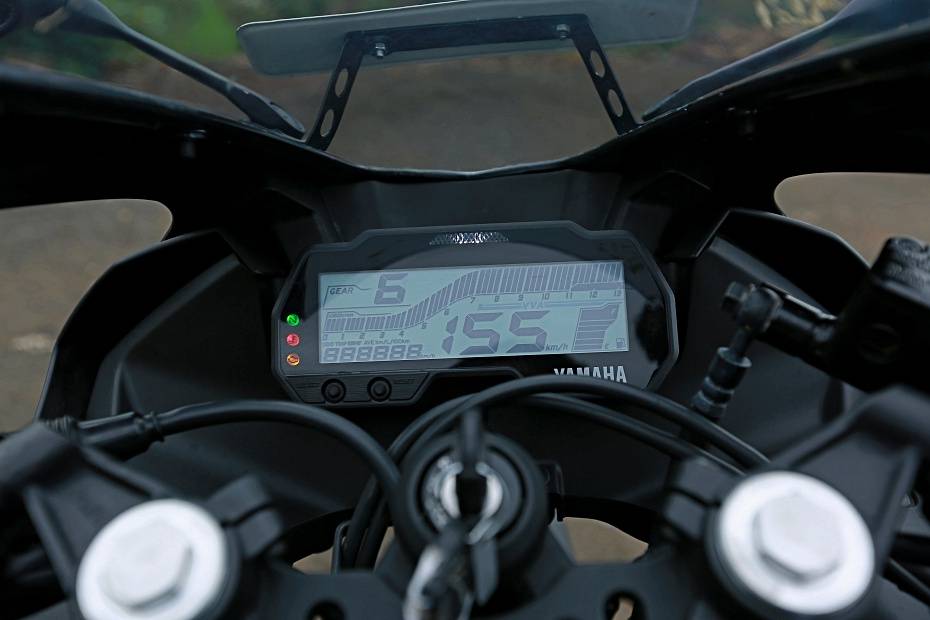 There's a huge jump up in the features' count. It receives a fully digital instrument console that's similar to some premium motorcycles. Switch on the key and it greets you with a 'Hi Buddy' message which can be personalised with your name with the two buttons placed at the bottom of the screen. Other information that it relays includes fuel consumption (instantaneous and average), gear position indicator and a VVA (variable valve actuation) indicator. Quality levels are typically Yamaha until you look closely to find some unsightly weld points and plastic panels with gaps. But in spite of these niggles, the R15 shines in terms of overall finish and comes across as a bigger capacity motorcycle.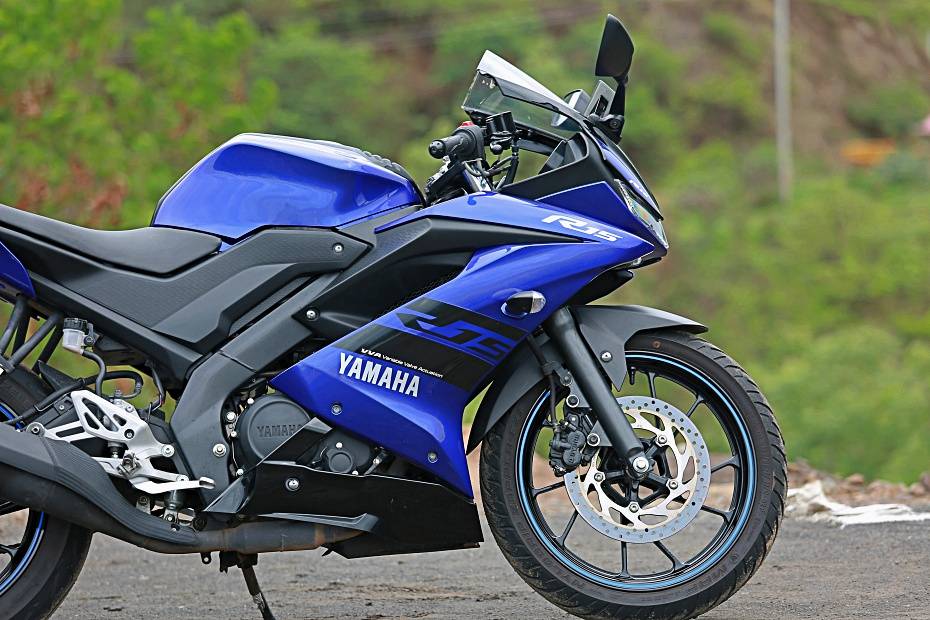 Engine and Performance
This is where the magic lies. The Yamaha R15 V3.0 receives a slight bump in engine capacity displacing 155cc instead of 149cc. Another change to the liquid-cooled, 4-valve motor is the addition of VVA (variable valve actuation). This tech helps alter the engine to run two different valve timings - one for a stronger lower-end pick up and another to aid top-end grunt. Whenever the VVA is in action, at about 7400rpm, the console notifies the same, taking the engagement factor up a notch.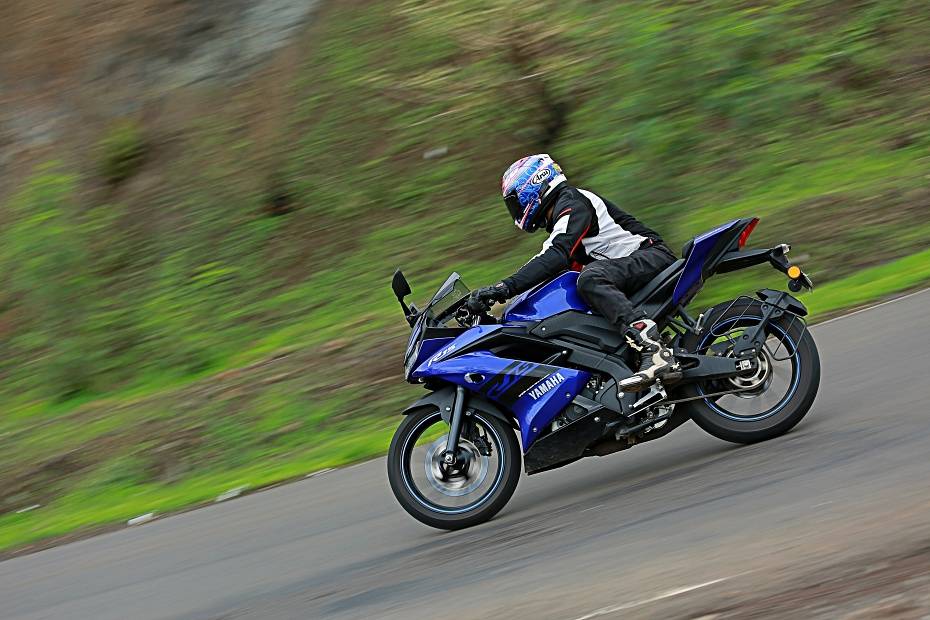 The increased capacity and the inclusion of VVA has has resulted in more power - a total of 19.3PS at 10,000rpm, up from 17PS earlier. Torque, though, the same 15Nm as before, comes in at 8500rpm, which is 1000rpm higher than before. This engine has a higher rev limit of 12,000rpm and sounds gruntier as the tacho needle gets into the top of its range. But then, it also has mild vibes creeping through the footpegs at higher rpm. That said, this motor not only proved to be a gem on the race track, but also had us smiling at its tractability within the city as well. The single-cylinder unit is happy ambling about at 20kmph in as high as fourth gear without showing any sign of strain. In our tests, it even managed to pull from as low as 35kmph in sixth gear, a feat you'd expect from nothing short of a four-cylinder motorcycle.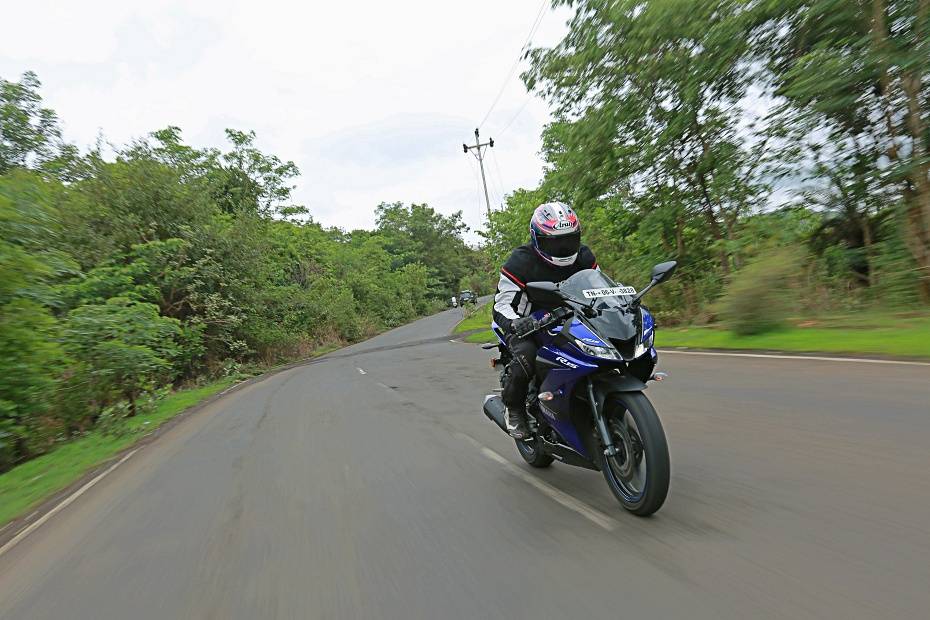 Outright acceleration is quite impressive, with 60kmph coming up in just 3.40 seconds, which is quicker than almost all the 200s. The run to 100kmph is dispensed off in 11.42 seconds, which is right up there with larger capacity bikes too. In-gear acceleration was equally impressive, either matching or surpassing the times set by bigger 200cc motorcycles in our tests. The R15 V3.0 did 30-70kmph in third gear in 5.71 seconds, whereas it took 6.65 seconds for the 40-80kmph jaunt in fourth gear. The 6-speed transmission is precise with not a single instance of false neutral in our time with the bike. Armed with a slipper clutch, engine braking has been properly controlled and not only does it aid spirited riding, but makes the job of frequent gear shifts in heavy traffic a breeze. In our test cycles, we extracted a very healthy 47.92kmpl on the highway but what left us awed was the 48.75kmpl of city mileage, better than the Bajaj Pulsar NS200, TVS RTR 200 and also its stablemate, the Yamaha FZ25.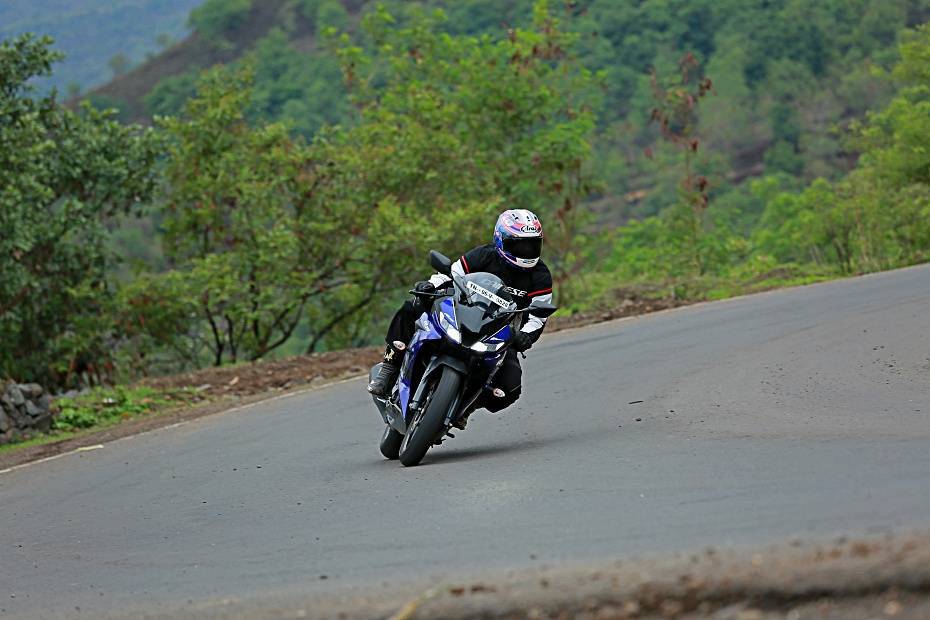 Ride And Handling
Still based on the Deltabox frame, the new R15 gets a slightly retuned subframe. With a rake smaller than both the earlier R15s, it also has a wheelbase that's shorter than the two earlier versions - 1325mm. As for the ground clearance, at 170mm, it has increased by 10mm. The suspension setup comprises of fatter 42mm telescopic forks up front, compared to the previous gen's 33mm, while the rear retains the linked monoshock that has been doing duty since the first generation. It gets 10mm wider tyres up front (100/80R17) and rear (140/70 R17), but the racer in you should opt for the optional Metzeler Sportec M5 for rear.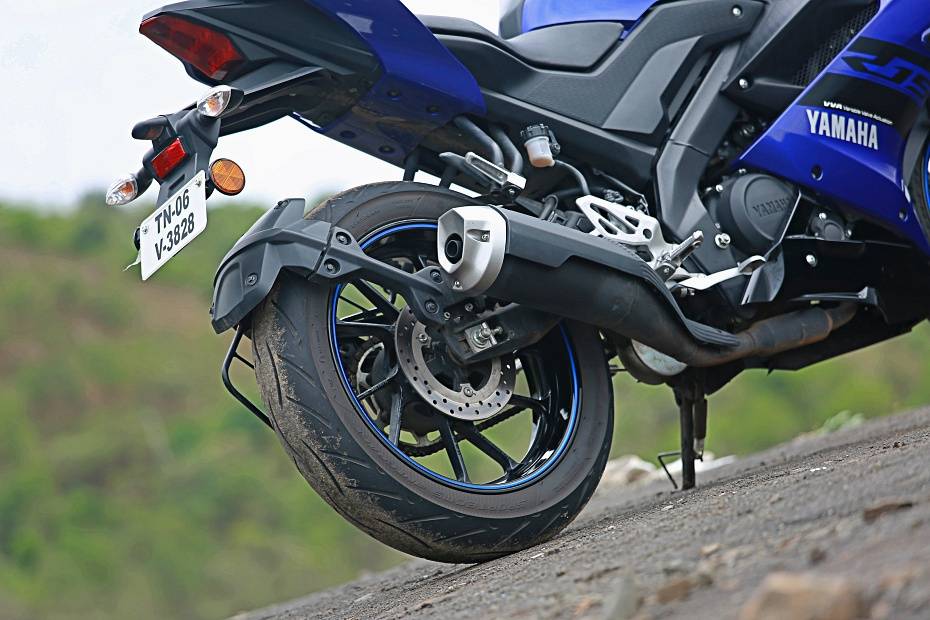 What do all these updates transpire into? Well, the V3.0 is a savage around the corners. Show it a set of twisties and it just comes into its element - ever eager to lean into turns, but it is sharp enough to catch you out. Thanks to its raised seat height, rear-set footpegs and a more committed riding position, it doesn't have the same forgiving nature of the previous two generations. The low set clip ons put quite a bit of strain on the wrists and lower back. This makes sustained riding for long distances a tiresome affair. In the city too, Its low-set clip-on handlebars makes executing U-turns a bit tough as the handlebars come really close to the fuel tank, locking up your wrist which finds it difficult to modulate the throttle, especially on right hand turns. Even the KTM RC, with its more aggressive ergonomics, feels easier while making these turns.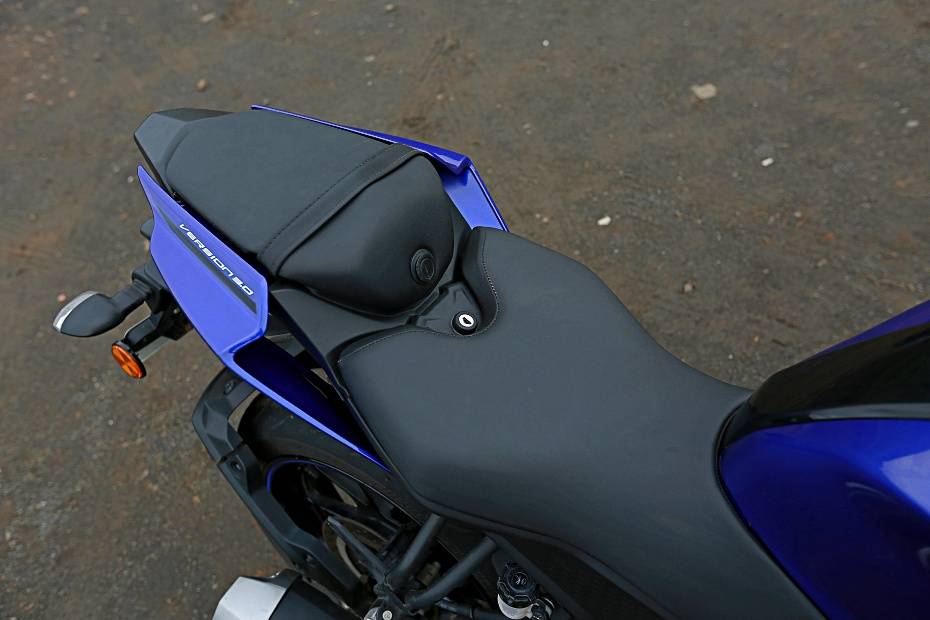 The rider seat height has been increased by 15mm to 815mm now, but since it is narrow, placing both feet on the ground won't pose an issue to riders who are 5'6" and above. Also, those bothered by the high-set pillion seat can rejoice. The height difference between the two seats has reduced slightly, so the pillion won't tower over the rider as before. But it's still high enough to make getting on and off a bit of a task. And the lack of grab rails is a downer, just as it was on the V2. One thing that the rider will appreciate is the more pliant front suspension that handles bad roads much better now and doesn't allow most of the judders to reach the rider's arms. The rear can gobble up smaller potholes, though jolts from the bigger ones still reach the tailbone if you aren't careful.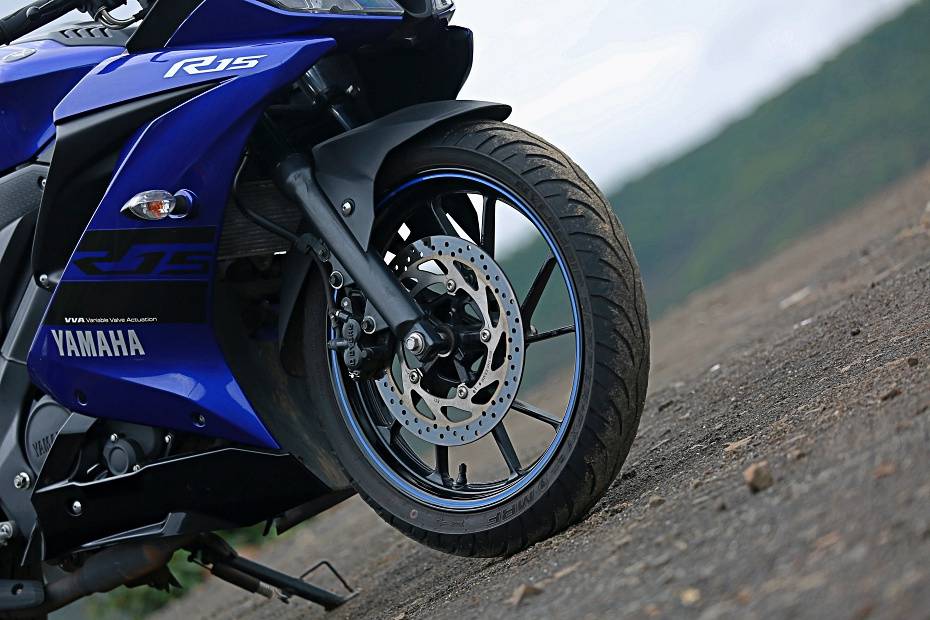 Stopping power is provided by a 282mm front disc with two-piston calipers and a 220mm disc at rear from ByBre which offer brilliant bite. During our braking tests, the Yamaha R15 v3.0 braked from 100-0kmph in 51.67 metres and from 80-0kmph in 34.15 metres. The braking distance could have been better with ABS as we had to modulate the front brake to prevent the rear wheel from lifting. The front brake has a sharp initial bite and requires careful modulation when riding over slippery or gravelly roads. During our test cycles, which were on wet roads thanks to the monsoons, the absence of ABS was felt quite a bit - a feature that's certainly more useful than the slipper clutch when riding on public roads, for most people at least. What adds insult to injury is that ABS is available on the international-spec model.
Verdict
So how good of a case does the R15 V3.0 make for itself? Well, it definitely has evolved in all the aspects. But that evolution has taken away some of the accessibility that the first-gen R15 offered and made it a cult among relatively inexperienced riders. In its current setup, it's a great beginner's track tool and a nice city runabout for the GenY. It can even dispatch everyday duties and satisfy your occasional wanderlust, albeit with slight discomfort. There are other options rivalling the R15 such as the hardcore KTM RC200 or the relatively less physically taxing Bajaj RS200, but then, the KTM is a bit too focused, while the Bajaj simply doesn't have the sharpness of the R15. If you are looking for something that is exciting to look at and bridges the gap between these two faired motorcycles, the R15 V3.0 should make sense for you.
Words by Dhruv Attri
Photography by Vikrant Date