The new Activa 125 has gone BS6 and become one of the most expensive scooters in India. Does it do enough to justify its premium price?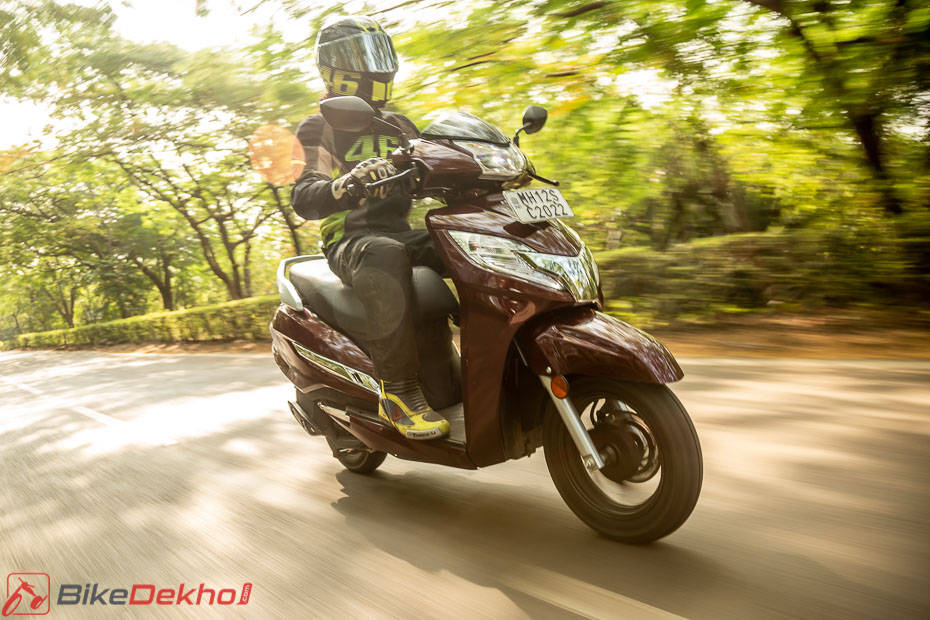 Top-end to top-end, i.e. between the Deluxe models of the BS4 Honda Activa 125 and the new BS6 version, you can see a price jump of nearly Rs 10,000. That makes this new model one of the most expensive scooters on sale in India today! A lot of this is down to the fact that Honda had to develop a brand new engine for this scooter to meet the upcoming, stricter emissions norms. To offset this price hike though, Honda has thrown in quite a few new features, some of which are segment firsts. But is that enough for potential 125cc scooter buyers to see merit in this new Activa?
Pros
Incredibly smooth and silent electric start
Stop-start system works seamlessly
Spacious and comfortable seat
Cons
Performance doesn't feel up to the mark of other 125cc scooters
Ride quality gets bouncy with a pillion on board
No boot light or USB charger as standard, even on the Deluxe model
Standout Features
The best implementation of a stop-start system that we've ever experienced on a two-wheeler
Looks and feels like a properly premium scooter
Design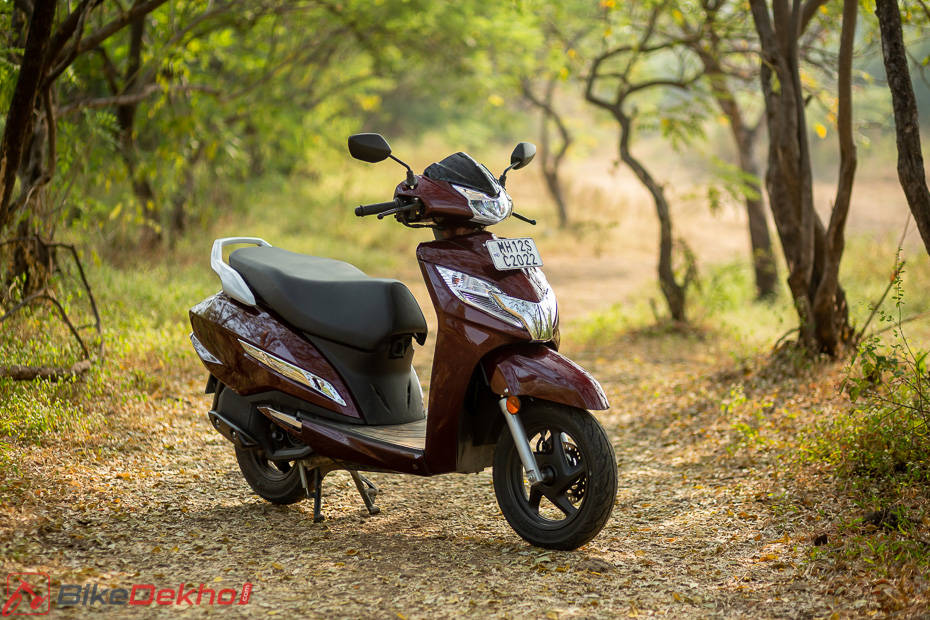 Honda really didn't break the mould when it came to designing this new Activa 125. Most of the basic design is unchanged but on the individual detail level, things look quite different. For one, there are now a lot more cuts and creases on all body panels, from the front fender and the apron to the headlight cowl and the rear bodywork. The rear bodywork has also been extended, making the scooter 36mm longer than before. On the apron, the indicators now sport a vertical orientation with a redesigned chrome centrepiece, which makes the front of the scooter look more premium than before. This sense of premiumness extends all around the scooter with two thick chrome bands running across the sides and a new shortened grab rail. The rear turn indicators are now a little more vertically elongated with a chrome strip running through the middle, forming almost a Honda cars "H" logo at the back. What we appreciate here is that Honda hasn't overdone the chrome garnish.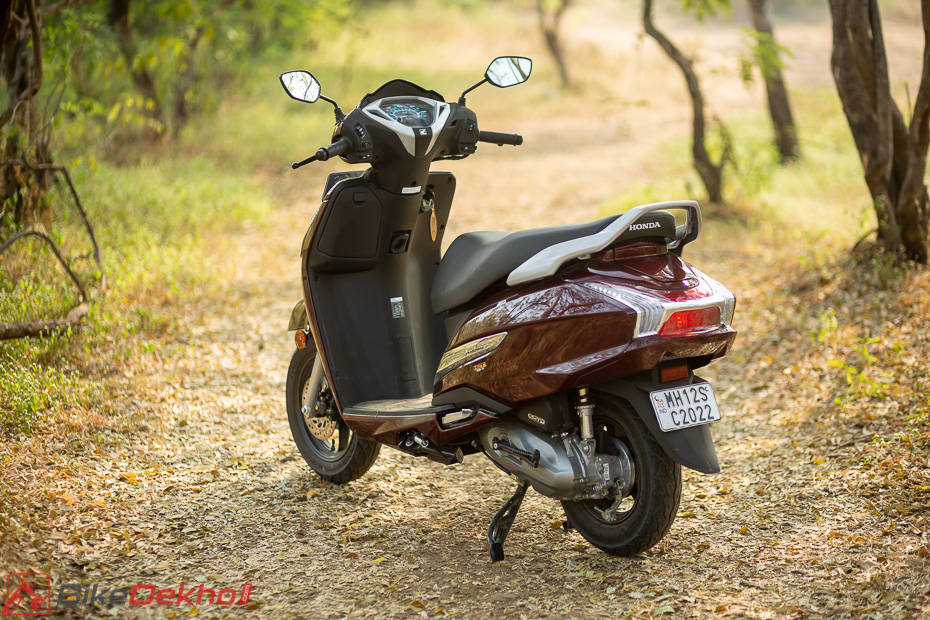 Overall, while there's nothing new in the way this Activa 125 looks, Honda seems to have done a good job with a design that should have universal appeal. What makes this Activa's case stronger is that while it plays safe with design, the overall build quality and fit-and-finish all around is quite top-notch. Panel gaps are extremely consistent and even the switchgear quality is better than pretty much all other scooters out there -- truly befitting of a scooter at this price point.
Ergonomics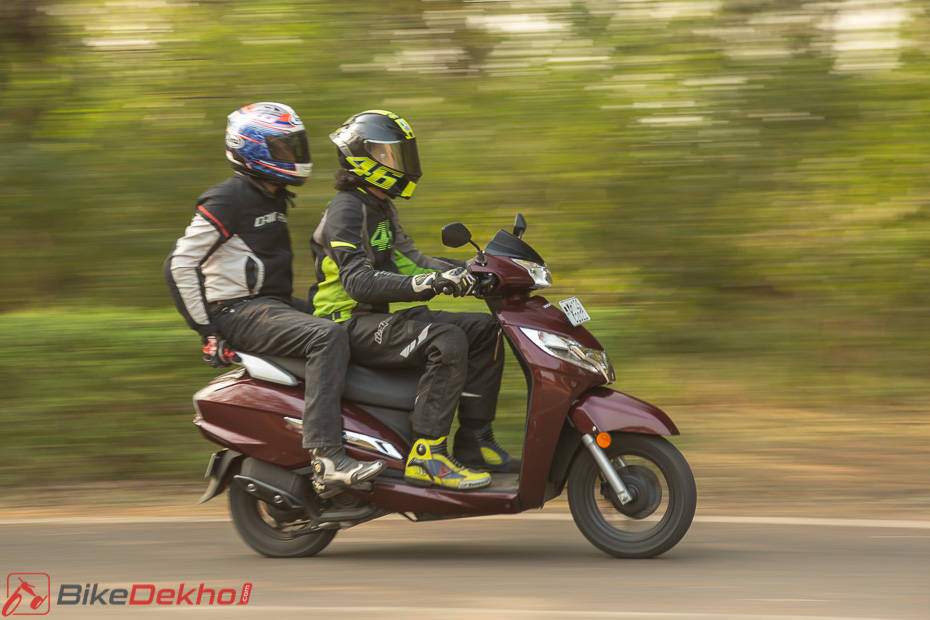 Honda has always done a great job with making comfortable seats and it's no different with this new Activa. Space for the rider is plentiful and the seat itself is quite soft. So short commutes in the city should feel rather relaxing. The riding posture too quite neutral, with enough space on the floorboard for most laptop bags to sit between your feet without pushing them too outward. However, the slightly low set handlebars might be an issue for taller riders, as they might need to stoop a little to reach them, and they could foul with the rider's thighs while taking U-turns. And the soft seat might start to feel uncomfortable if you have to spend more than an hour riding.
As for the pillion seat, there's more than enough room to accommodate even large-sized pillions, with the rear footpegs positioned to make for a very comfortable leg posture. Pillions too will enjoy the plush rear seat for short journeys but because of its softness, might struggle if they had to sit for too long.
Technology & Features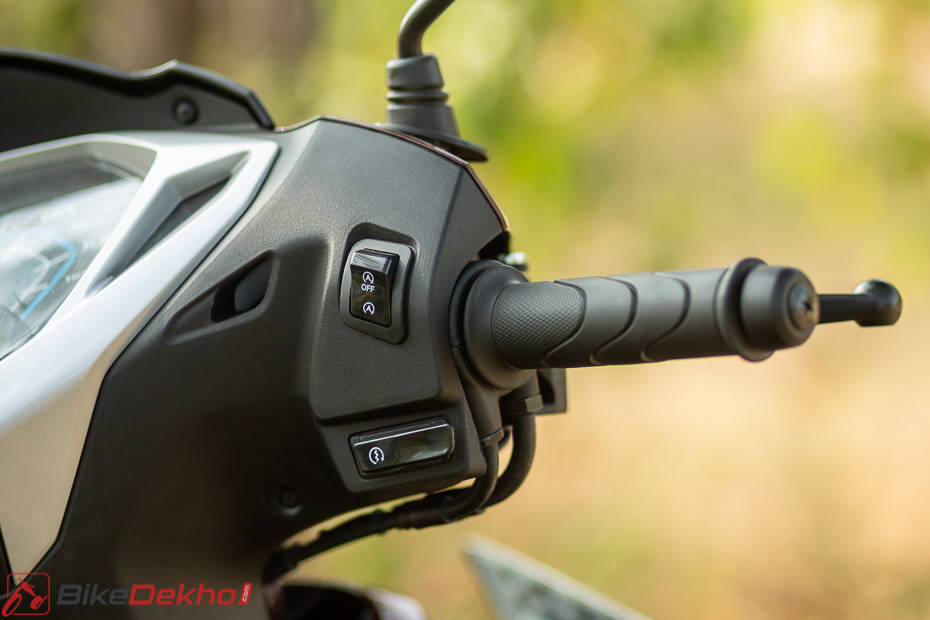 One of the biggest things Honda has been harping on about this new Activa is the new ACG (Alternating Current Generator) starter. This basically does away with a separate electric starter motor and uses the alternator to start the engine when you thumb the starter. Now it might not seem like such a big deal, but it's when you see, er... hear, er... actually not hear, in action, it'll blow your mind. It allows for absolutely silent starts, without any of that traditional "khichkhichkhich" sound you hear of the starter motor trying to turn the engine.
This combined with the idle stop-start system makes this Activa 125 even more impressive. When this system is active, with the engine stopped (at a red light, say), all you have to do is twist the throttle to get going. And thanks to the ACG starter, this process is absolutely seamless. In fact, you'll get going at the same time as any other scooter that had its engine running.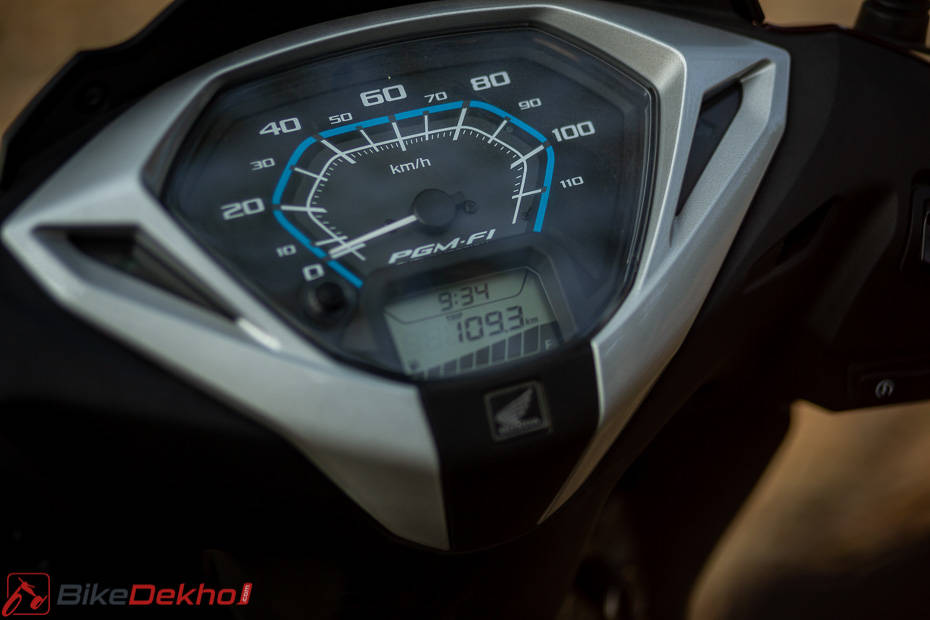 There are a couple of segment-first features on this new Activa 125 as well. A side-stand engine cut off system will kill the engine as soon as you lower the side stand, or conversely not allow you to start the engine if the stand is down. And then there's the trip computer included in the digi-analogue instrument cluster, which gives you instant fuel efficiency, average fuel efficiency and distance to empty readouts -- all very handy to have if you don't want to rely on guesswork to figure out your next fuel stop.
Apart from that, this Activa also became the first 125cc scooter in India to get an LED headlight. While this headlight offers a good throw and spread, it needs to be brighter to be of much use on completely unlit roads.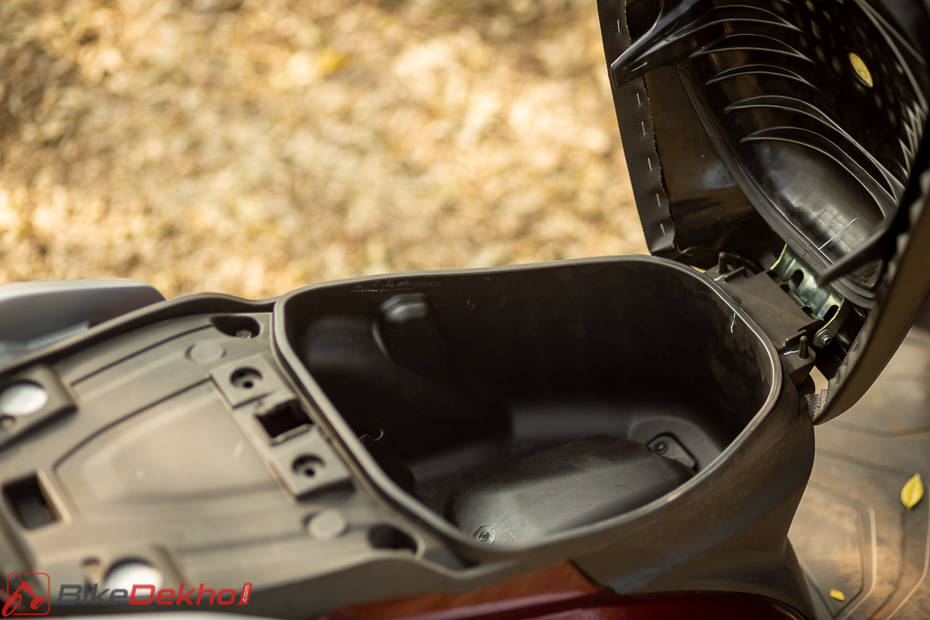 Underseat storage is quite adequate to hold a regular full-face helmet (although don't expect a premium helmet to fit under there) and there's a glove box on the front apron, which is extremely useful for storing knickknacks such as your mobile phone, and it appears to be weather-proof as well. But the fact that in such an expensive scooter, you don't get a boot light or a charging socket as standard feels just wrong.
Engine & Performance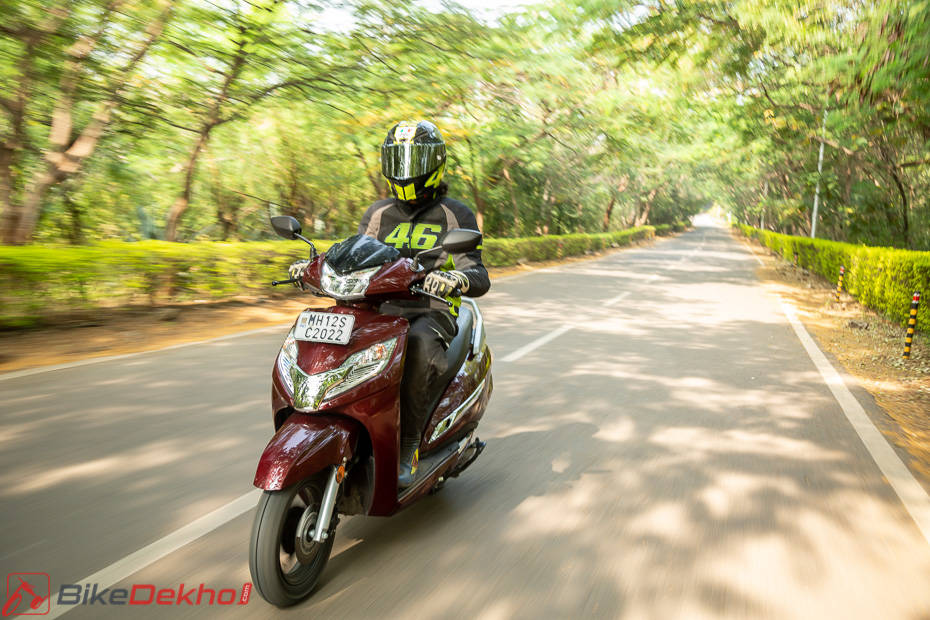 Now Honda hasn't just upgraded the existing engine from the BS4 Activa to BS6. This is a brand new fuel-injected engine that the company has built from the ground-up. But in the process of meeting the upcoming BS6 emissions norms, power and torque figures have reduced -- about 0.27PS and 0.24Nm less. Now the Activa 125 clearly isn't meant to be a performance scooter such as the TVS NTorq or the Aprilia SR125, so the fact that it's amongst the slowest 125cc scooters to accelerate from 0-60kmph (8.72 seconds) is something we won't hold against it.
At the end of the day, the reason to choose a 125cc scooter over a 110cc scooter is that it needs to be able to pull more load and maintain higher cruise speeds with ease. Unfortunately, while this engine does feel comfortable at speeds of about 70kmph, it feels like an absolute struggle to get there. And even with our ultralight test rider (who weighs under 55kg), it struggled to gather momentum when going uphill. Scooters such as the Suzuki Access and Hero Maestro 125 do a much better job here. But it's important to remember that these scooters are still BS4 compliant. We're yet to see how much (if any) performance they lose when they switch over to BS6 as well.
That being the case, the one area where this engine really shines is refinement. This has the lowest NVH levels in class and pretty much at any speed, the engine feels almost silent and absolutely vibe free. This should go a long way in making the Activa 125 a great scooter for your daily commute through the urban jungle.
Also Read: What BS6-compliant Two-Wheelers Can You Buy Today?
With a mileage of 52.83kmpl in the city and 51.23kmpl on the highway, this Activa 125 isn't the most fuel-efficient scooter in its class. But these figures are a marked improvement over the BS4 version and now its more-or-less on par with the best of the 125cc segment. One point to note however is that this is the efficiency we tested with the current BS4 petrol. There's more than a good chance we'll see an increase here once we test it with BS6 fuel, once it becomes available.
Ride & Handling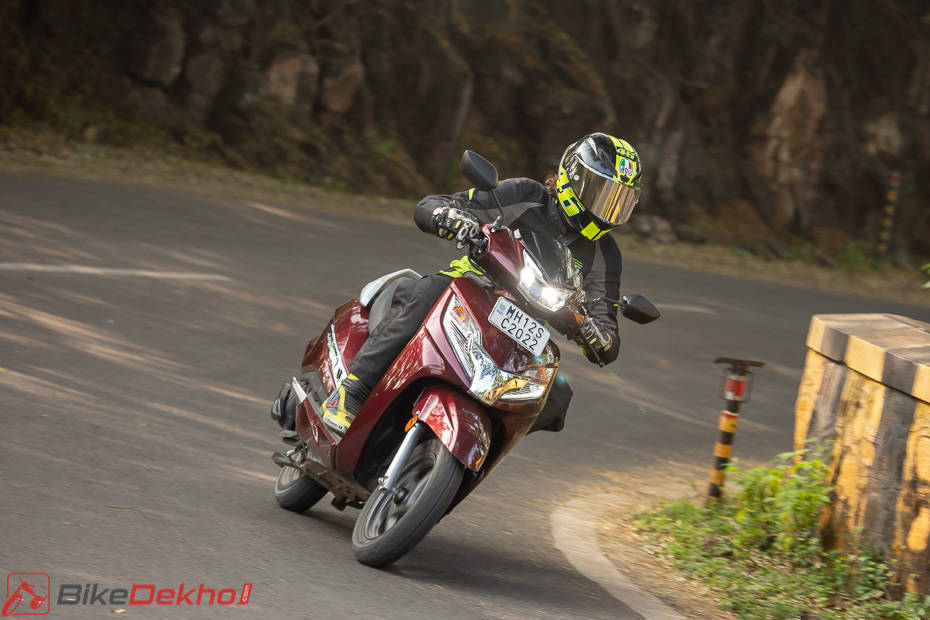 The Activa was never meant to be a sporty scooter and so the suspension is tuned more for comfort rather than sharp handling. The telescopic fork and rear monoshock are set up rather soft, which results in a plush ride over pretty much all kinds of bad roads, with barely any bumps or potholes filtered to the rider. But that's if you're riding solo. Plonk a pillion on board (unless the pillion is super light), and the scooter will keep bobbing about once you go over a bump. This constant secondary motion over bumps feels rather unnerving and might rob you of some confidence when riding on bad roads or even speed breakers.
Despite being one of the heaviest scooters in its class (111kg), this new Activa 125 feels pretty light on its feet. Steering is light and the scooter is easy to manoeuvre through city traffic. But it's the same soft suspension that gives it such a plush ride that makes it a little nervous when throwing it around corners. Which is acceptable since the Activa is focussed sharply on being a competent, comfortable, family scooter.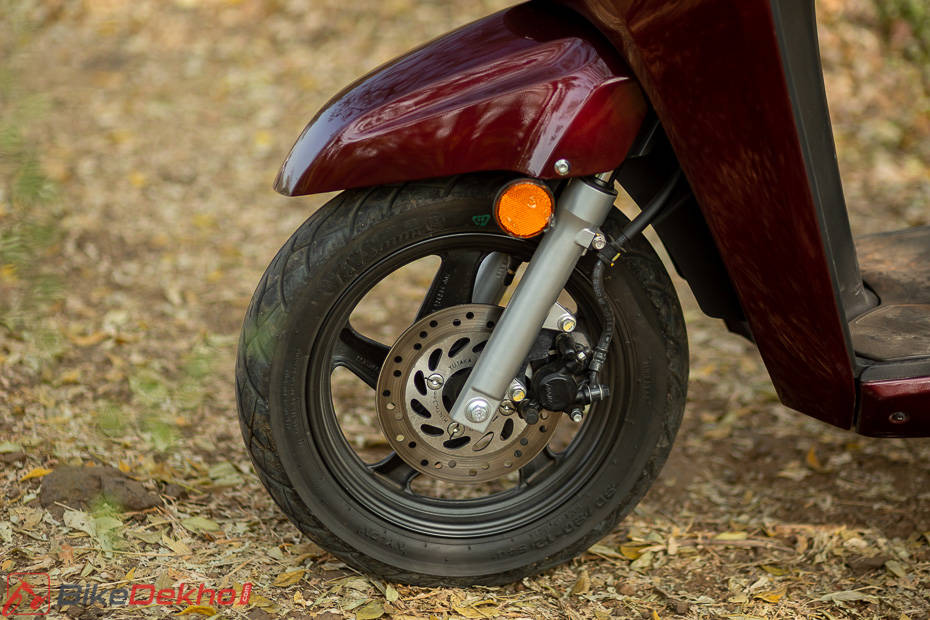 And speaking of sharp, this disc brake-equipped Activa posted one of the best braking distances that we've tested on any 125cc scooter till date - 18.94 metres from 60kmph to zero. Brake feel is good too, allowing you to give precise inputs. But our test bike did make some strange rubbing sound from the front brakes when going hard on the lever.
Variants: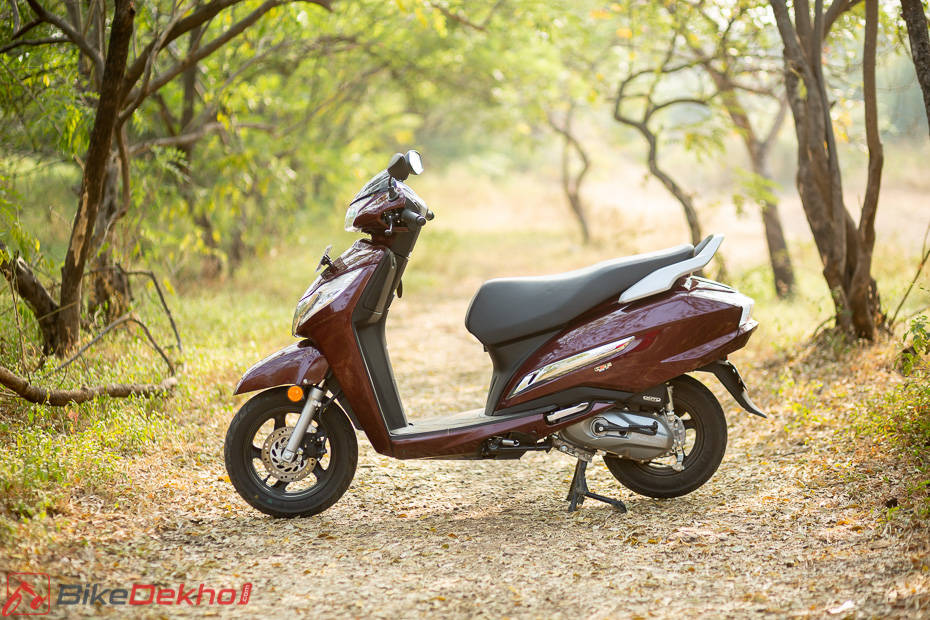 The new 2019 Honda Activa 125 (BS6) is available in three variants: Standard, Alloy and Deluxe, the last of these being featured in this review. Both the Deluxe and Alloy variants get 5-spoke alloy wheels an LED headlight and a digi-analogue instrument cluster, which shows real-time fuel efficiency, average efficiency and distance to empty. The Standard features pressed steel wheels, a regular halogen headlight and an analogue instrument panel. A side-stand engine cut-off feature is standard on the top two variants as well, while it's optional on the base model. Finally, the Standard and Alloy models get a drum brake at the front and an engine killswitch. The Deluxe model features a front disc brake and Honda's excellent stop-start system.
The new Activa 125 is available in four colours: red, white, grey and blue.
Verdict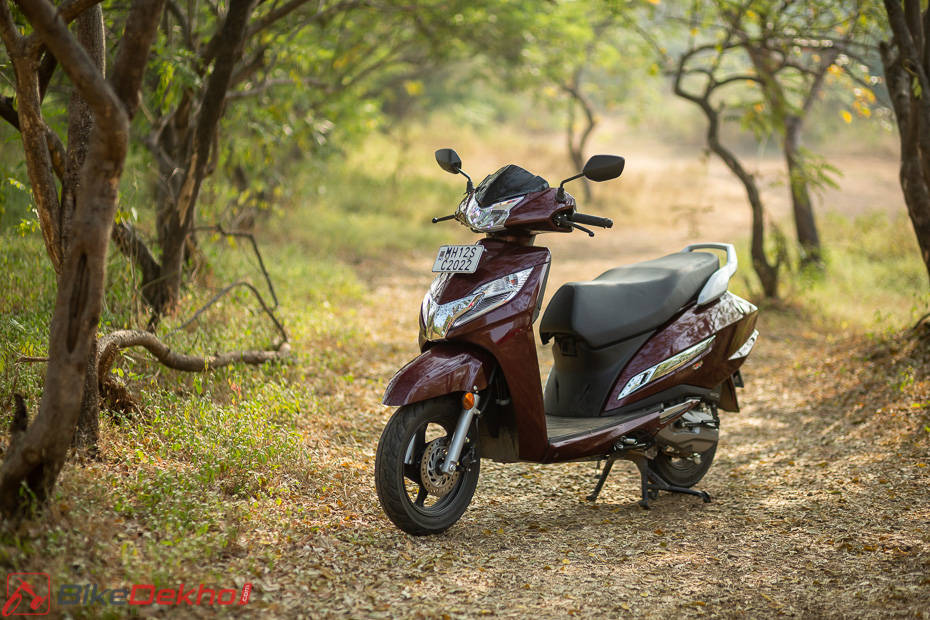 No matter which way you spin it, there's no getting around the fact that at Rs 74,490 (ex-showroom Delhi), this BS6 Activa 125 is a really expensive scooter. Sure, it's giving you a properly premium experience and is packed to the gills with features (at least the top-end variant), and in that sense, it does feel like it's worth it. But then, it pales in performance compared to pretty much any of its 125cc rivals. And one of the main reasons for choosing a 125cc scooter over a 110cc one is that extra bit of grunt. So if you're in the market for a 125cc scooter right now, it becomes a little difficult to recommend the Activa 125.
Also Read: 2019 Honda Activa 125 BS6: Same Price, Other Options
That said, maybe "right now" isn't the best time to fully judge a BS6 compliant scooter, especially the only 125cc one in the country that currently meets these yet-to-arrive norms. One has to also take into consideration that this Activa is running with a brand new engine, one that will carry the scooter into the future, perhaps much better than its competition. So we'll have to wait and watch how other scooters shape up in the journey to meet BS6. Till then, we shall reserve our judgement somewhat.