KTM has always been the king of price-to-performance. Does the rather expensive 790 Duke still live up to that promise?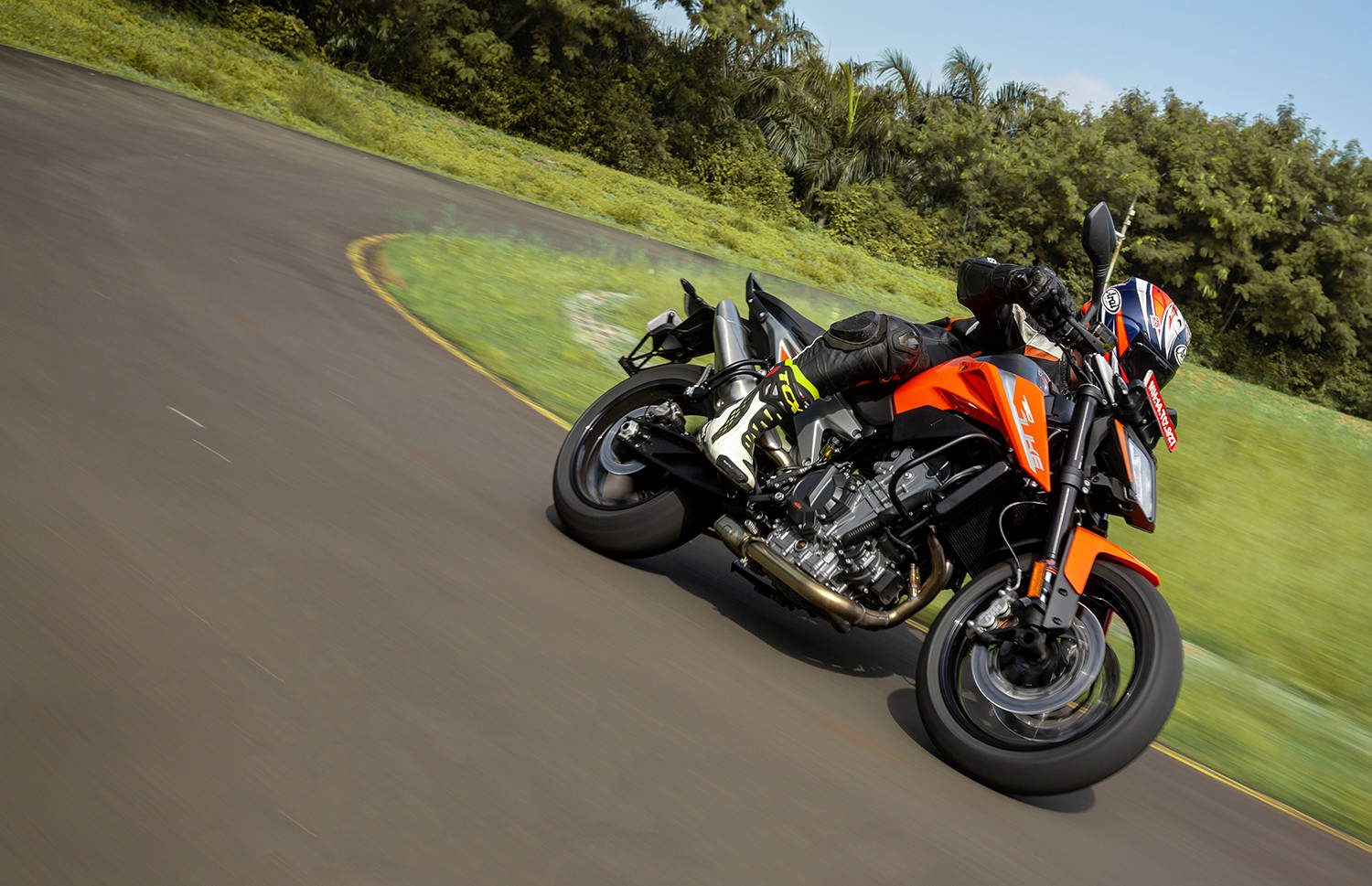 Words by: Priyadarshan Bawikar
Photography by: Vikrant Date
Pros:
Exceptionally light and nimble
Punchy motor is extremely responsive
Comfortable riding position
Cons:
Feels a little pricey for a KTM
Exhaust placement awkward for pillions and luggage
Looks too similar to a 390 Duke
Stand-Out Features:
The light and capable chassis makes it incredibly agile and confident around corners.
Shockingly easy to ride for a 105PS performance motorcycle.
Inline-twin engine is super smooth at any speed.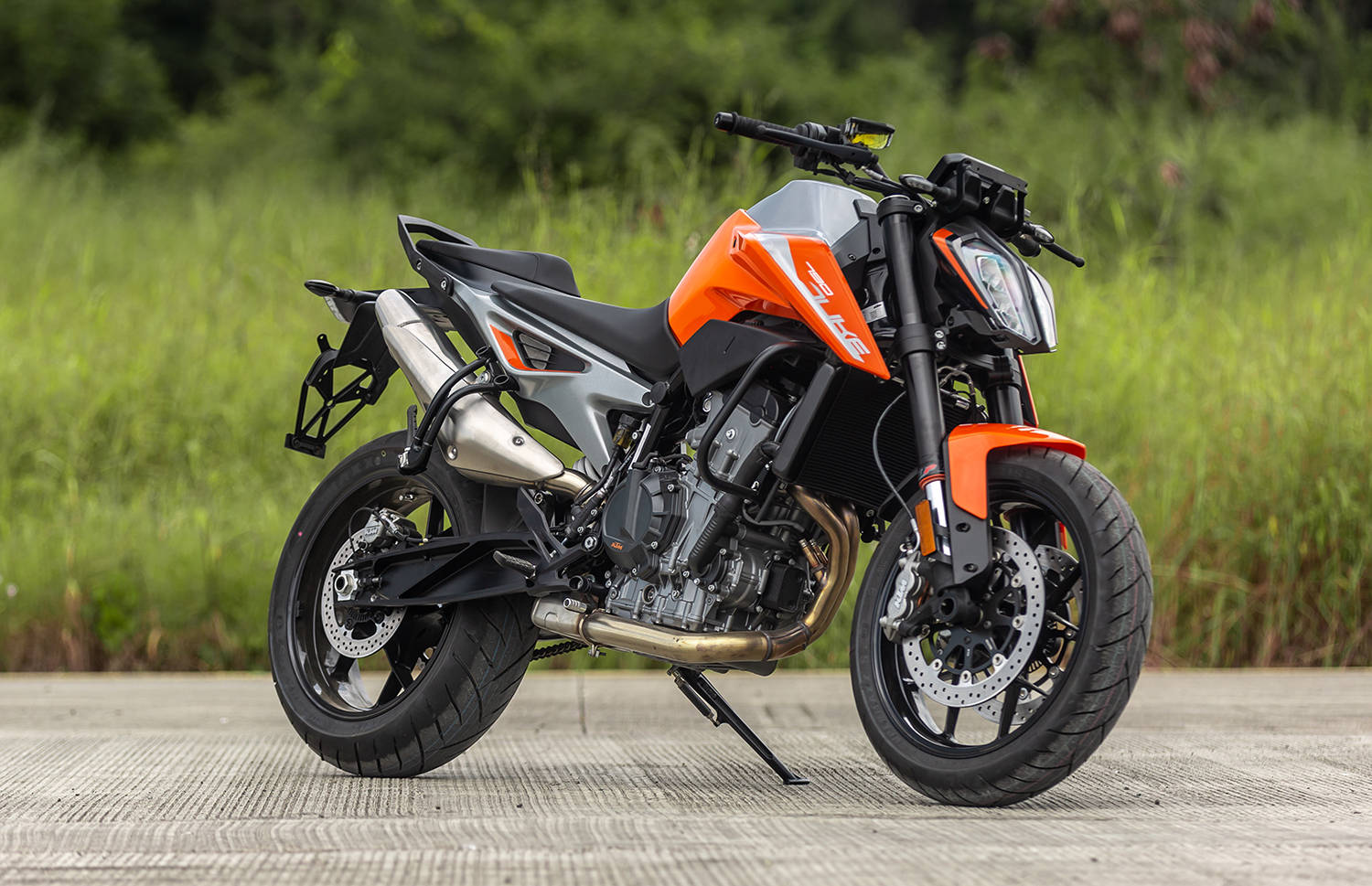 KTM really set a precedent in India when they launched the original 200 Duke and the 390 Duke in 2012 and 2013 respectively - phenomenal performance for a rather affordable price. And even though their prices have gone up over the years, they still represent a great value proposition for those looking for small-capacity performance motorcycles. Now though, at Rs 8.64 lakh (ex-showroom India), the company's first proper mid-capacity bike in India - the 790 Duke - does feel rather expensive, especially when compared to its more powerful multi-cylinder rivals from Japan. So does the 790 Duke do enough to live up to KTM's reputation in the country?
Also read: 2019 Bajaj Dominar 400 vs KTM 390 Duke: Road Test Comparison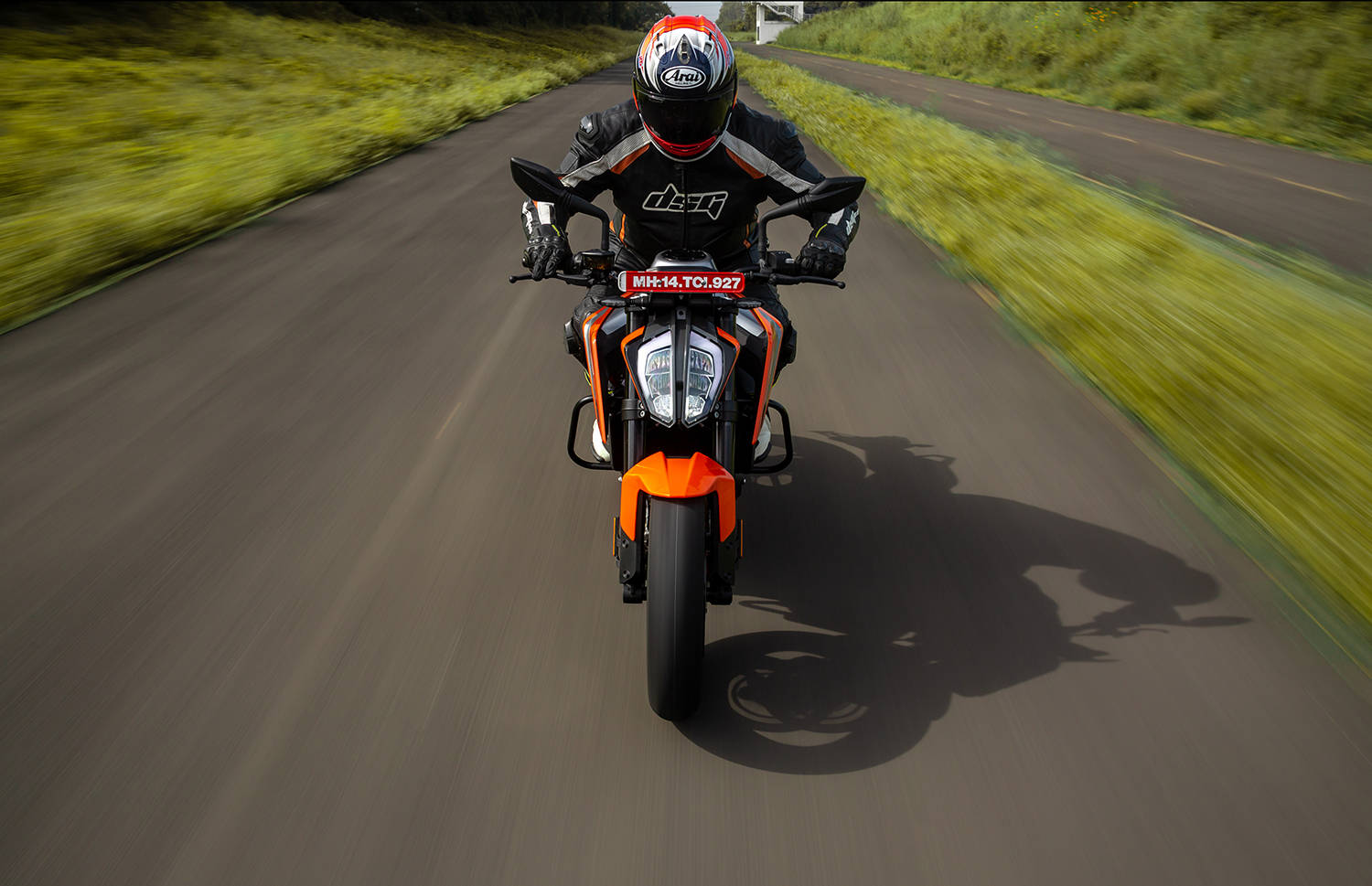 Design:
At first glance, it's very easy to mistake the 790 Duke for its smaller sibling, the 390 Duke, especially thanks to the near-identical headlight. But take a closer look and you'll realise that the 790 is noticeably longer, although just as slim. The overall design language is still unmistakably 'KTM Duke', with its sharp tank extensions and tall, muscular fuel tank.
Also read: KTM 125 Duke First Ride Review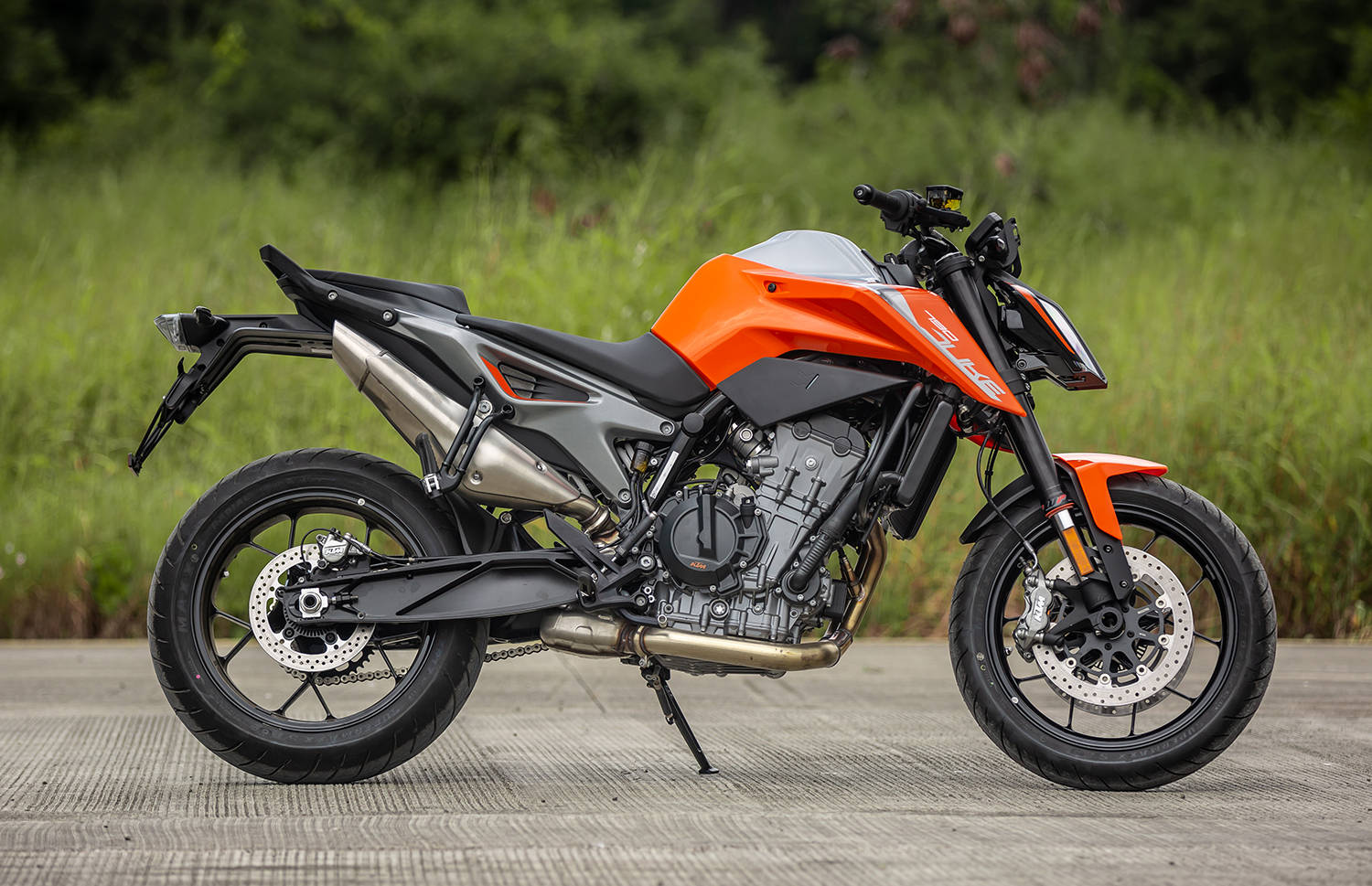 Also missing here is the traditional KTM trellis frame - a staple on all Dukes, from the 125 to the 1290. That's because the 790 uses a tubular steel frame, but we'll get to that in a bit. Of course, one distinct touch is the tapered exhaust which flows along the tail panel on the right. But that tail panel isn't actually a panel - it is an aluminium subframe that houses the airbox and even has little air intakes on either side.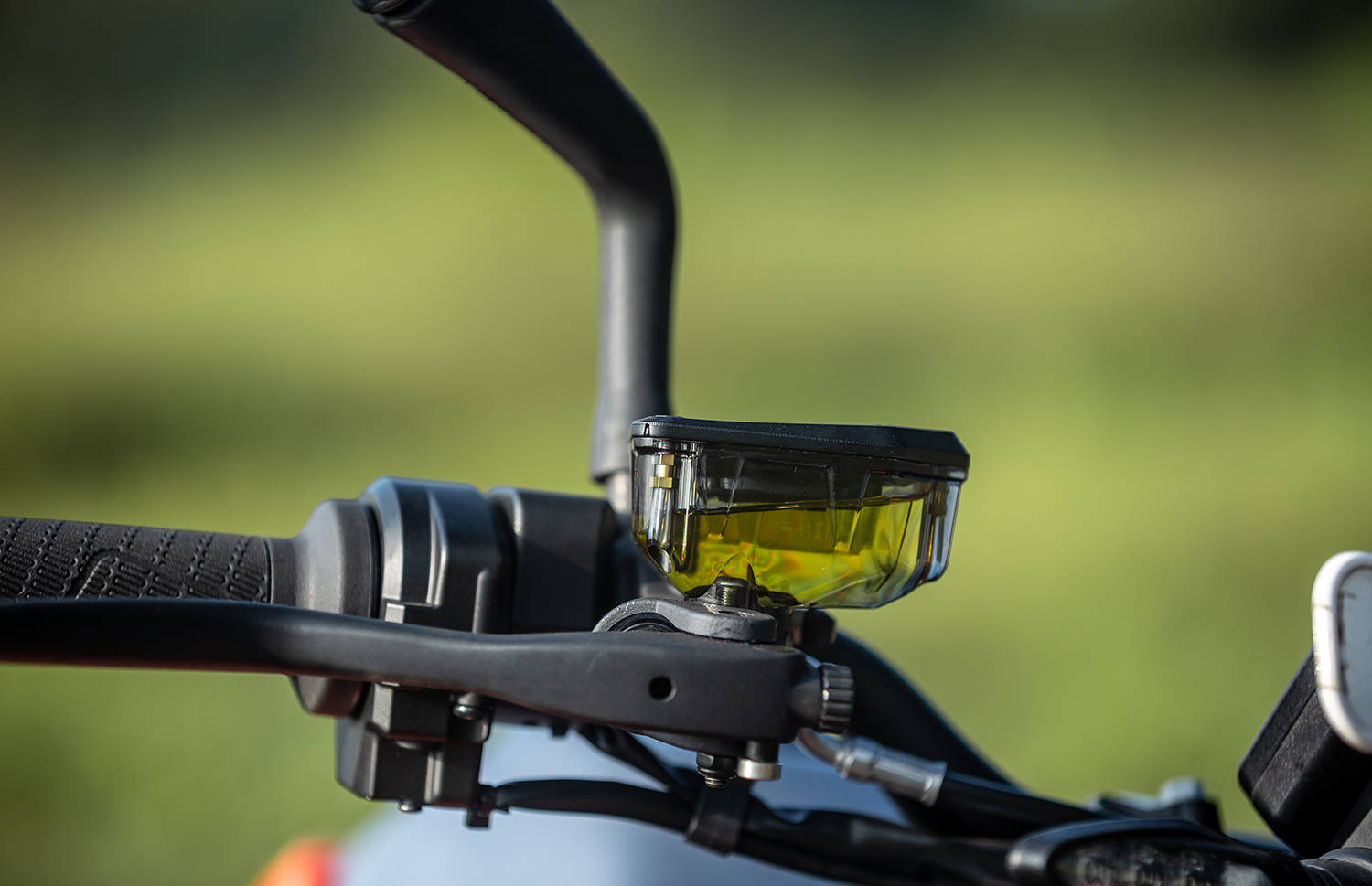 Compared to any of the 'made in India' KTMs, the build quality feels much better, especially at all the touchpoints like the grips, brake levers, clutch lever and even the shift lever. It is made in the company's factory in Austria after all, and just assembled in Chakan.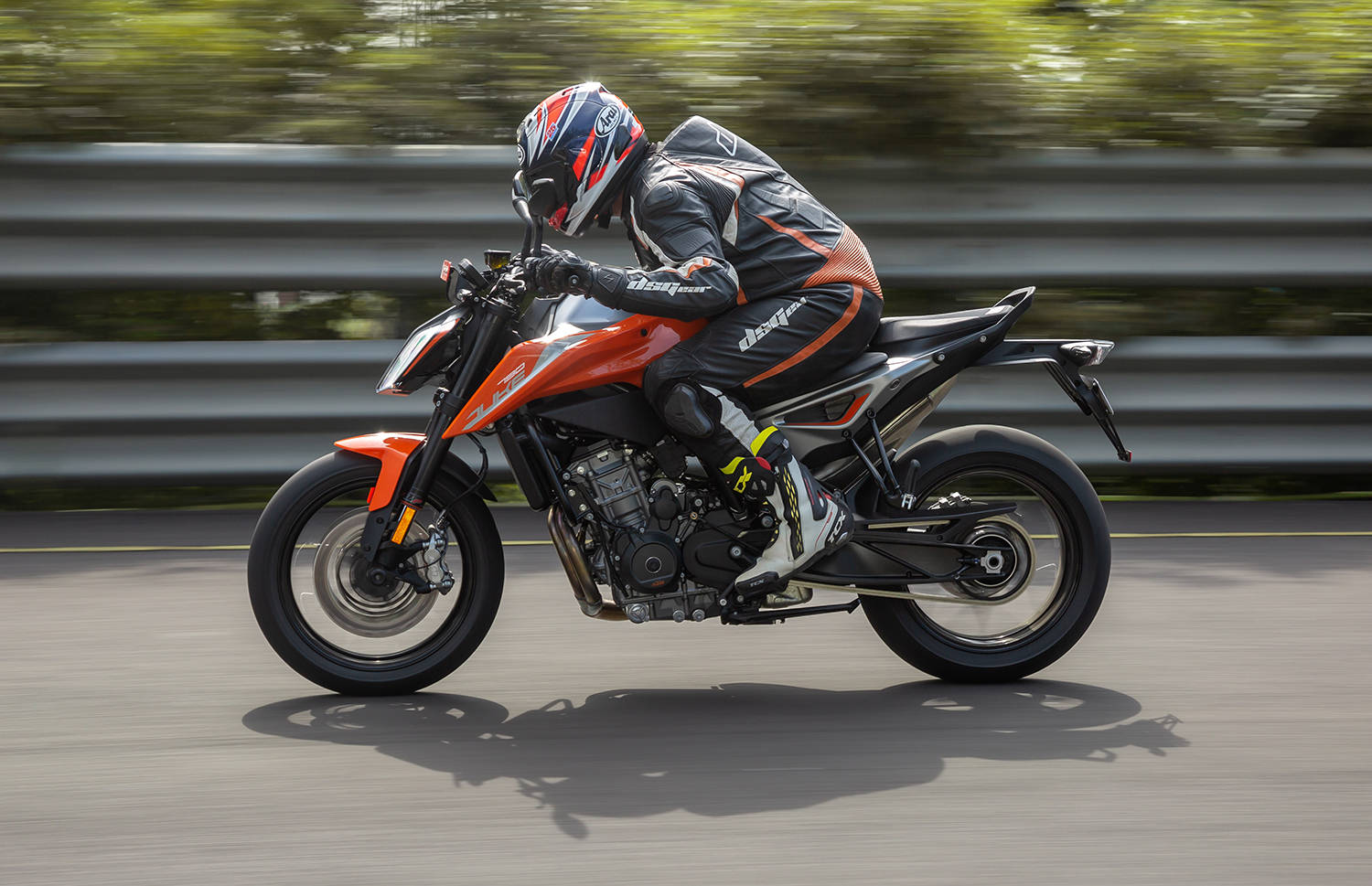 Ergonomics:
Even though it looks so similar to the 390 Duke, the riding position of the 790 feels a lot roomier. The rider's seat itself is larger, while the handlebars aren't situated as close to the rider. But the bars aren't set too low, and this makes it a lot easier for taller riders to get comfortable in the saddle. At 825mm however, though the seat height is 5mm lower than the 390's, it's still could be off putting to shorter riders.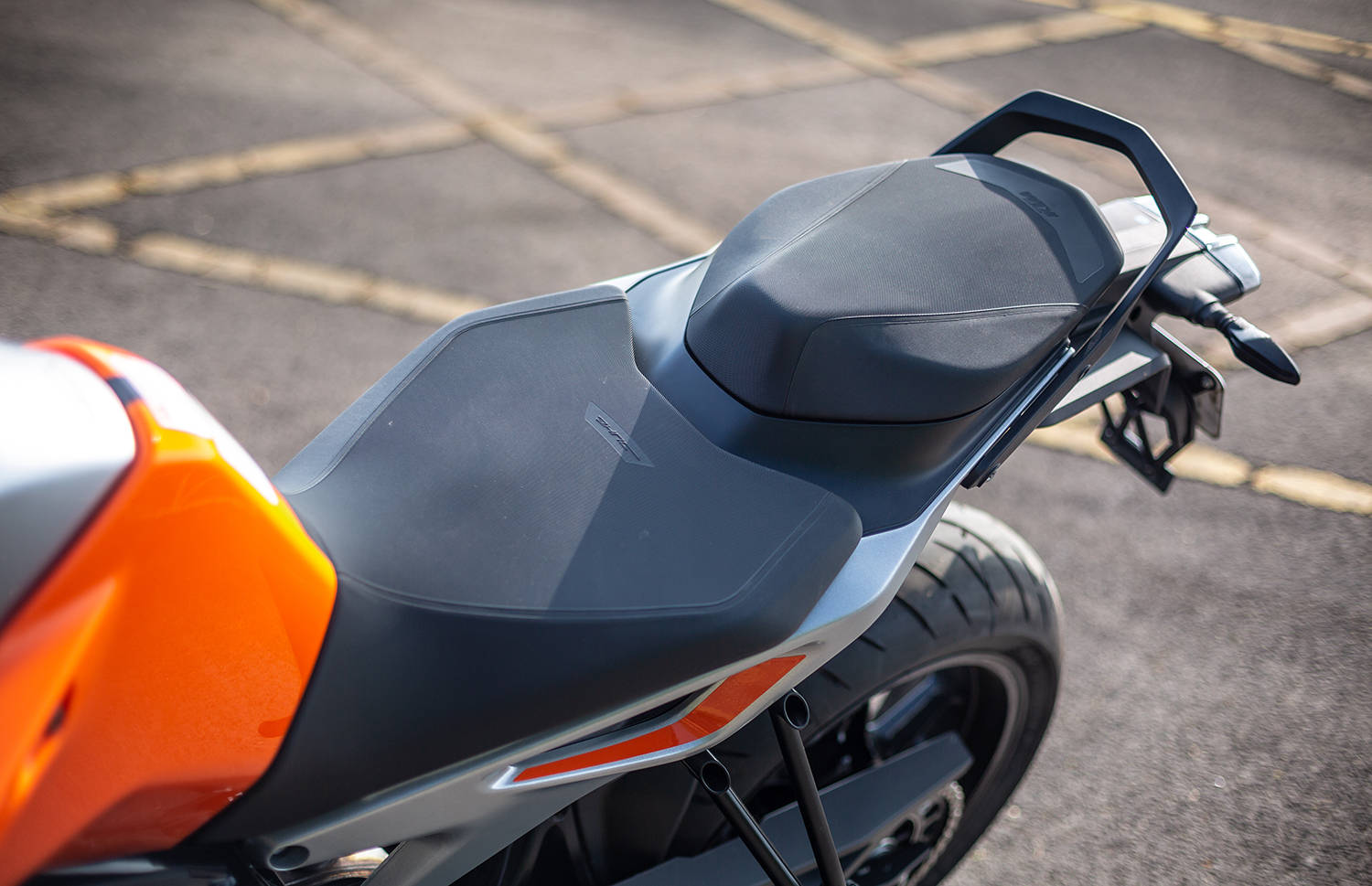 Thankfully, even with its larger motor, the 790 manages to be almost as slim as the 390, which means that getting one's feet down shouldn't be a huge challenge, regardless of rider height. What was really surprising was the sheer space and comfort the rear seat offered pillions - unheard of for KTMs in India. That said, the exhaust is placed too close to the rear seat on the right side, and that could be a concern not just for pillions, but also for mounting luggage.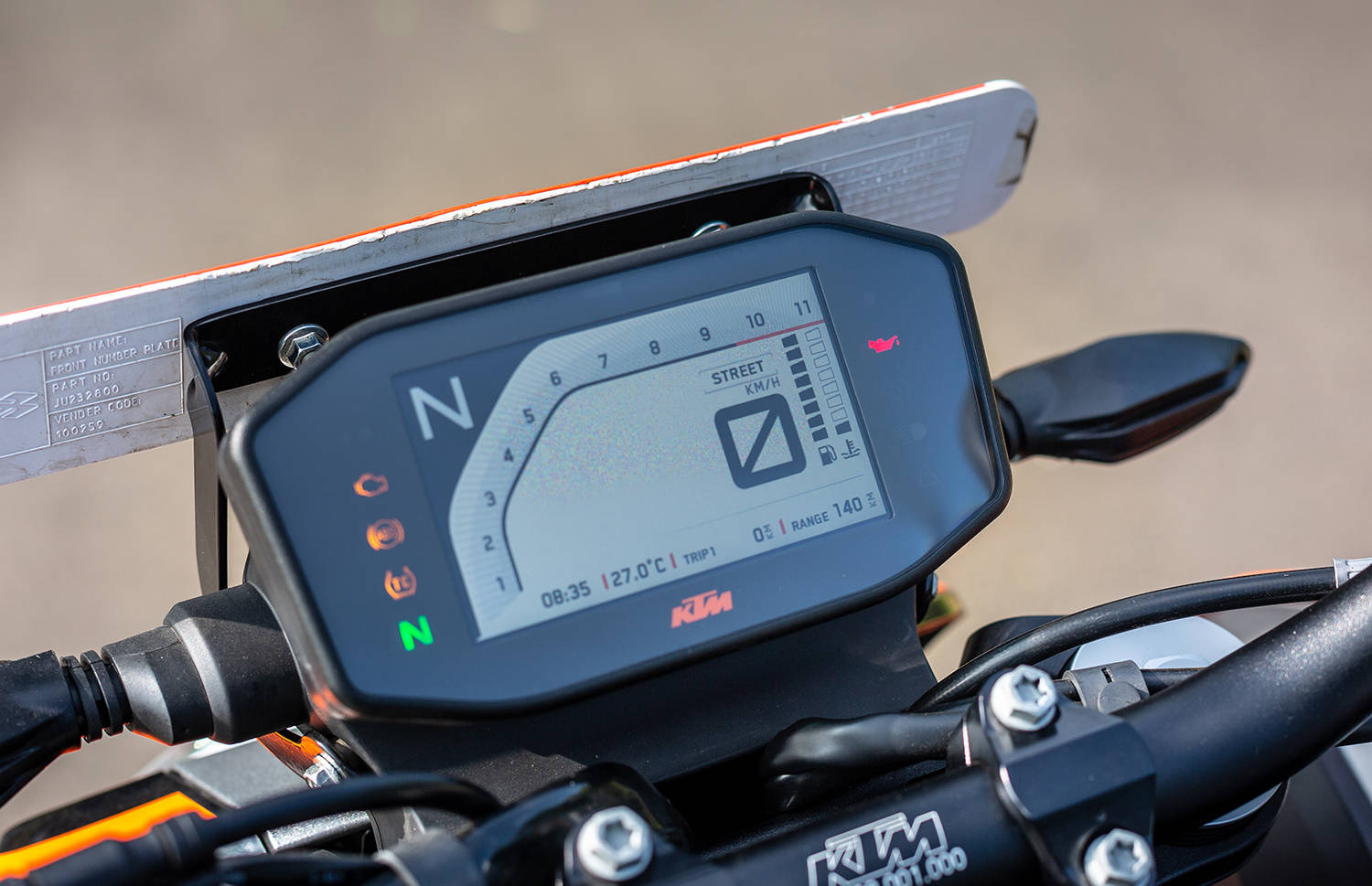 Technology & Features:
Unlike any of its immediate competitors from Suzuki, Kawasaki or Triumph, the KTM 790 Duke is absolutely packed to the hilt with technology - starting with a full colour TFT instrument panel. It is a bit smaller than the one we got on the 2017 390 Duke, but it allows you to access and control all the electronic riding aids the bike offers. That said, unlike the 390, the 790's unit doesn't offer Bluetooth connectivity as standard. Coming back to the electronics, there are four riding modes on offer - Rain, Road, Sport and Track. These change the throttle response to suit riding conditions, and even reduce the total engine power output in Rain mode to make it easier to ride on wet roads. While the first three of these modes are preset, Track mode (which is unlocked after the bike's first service at 1000km) opens up the option to customise and fine-tune riding assists.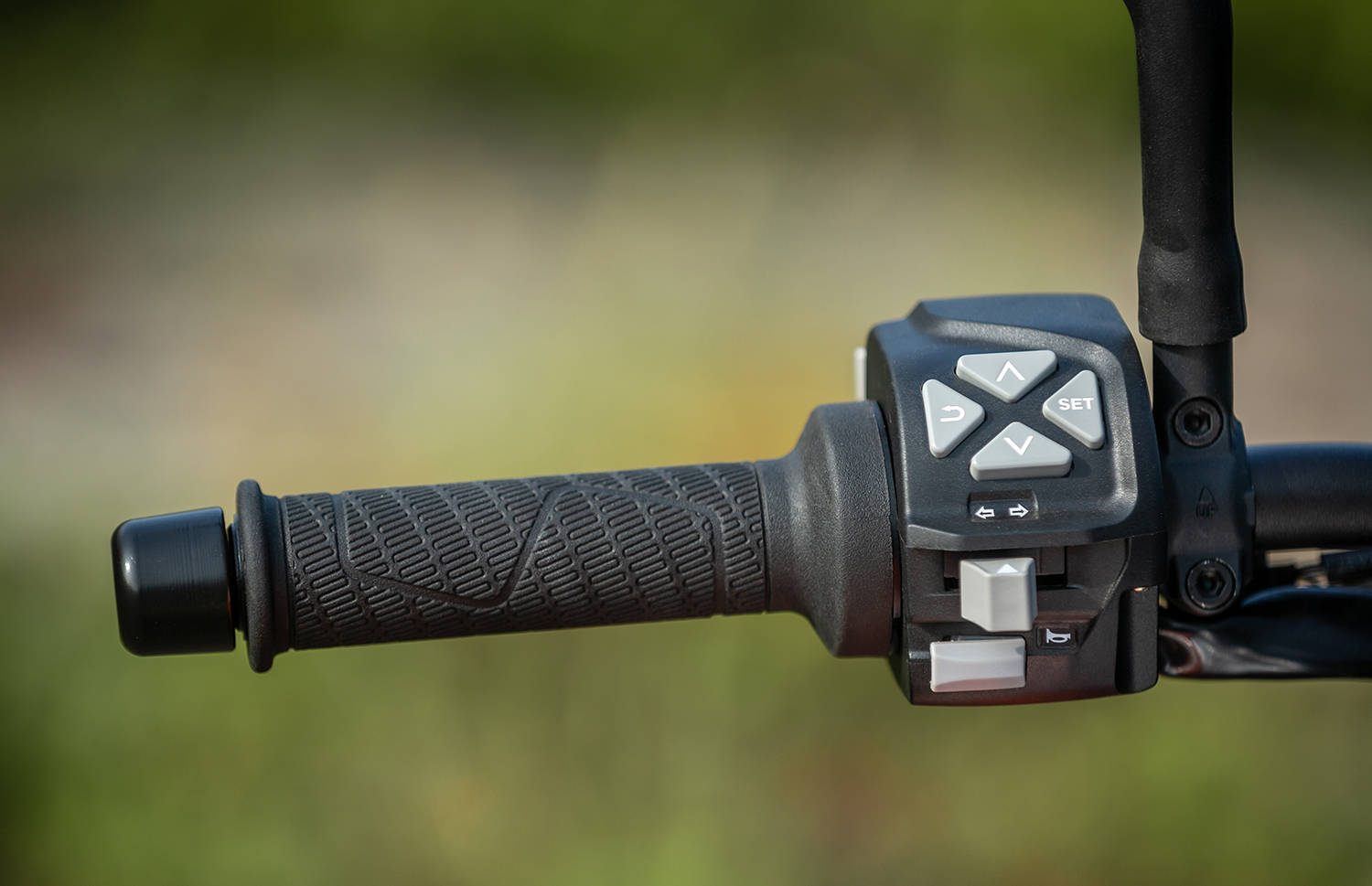 These assists include a 9-level traction control system which finely cuts power in case the rear wheel starts sliding. Dual-channel ABS is standard, and you can even put it into Supermoto mode which turns off ABS at the rear wheel if you're in the mood to lock it up and slide around. That said, there's no option to completely switch off ABS at both wheels. What really sets the traction control and ABS apart is that it is controlled by a 6-axis IMU (inertial measurement unit) which measures the bike's orientation in three dimensions in real time. This allows these systems to take into account the bike's lean, pitch and yaw angle when providing intervention, giving them much finer control and improving safety.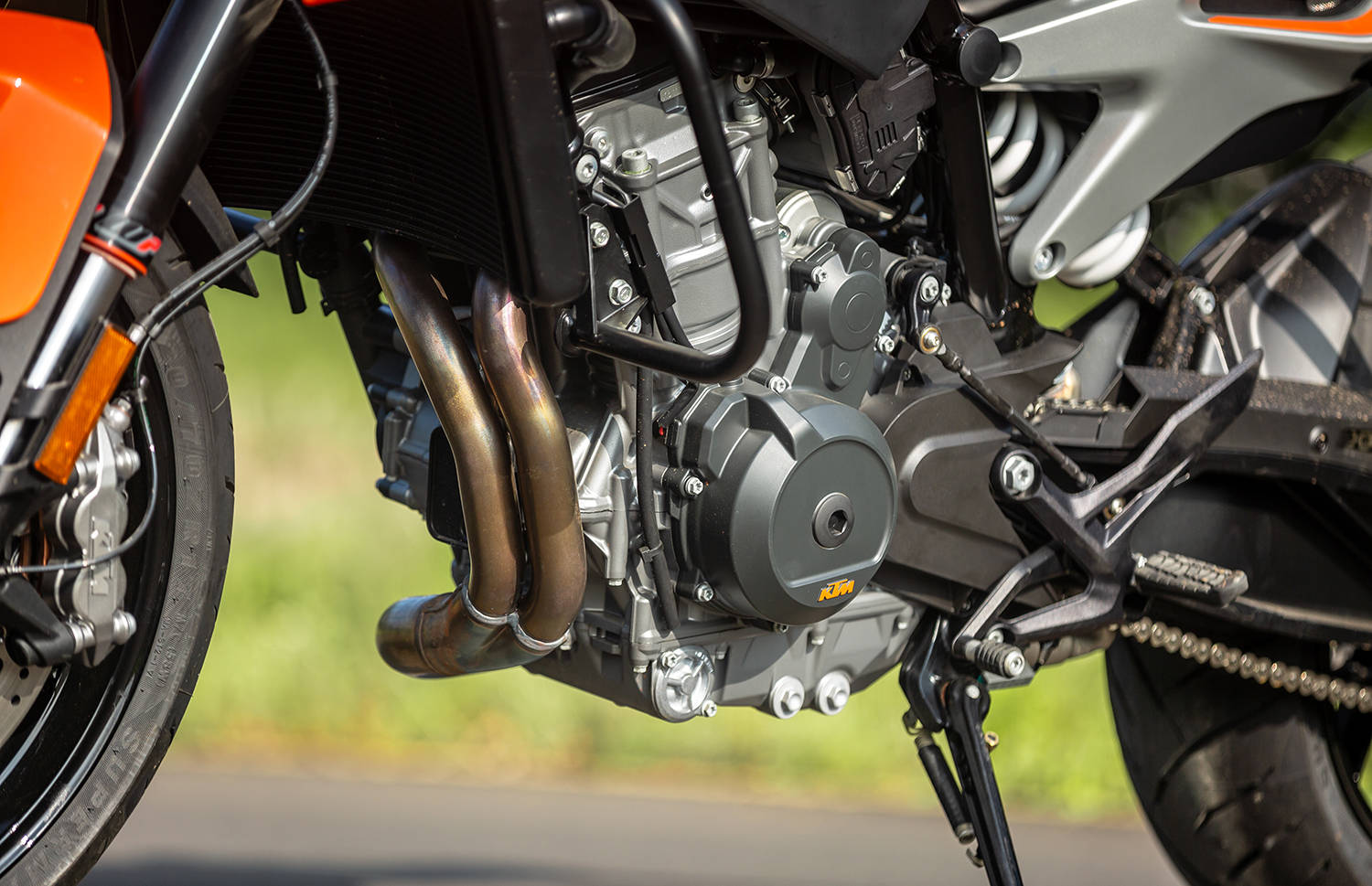 Aside from a slipper clutch and engine braking control, which prevents the rear wheel from hopping when down-shifting multiple gears in a hurry, there's also an up-and-down quickshifter for those super-fast, clutch-free gear changes. It works wonderfully when you're carrying a bit of speed, but can feel a little hard if you're at low speeds. And the system is a bit sensitive so you have to be a little careful that you don't unintentionally activate it before you actually want to upshift.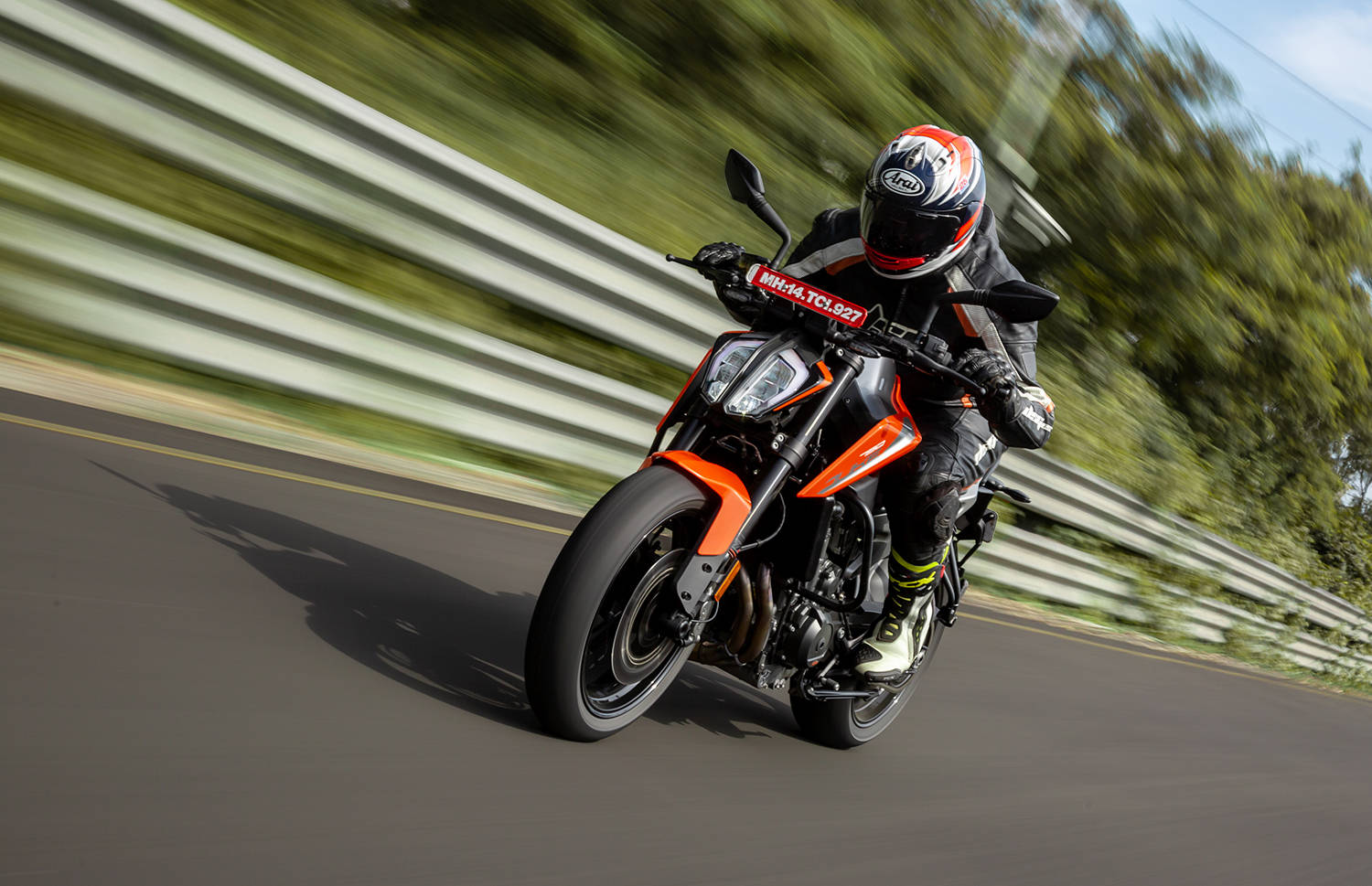 Engine & Performance:
As impressive as the 790 Duke's electronic riding aids are, they would all be meaningless if the engine didn't deliver strong performance. And strong performance it does deliver. Don't be fooled by the (comparatively) low power figure -- 104.72PS at 9000rpm might not sound like much, but this 799cc inline-twin motor is all about the torque: 87Nm at 8000rpm, which is more than most of its competition. And a majority of this torque is made from 3000 to 6000rpm, essentially where you'll end up spending most of your time. This makes the engine not only very usable at slow speeds but absolutely delightful when you're piling on the gas as well.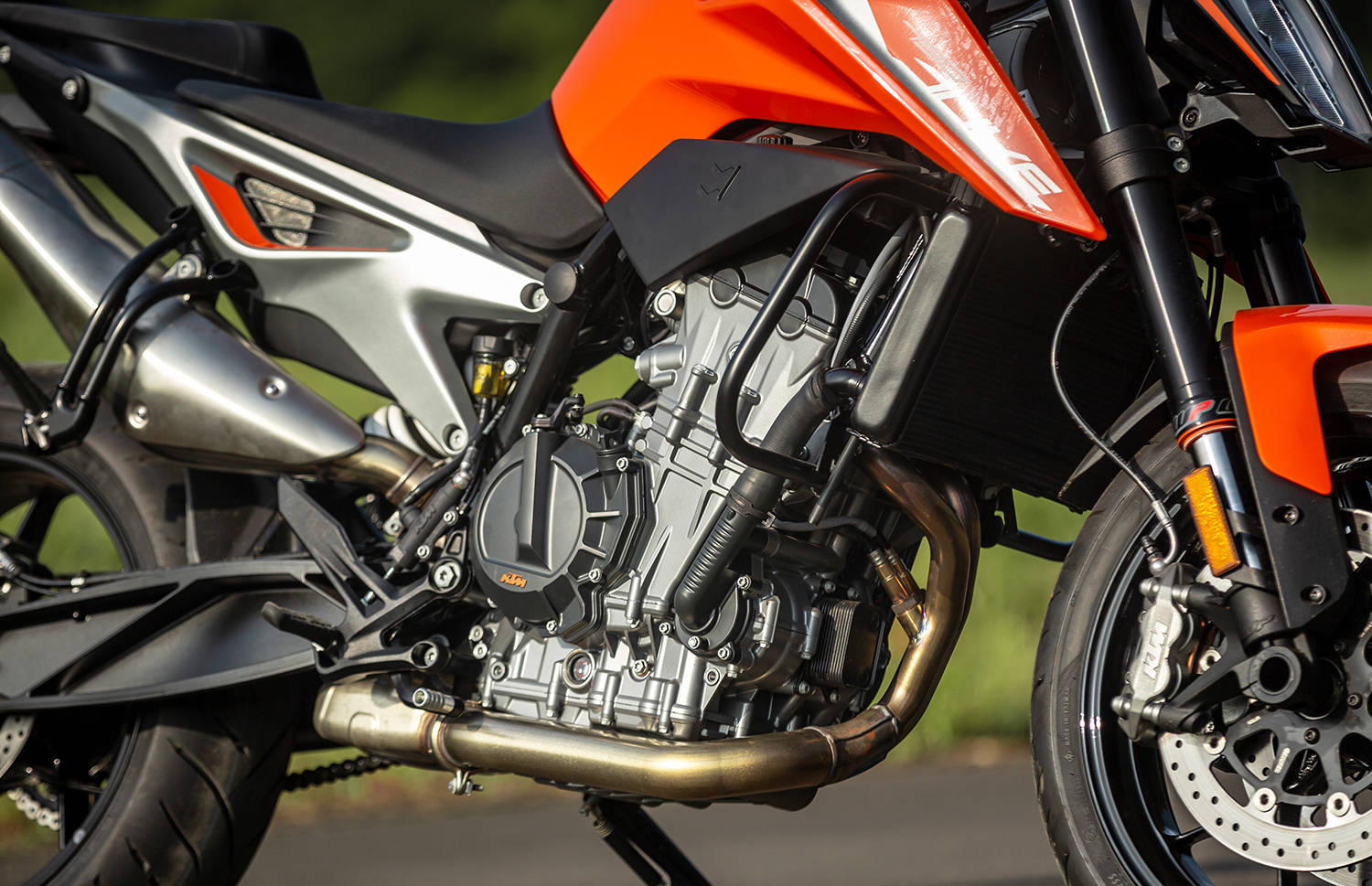 This engine's character is very unlike other inline-twins, which offer great tractability, but only really deliver their punch high up in the rev range. KTM has in fact tuned this engine's firing order to mimic the power delivery, and even the exhaust note, of a V-twin - hence all the mid-range torque on offer. And because there are two balancer shafts in the engine, this motor still retains the characteristic smoothness of an inline cylinder layout.
Open the throttle and the 790 builds up speed rapidly, and on the Bajaj test track we saw 225kmph on the speedometer. We believe the bike could've easily gone 10-15kmph faster if we had a slightly longer straight. It might not have the strong top-end power delivery of its three- or four-cylinder competitors but in real-world conditions, on real-world roads, the 790 will outpace nearly everything.
Ride & Handling:
Where the 790 really blew our minds was with its handling ability. On the tight twists and turns of the Bajaj test track this 790 felt as nimble, if not more, than something like the 390 Duke - already one of the best handling bikes out there. Even with a wheelbase that's amongst the longest in its class (1475mm), the 790 turns with the agility of a much smaller motorcycle. Part of this is down to the low weight - just 169kg dry (although it is still 3kg heavier in dry weight than the Triumph Street Triple S), and the rest is down to its sharp steering geometry (24-degree rake and 98mm trail). Keeping the weight in check was one of the chief reasons why KTM dropped a heavy trellis frame in favour of a light (and still very strong) chromium molybdenum steel frame with the engine as a stressed member.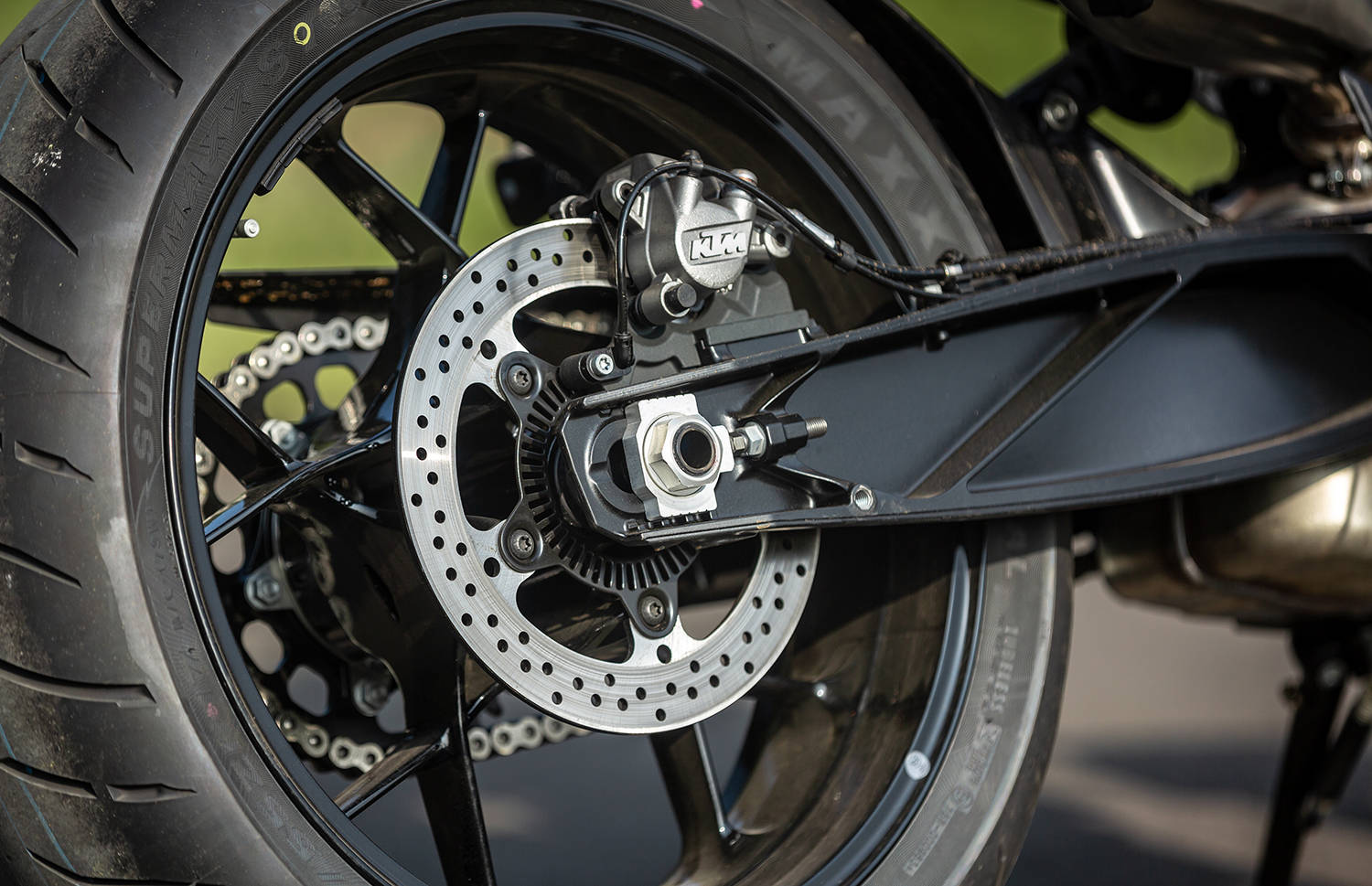 Even though the 790 is really quick to steer into corners, it does so while inspiring a supreme sense of confidence. A big reason for this are the tyres on offer - Maxxis Supermaxx ST, which have been made specifically for this bike. Even though they don't match the grip levels of very high-end tyres such as the Pirelli Supercorsas (found on the Triumph Street Triple RS), these work really well, provide plenty of stability and rarely feel like they would run out of grip. And even if they do get to the edge of their grip limits, you have the brilliant traction control system that smoothly keeps them in check.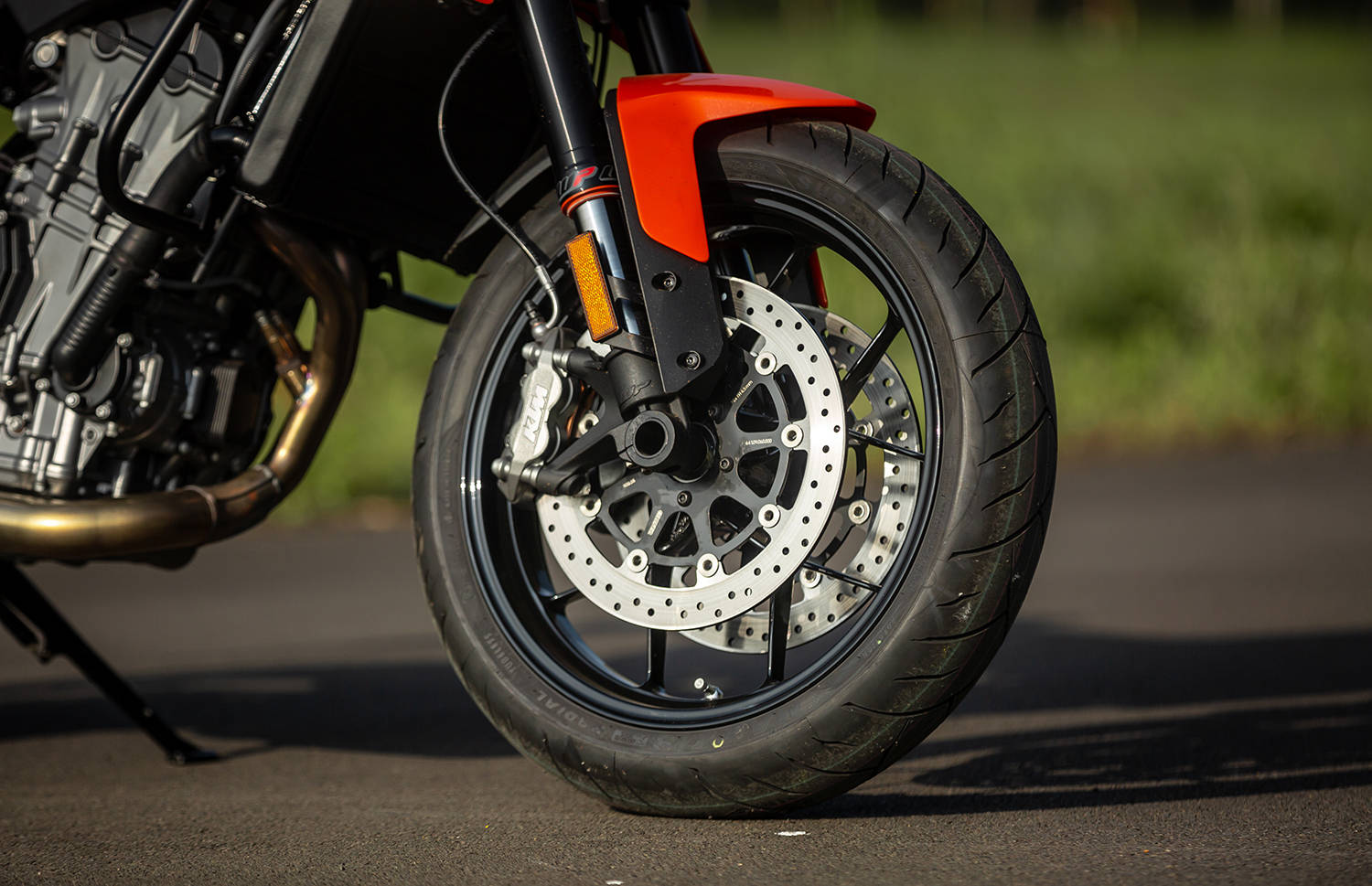 Here, the suspension setup might seem like a bit of a letdown. For one, the front fork seems to be the same 43mm upside-down unit found on the 390 Duke (although the springs and dampers have been revised to suit the 790). Then there's very little adjustability found here - none at the front and just preload at the rear.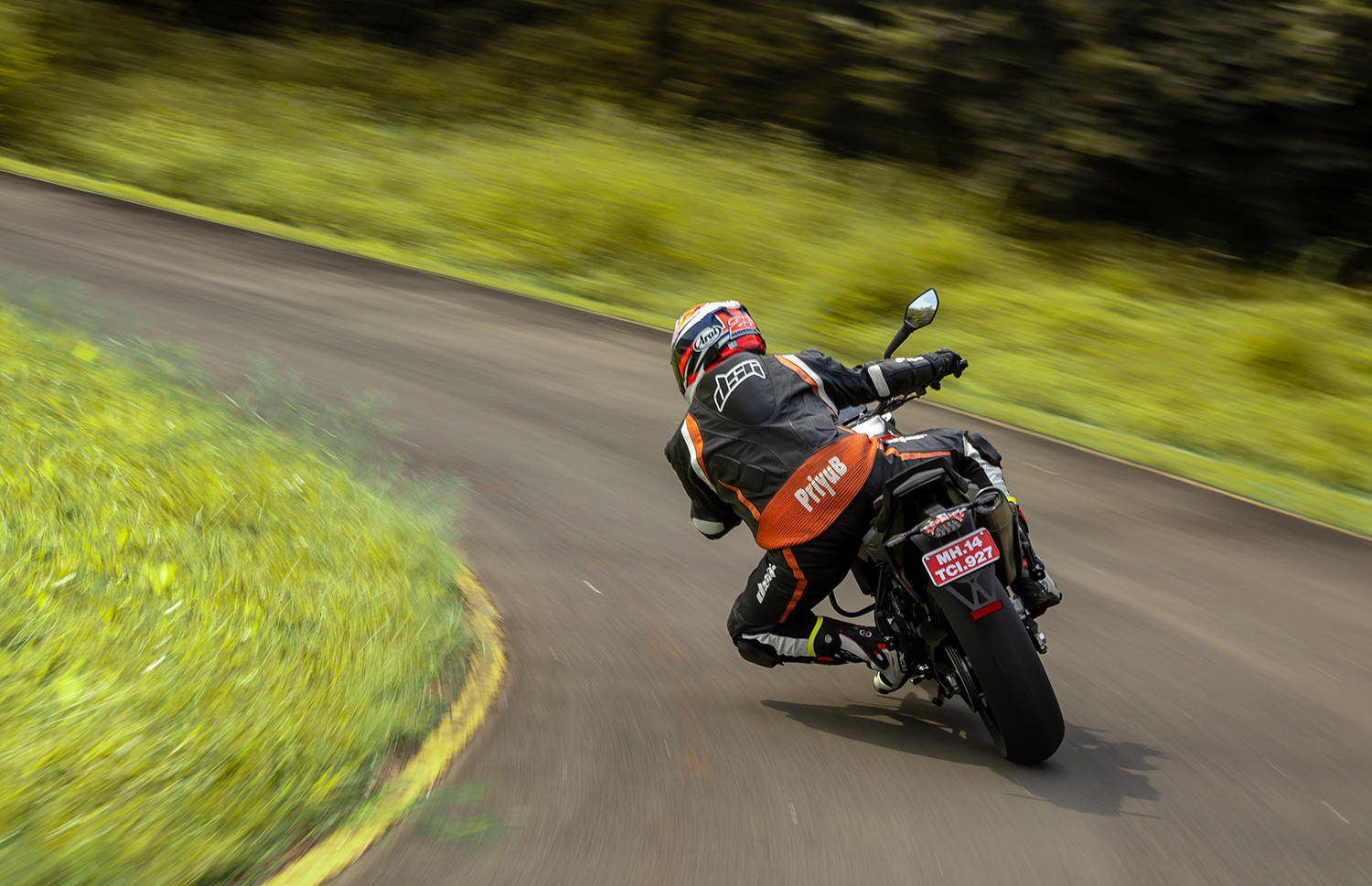 But we have to say, while adjustable suspension would've upped the ante in terms of setting up the bike more precisely for each rider's weight and riding style, the stock setup is actually very well calibrated for most conditions. It was only when pushing at the very limit of lean angles on the test track and then encountering mid-corner bumps did we get some slight unwanted movement from the rear suspension. But the super chassis and tyres really did a great job of not upsetting the bike. For regular road use, whether riding in the city, on the highway or even having fun around some ghat roads, this suspension should work just fine.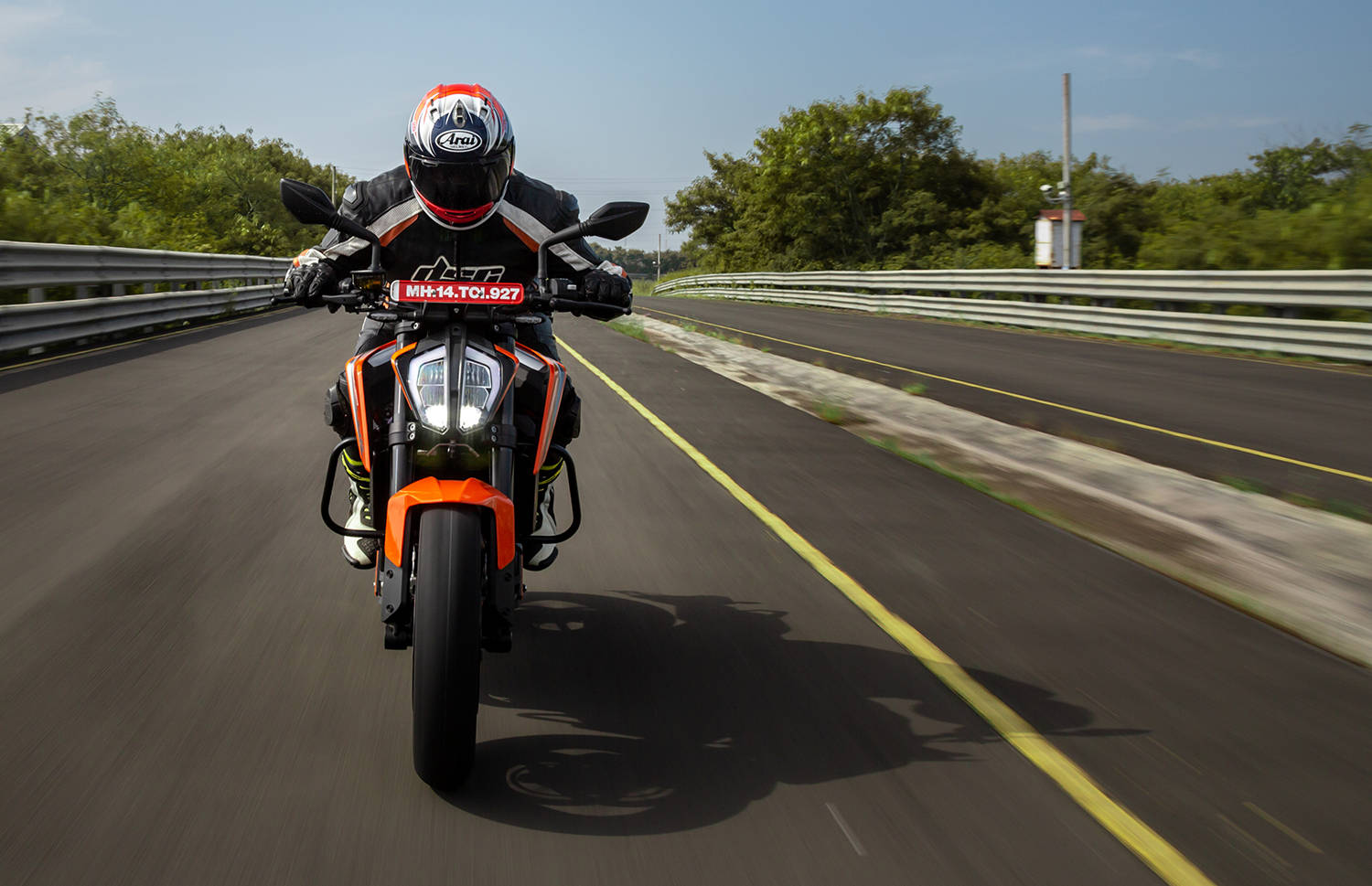 Verdict:
The KTM 790 Duke is a bit of a conundrum when you factor in its price of Rs 8.64 lakh (ex-showroom India). It doesn't have the immediately apparent price-to-performance proposition of its smaller siblings. But after spending a couple of hours bashing it around the Bajaj test track, some things became very clear. It packs an exhilarating level of performance and at the same time, it's a ridiculously easy bike, not just to ride fast and have fun on, but to ride everyday as well. It quite literally one bike that will do everything. It's a bike that you simply can't judge on its spec sheet and needs to be ridden to be believed. So while it's far from cheap, it certainly isn't the overpriced bike it first appears to be.