Is the Gixxer SF 250 the right step up for those upgrading from a 150cc motorcycle?
Words by Benjamin Gracias
Photography by Vikrant Date
Pros:
Looks sporty and premium.
Refined motor.
Comfortable ride.
Cons:
Brakes lack bite
Riding position can feel a bit tight for tall riders
Headlight is not bright enough
Standout features:
Quick revving nature of the motor
Comfortable seat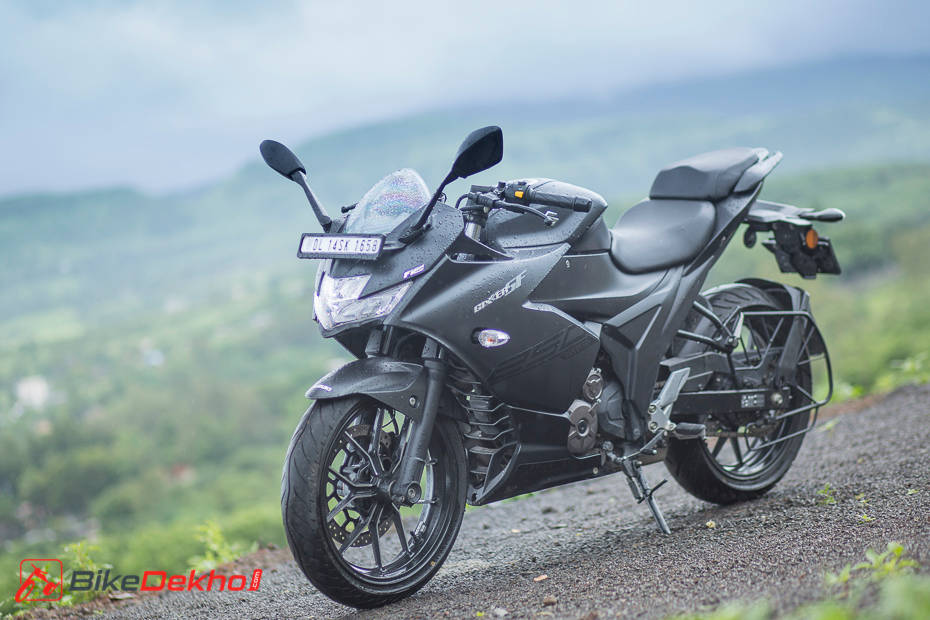 The first generation Suzuki Gixxer SF was impressive when it comes to handling and fun-to-ride characteristics. So much so that we have always wanted a more powerful version of the same. So is the new Gixxer SF 250 a good step up for those who loved the Gixxer SF but wanted something more exciting? Is it a good upgrade for those wanting something more than what the current 150-160 crop of bikes offer?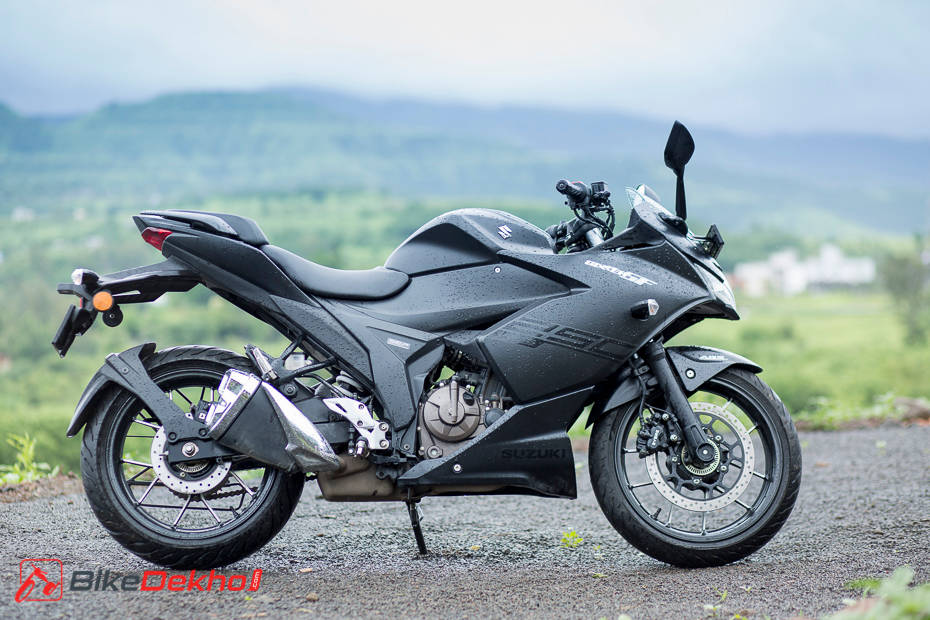 Design:
Compared to the previous generation Gixxer SF 150, the new Gixxer SF 250 looks a lot sportier. You get sharper lines and sporty bits in the form of clip-on handlebars, split seats and a higher-set tail section. Even the low-mounted flyscreen looks sporty though it feels more of a cosmetic addition than a practical one. The SF 250 looks premium as well thanks to the inclusion of an all-LED headlamp and tail lamps. Colour options are matte silver and matte black. While Suzuki has done well to keep livery to a minimum, we would have liked some brighter colour options. Thankfully, word is that the company will offer a MotoGP edition of the 250 (just like they've done for the new SF 150) in the coming months. In terms of quality and fit and finish, the Gixxer SF feels better than the previous generation Gixxers.
| | | |
| --- | --- | --- |
| | Suzuki Gixxer SF 250 | Yamaha Fazer 25 |
| Length | 2010mm | 2015mm |
| Width | 740mm | 775mm |
| Height | 1035mm | 1115mm |
| Seat height | 800mm | 795mm |
| Fuel tank capacity | 12-litres | 14-litres |
| Ground clearance | 165mm | 160mm |
| Kerb weight | 161kg | 157kg |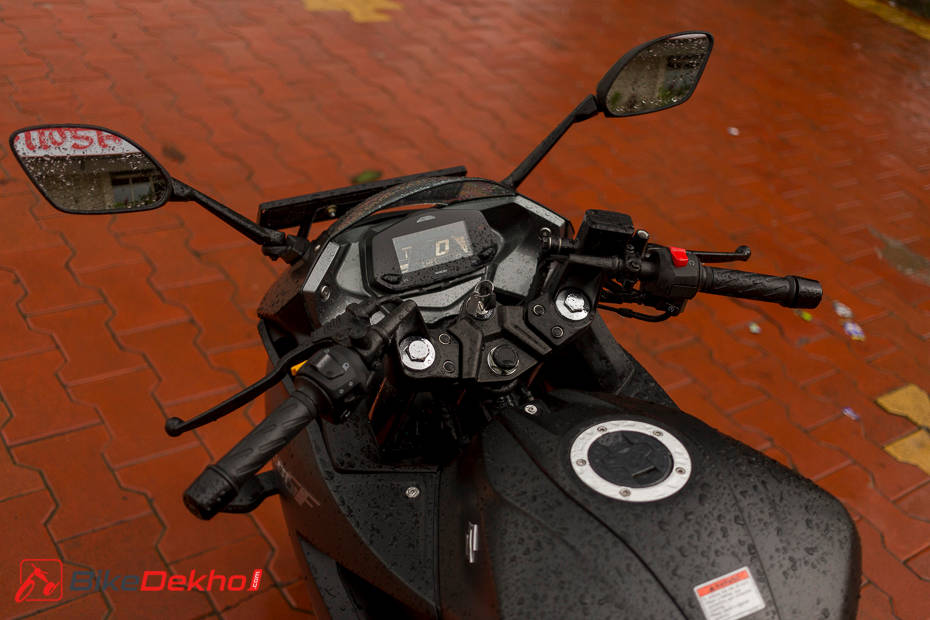 Ergonomics:
Despite the sporty design, the Gixxer has fairly upright ergonomics. Its clip-on handlebars are set low, but because they're positioned closer to the rider, you do not have to lean much to reach them. The footpegs are positioned higher and given the deep knee recesses is a snug fit for average-sized riders. They can be a problem if you are taller or wider though. Also, the high-placed footpegs, combined with the overall compact riding position, can make your knees feel uncomfortable on longer rides. Thankfully though, the seat is extremely comfortable even on longer rides thanks to its shape, width and the right amount of firmness. Its low height allows even shorter riders to comfortably place both feet on the ground. The fairing-mounted mirrors offer good rear visibility. Overall, the Gixxer 250's riding position is suited both for city use and touring.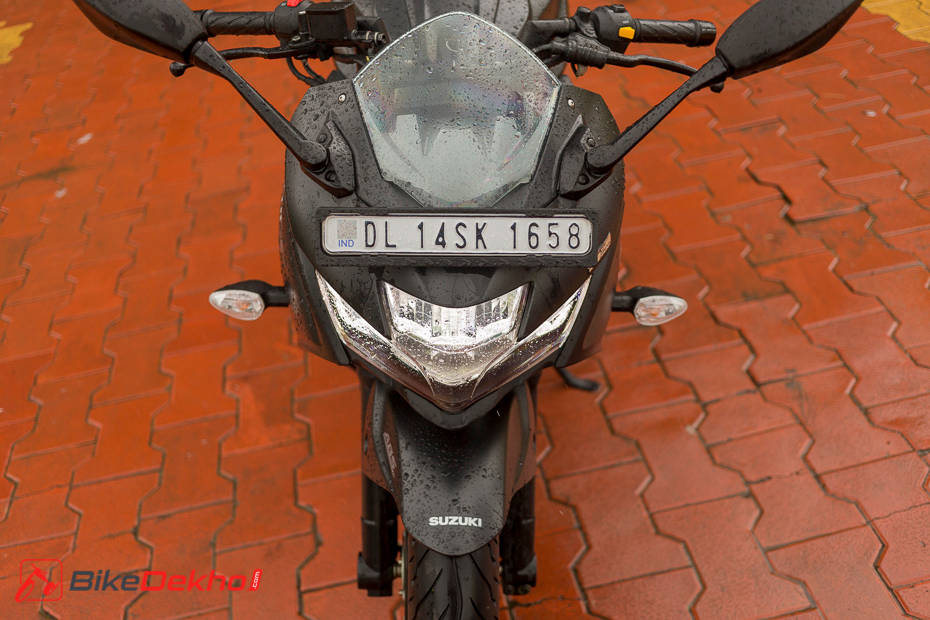 Technology and features:
In terms of features, the Gixxer gets a new LED headlamp and tail lamp. The headlamp has good reach but disappoints with its beam intensity. Where the Gixxer impresses though is with its new instrument console. This premium looking all-digital LCD console offers a large readout and inverted colours that are easy to read even in bright daylight. Other than the speedo, tachometer and fuel level indicator, it shows the gear position and even a service/oil change reminder. In terms of safety, the Gixxer 250 gets dual-channel ABS as standard.
| | | | |
| --- | --- | --- | --- |
| | Suzuki Gixxer SF 250 | Honda CBR250R | Yamaha Fazer 25 |
| Headlamp | LED | LED | LED |
| LED tail lamp | LED | Bulbs | LED |
| LED turn indicators | Bulbs | Bulbs | Bulbs |
| Digital instrument console | Full-digital | Semi-digital | Full-digital |
| ABS | Dual-channel | Dual-channel | Dual-channel |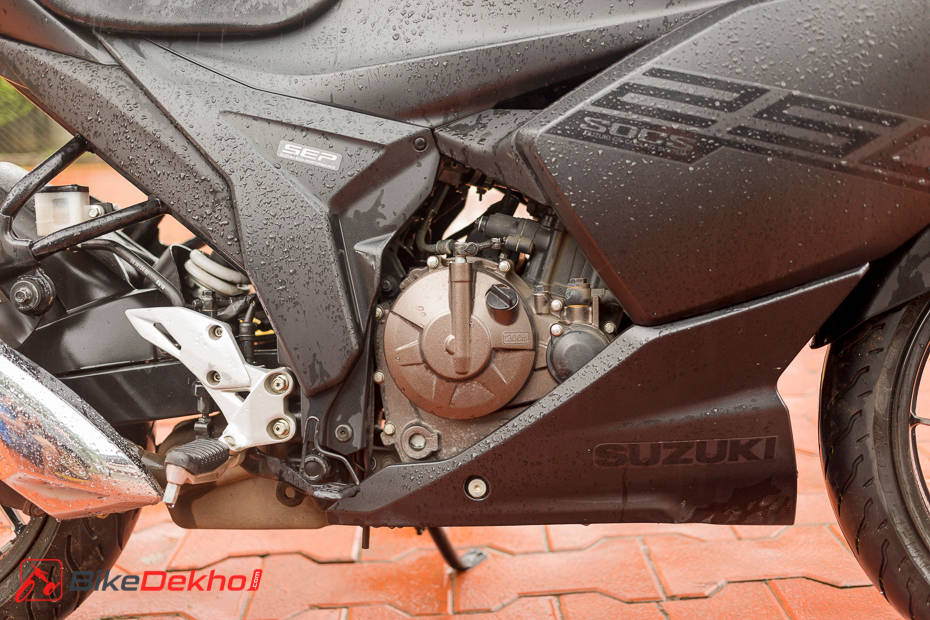 Engine and performance:
| | | |
| --- | --- | --- |
| | Suzuki Gixxer SF 250 | Yamaha Fazer 25 |
| Engine capacity | 249cc, oil-cooled, 4-valve, SOHC | 249cc, air and oil-cooled, 4-valve, SOHC |
| Power | 26.5PS @ 9000rpm | 20.9PS @ 8000rpm |
| Torque | 22.6Nm @ 7500rpm | 20Nm @ 6000rpm |
| Slipper clutch | No | No |
| 0-60kmph | 3.66 seconds | 4.11 seconds |
| 0-100kmph | 9.57 seconds | 10.86 seconds |
| 30-70kmph in 3rd gear | 4.48 seconds | 4.80 seconds |
| 40-80kmph in 4th gear | 5.72 seconds | 6.20 seconds |
| City fuel efficiency | 37.5kmpl | 41.3kmpl |
| Highway fuel efficiency | 40.95kmpl | 32.9kmpl |
The Gixxer SF 250 features a unique 249cc oil-cooled single-cylinder motor. It is not a high-revving motor but a quick-revving one. This characteristic coupled with the linear power delivery allows the Gixxer 250 to get off the line quicker. In the city, the motor is tractable enough to pull cleanly in 6th gear from speeds as low as 40kmph. Also, its short gearing and grunt means you can ride around in the city in higher gears, which helps return good fuel efficiency.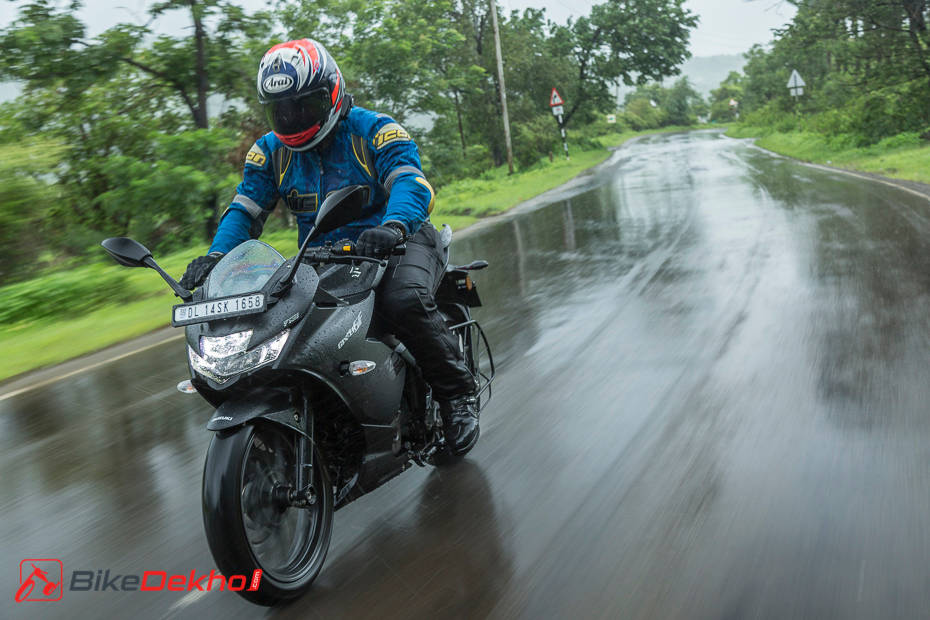 Out on the highway, the motor feels unstressed at speeds of upto 100kmph, with an optimal cruising speed between 90 and 100kmph. This shows in the highway fuel efficiency, which is the highest of any 250cc bike we have tested. You can ride it at 120kmph as well but the motor starts to feel stressed at those speeds. This is a refined, vibe-free mill with just a hint of buzziness creeping in on the fuel tank and handlebars post 5500rpm.
Overall, the Gixxer SF 250's motor does everything right, and it's hard to fault. But if you're looking at exciting performance you'd be better off with something like a KTM 250 Duke.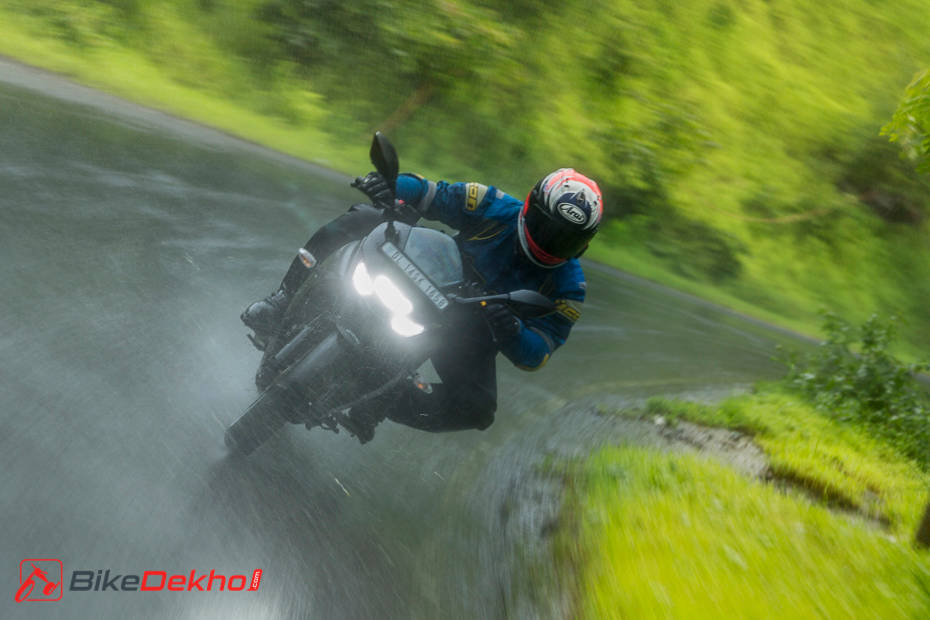 Ride and handling:
Suzuki Gixxer SF 250

Yamaha Fazer 25

Chassis

Diamond type

Diamond type

Front suspension

41mm conventional forks

41mm conventional forks

Rear suspension

Preload adjustable monoshock

Preload adjustable monoshock

Brakes

F: ByBre 300mm disc with twin-piston caliper

R: Disc with single-piston caliper

F: Bybre 282mm disc with twin-piston caliper

R: Nissin 220mm disc with single-piston caliper

ABS system

Dual-channel ABS unit

Dual-channel ABS unit

Wheels

F: 110/70R - 17

R: 150/60R - 17

F: 100/80-17

R: 140/70-17

Tyres

MRF REVZ-C

MRF Nylogrip zapper
Another area where the Gixxer SF 250 impresses is its ride quality. While the ride is on the firmer side, the bike does a good job of isolating the rider from sharp road edges and potholes. So while you do feel the road surface, you do not have to brace for any jolts to your spine over bad surfaces. The ride quality gets better as speeds increase on the Gixxer SF 250.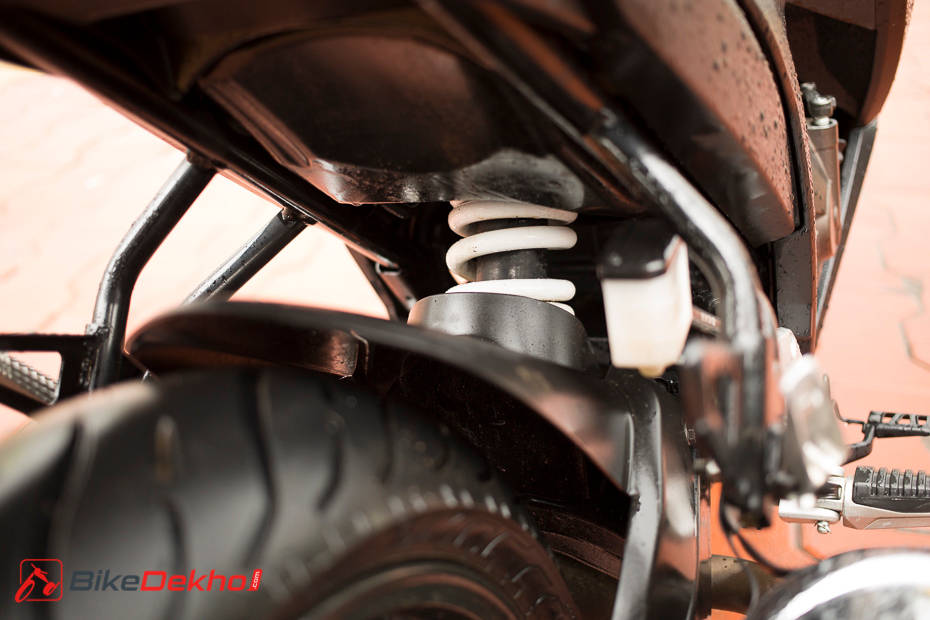 In terms of handling, the Gixxer SF 250 does not feel as light on its feet as the previous Gixxer SF 150. However, it does well to mask its weight especially when you are riding it in the city, where it feels almost effortless. The SF 250's steering does feel a bit lazy and slow to change direction but when you are leaned into corners, the Gixxer SF 250 feels planted. Part of it is owing to the MRF radials that work well even in wet road conditions. Out on the highway, the bike feels planted thanks to the well-tuned suspension setup. Overall, the Gixxer SF 250 feels quite friendly and stable in corners even in wet and slippery conditions.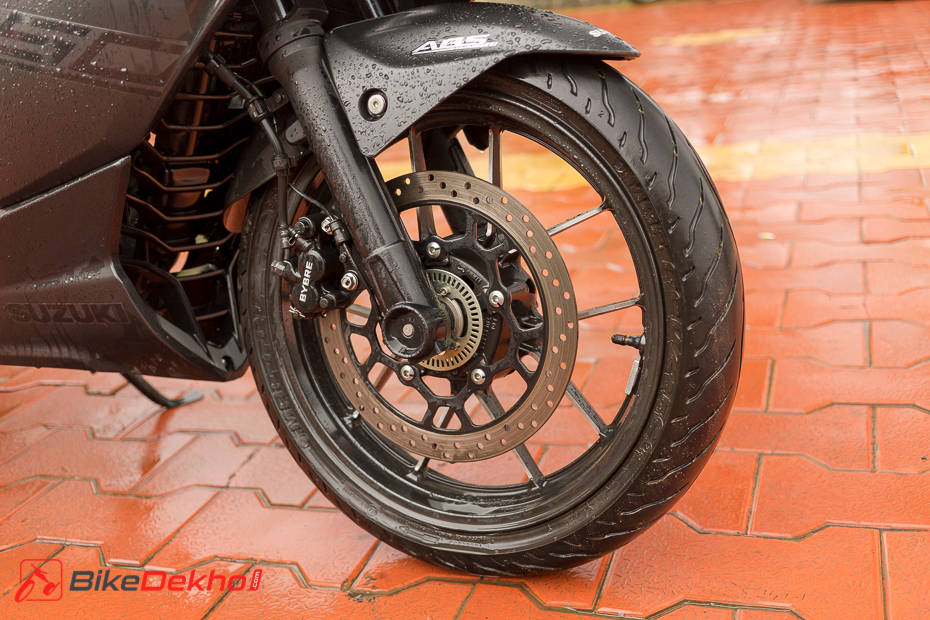 The Gixxer 250 performs poorly in the braking department. While the poor numbers can partly be attributed to the wet road conditions during our test, the brakes themselves offer very little in terms of feedback and bite. They feel like the brakes on the first-generation KTM 390 Duke but without the bite. That said, the dual-channel ABS does provide an adequate enough safety net if you have to go hard on the brakes, even on wet or otherwise slippery road conditions.
| | | |
| --- | --- | --- |
| Braking | Suzuki Gixxer SF 250 | Yamaha Fazer 25 |
| 80-0kmph | 38.16m | 32.19m |
| 60-0kmph | 21.64m | 18.58m |
Overall the Gixxer SF 250 offers a good balance between ride and handling but could do with better brakes.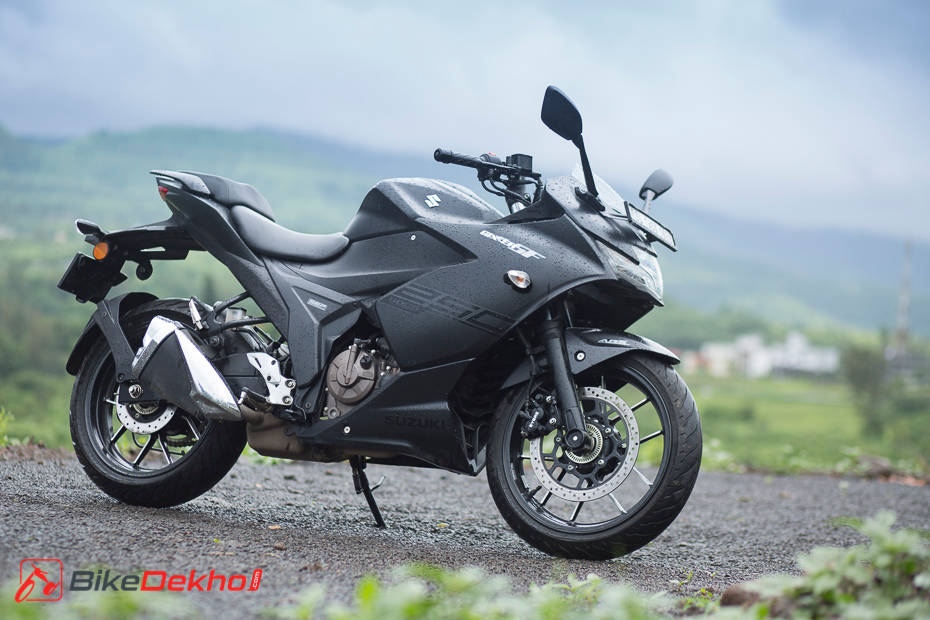 Verdict:
So who is the Suzuki Gixxer SF 250 meant for? It has an upright riding position and comfortable seat that works well in the city and on long-distance rides. The motor is a smooth unit which is tractable in the city and unstressed at highway speeds. It is easy to ride and manageable for someone who is used to riding a 150cc bike.
| | | | |
| --- | --- | --- | --- |
| | Suzuki Gixxer SF 250 | Yamaha Fazer 25 | Honda CBR250R |
| Price (ex-showroom, Delhi) | Rs 1.71 lakh | Rs 1.44 lakh | Rs 1.95 lakh |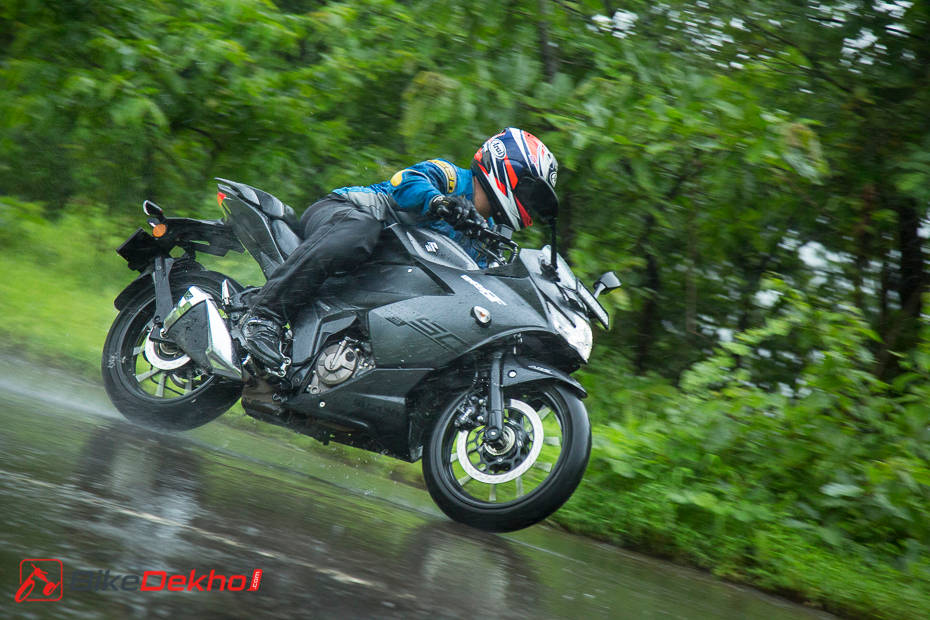 When you factor in pricing, the Gixxer SF 250 sits between the Yamaha Fazer 25 and Honda CBR250R. It outshines the Fazer 25 in most areas, matches the Honda CBR250R on most counts and costs a significant Rs 24,000 less. The Suzuki Gixxer SF 250's calm nature will do well with a mature audience looking for a more powerful city bike which can also do long-distance highway runs without fuss.