Is the GSX-S750 the rookie rider's quintessential ticket to superbike nirvana?
Suzuki, until now, did not have a solid player in the sub-1000cc segment (they did have the Intruder M800). With the new GSX-S750 they go up against the Triumph Street Triple S and more specifically the Kawasaki Z900. In terms of pricing the Suzuki GSX-S750 is positioned really well. At Rs 7.45 lakh (ex-Delhi), it undercuts the Z900 (Rs 7.68 lakh) by Rs 23,000. It, though, makes 10PS less and weighs 5kg more than the Z900. But there is more to a bike than just numbers. A short jaunt on the bike on the Buddh International racetrack did give us a bit of perspective on the bike.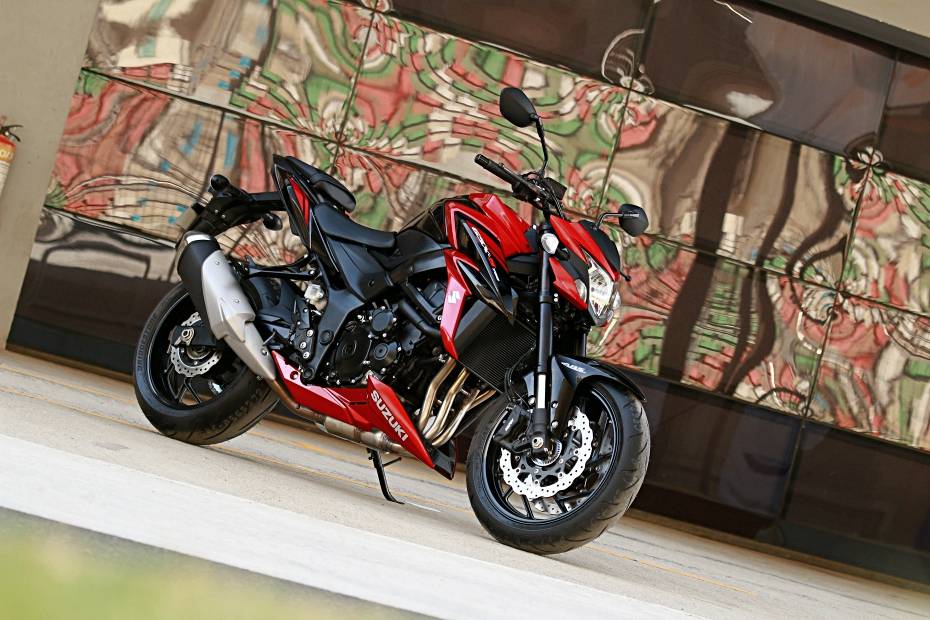 Design and features
The first time you lay eyes on the Suzuki GSX-S750, you will notice its compact dimensions. This may not bode well for riders used to the "bigger is better" mantra. Seasoned riders, though, will appreciate the 600cc-sized dimensions as it is easier to ride aggressively as well as to use on a daily basis. Size-wise it sits in between the chunkier Kawasaki Z900 and the more compact Triumph Street Triple S. Like the Z900 does with the Z1000, the GSX-S750 borrows styling cues from the larger GSX-S1000. It is not a minimalist design, rather a busy one, especially around the engine and fuel tank. One design aspect we did not like was the overtly large turn indicators that just look dated. Fit, finish and quality are quite good and the bike looks built to last.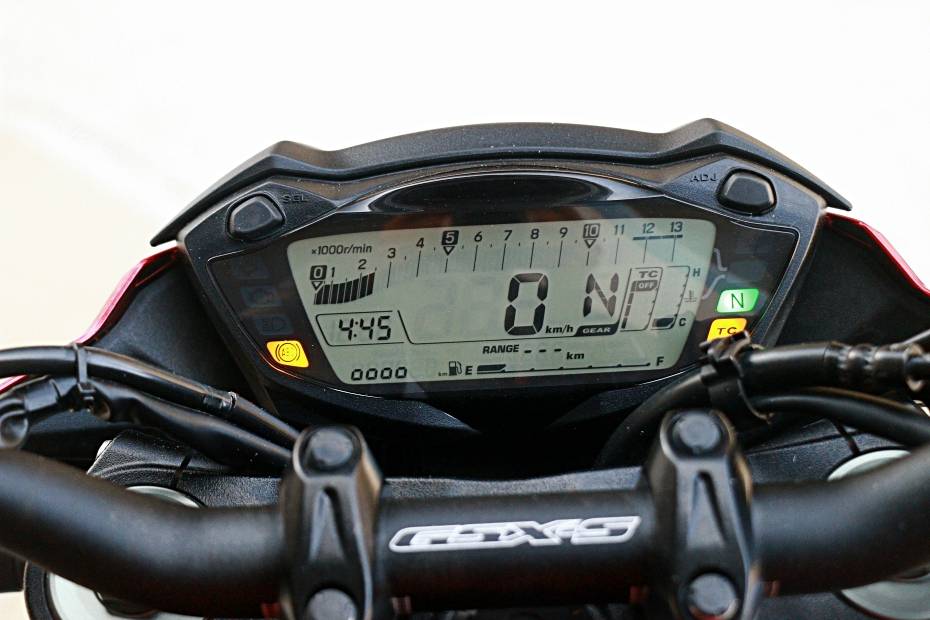 The headlamp is a conventional unit with the DRLs getting conventional bulbs as well. The tail lamp though is an LED affair. The fully digital LCD instrument cluster is lifted off the GSX-S1000. Other than the regular speedometer and tachometer it displays traction modes which can easily be toggled through via the selector switch. Switchgear again is borrowed from the larger GSX-S and incorporates features like Suzuki's easy start system for convenient startups.
Engine and performance
Like its larger cousin, the GSX-S750 also uses Suzuki's legendary K5 motor albeit in a 750cc configuration. The inline-four motor was known for its tractability and Suzuki has reworked it for more refinement and smoother power delivery. It gets what Suzuki calls a low rpm assist which prevents the motor from stalling while gradually accelerating from and riding at crawling speeds.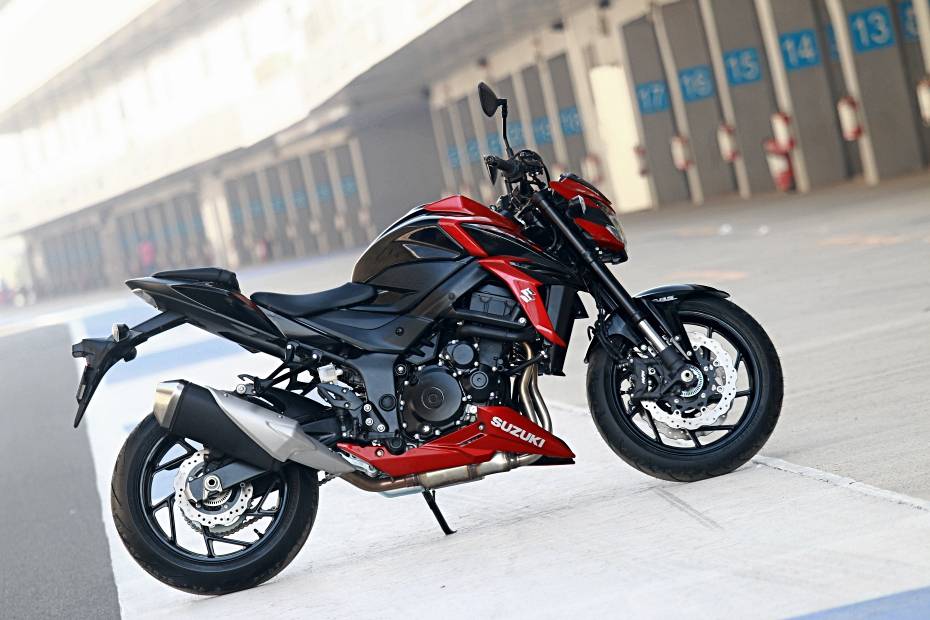 Of course performance has been given a boost from its previous iteration found in the erstwhile GSR750. The motor now makes 114.21PS at 10,500rpm and 81Nm of torque at 9,000rpm. It's not just the motor - the gearbox has been reworked for better acceleration as well. The rear sprocket is now larger for better acceleration though Suzuki claims top speed remains unchanged due to the same 6th gear ratio as before. Suzuki also claims a fuel efficiency of 20.4kmpl.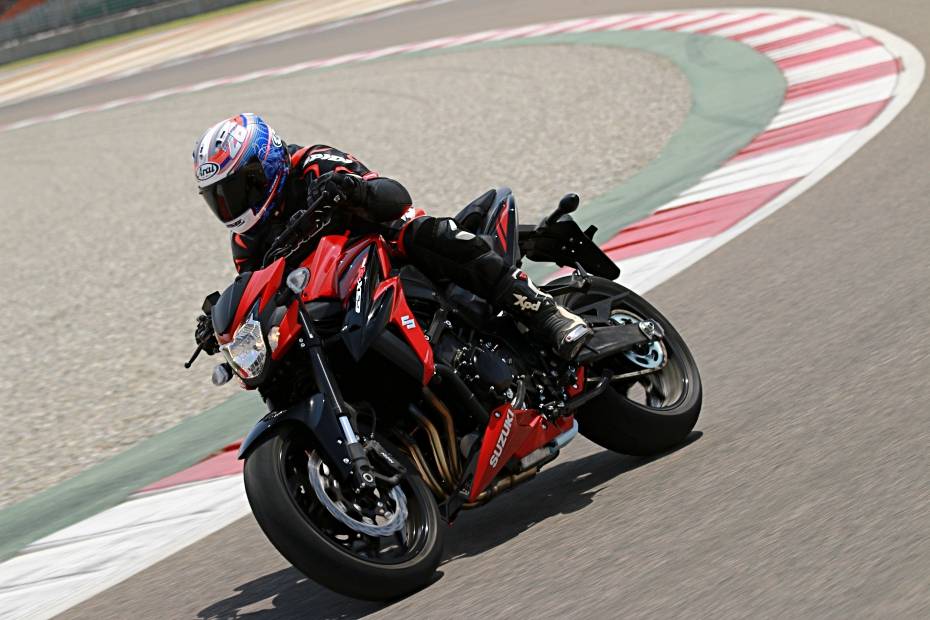 The motor is a refined motor and revs freely. Power delivery is linear with a slight bump in power from 5000rpm onwards. It is a tractable unit, pulling cleanly from speeds as low as 20kmph in third gear. While earlier K5 motors were notorious for their snatchy power delivery, a trait still seen on the larger GSX-S1000, Suzuki has managed to iron out most of it in the 750. What you get instead is a slight lumpiness at idling speeds. Speaking of performance, the motor has enough grunt to get the front end light under hard acceleration though it will not have the front wheel lift off the ground easily, unlike its Japanese counterpart. The tractability and low to mid range grunt should make the bike quite usable in the city and overtaking on the highway. And city usability gets a boost thanks to the light clutch and gearbox actuation.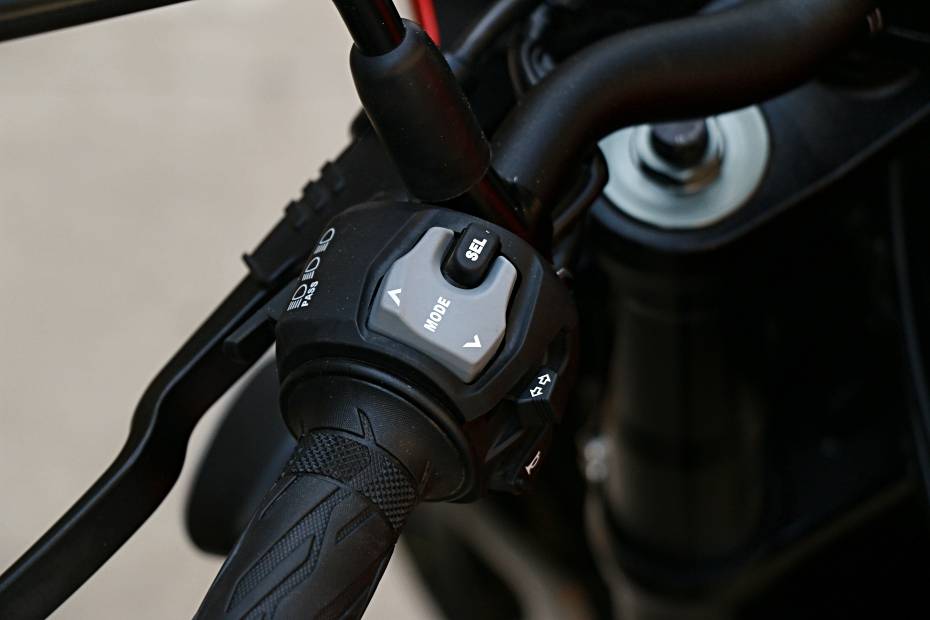 Riding aids include a 3-stage traction control system, which is a well tuned unit that monitors both wheel speeds, throttle position, crank position and gear position and intervenes when slip is detected. While you can ride with traction control off, Mode 1 is the better bet as it allows for minimal TC intervention but keeps a safety net should things turn awry. Mode 2 is better suited for cement roads in the city while Mode 3 is for a rainy day. It is a fantastic system where on detecting slip, the TC does not cut power abruptly, but meters it out neatly so you barely feel the intrusion.
The gearbox is a precise unit though it does not respond well to clutchless gear shifts, a prerequisite for track riding. It should work well in everyday riding conditions though.
The highlight of the motor is its sound. It gets a new airbox and lightweight exhaust system that apart from helping deliver better low end grunt gives out a sonorous soundtrack.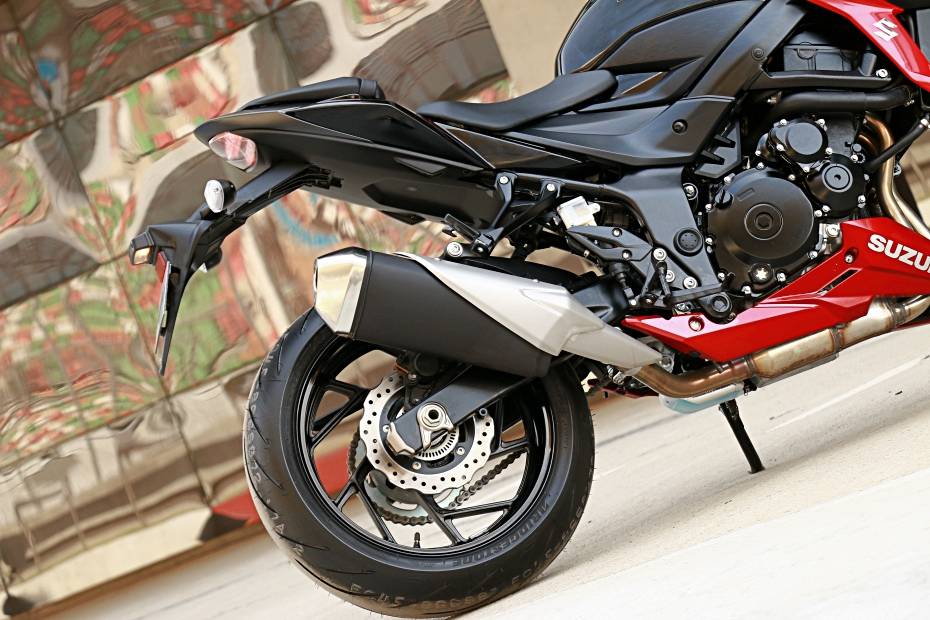 Ride and handling
Suzuki chose this motor for its vertical architecture which allowed engineers to have a shorter 1455mm wheelbase to impart more agility in the chassis. The frame is a twin-spar/tubular hybrid with a box section swingarm. Suspension setup includes 41mm Kayaba upside down front forks and linked rear monoshock, both adjustable for preload.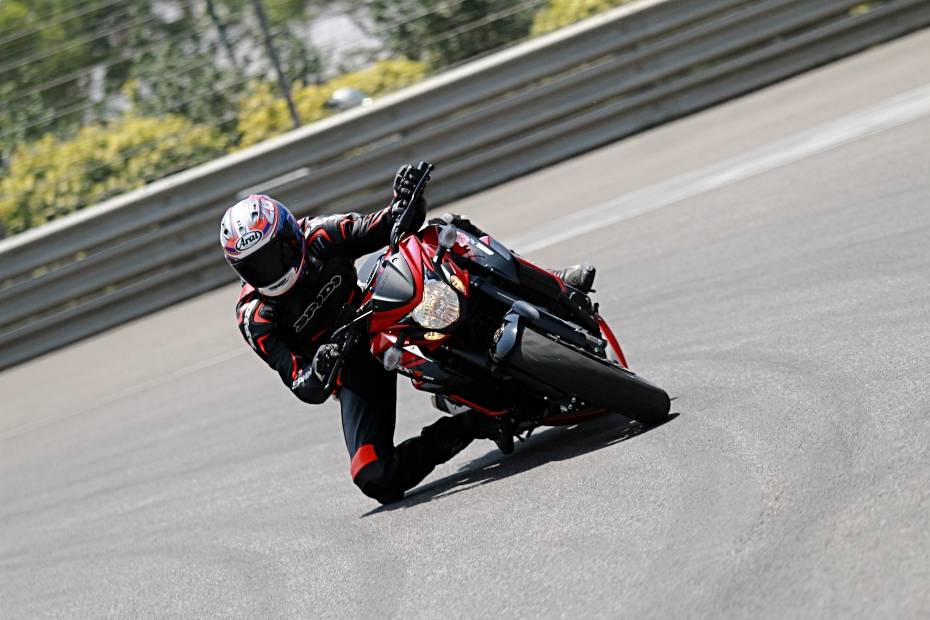 Out on the track we found the bike to be quite stable, allowing for good lean angles. Mid-corner stability is impressive - it holds a line through the corner quite well and you can even do mid-corner corrections simply by modulating the throttle. Turn-in is a tad lethargic and on switchbacks, we did wish for a bit more flickability. That was the only time we could feel the bike's 215 weight, though the front end does steer with minimal effort.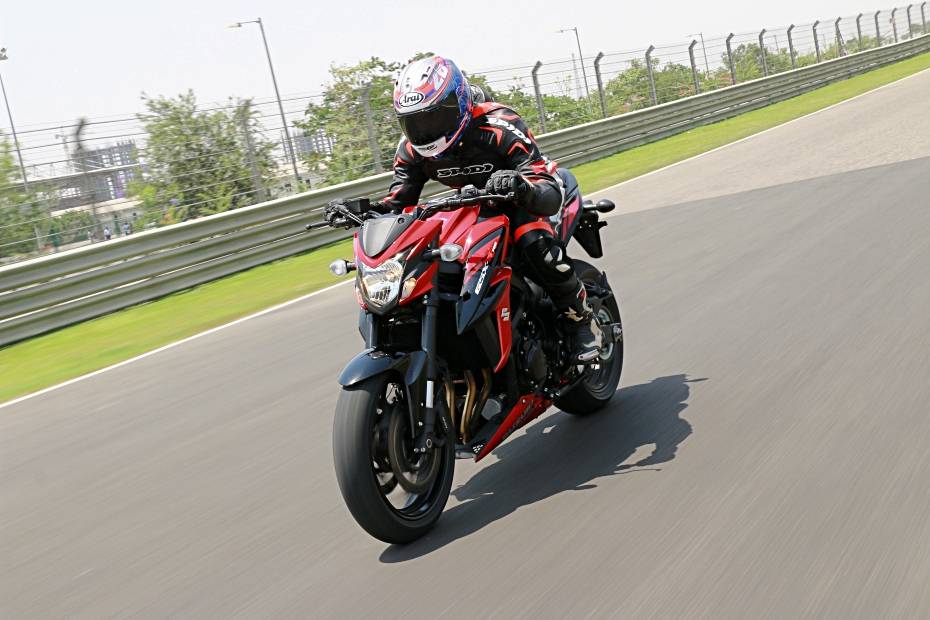 The riding position is upright with slightly rear-set and lower footpegs so you will not feel cramped on it. The handlebar too is a bit higher so you don't feel strain on either your back or your wrists, making for a sporty commuter riding position. Its seat height, at 820mm, is a tad on the higher side but the seat narrows down at the front so you can place both feet on the ground with ease.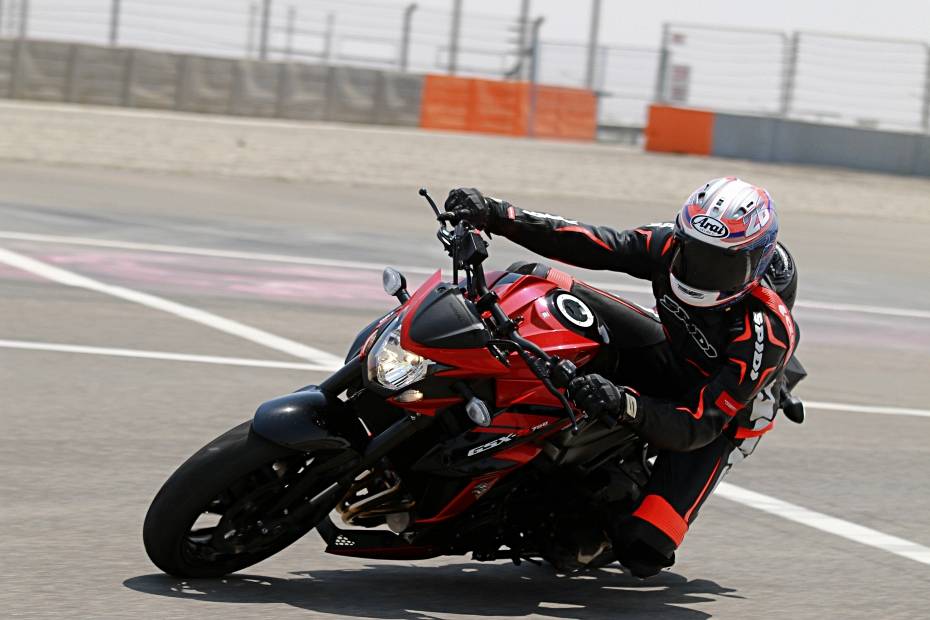 Since we were riding on pristine tarmac, we could not really judge the ride quality. That will have to wait for a proper road test. That said, grip levels are fantastic thanks to super grippy Bridgestone Battlax Hypersport S21 tyres. On the hot and dry surface of the Buddh International Circuit, the tyres provided such astounding levels of grip that they refused to break traction even under hard braking.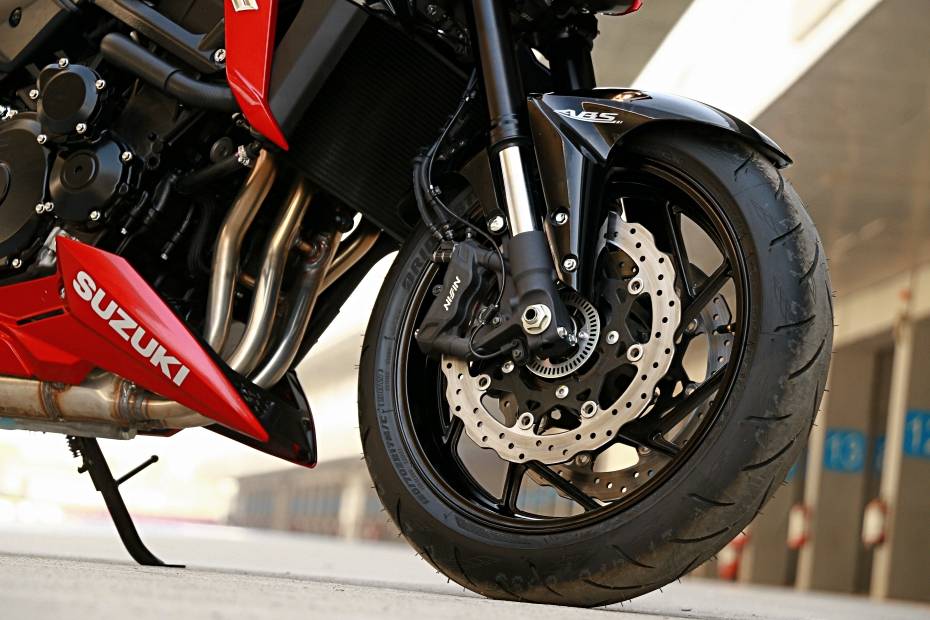 Another highlight is the braking setup. Two 310mm discs with radially clamped Nissin calipers and a single disc at the rear provide impressive retardation with lots of feel through the front brake lever. These are easily one of the best brakes we have seen on a naked bike this side of a Triumph Speed Triple RS. It worked so well on track that we almost never felt the ABS cutting in.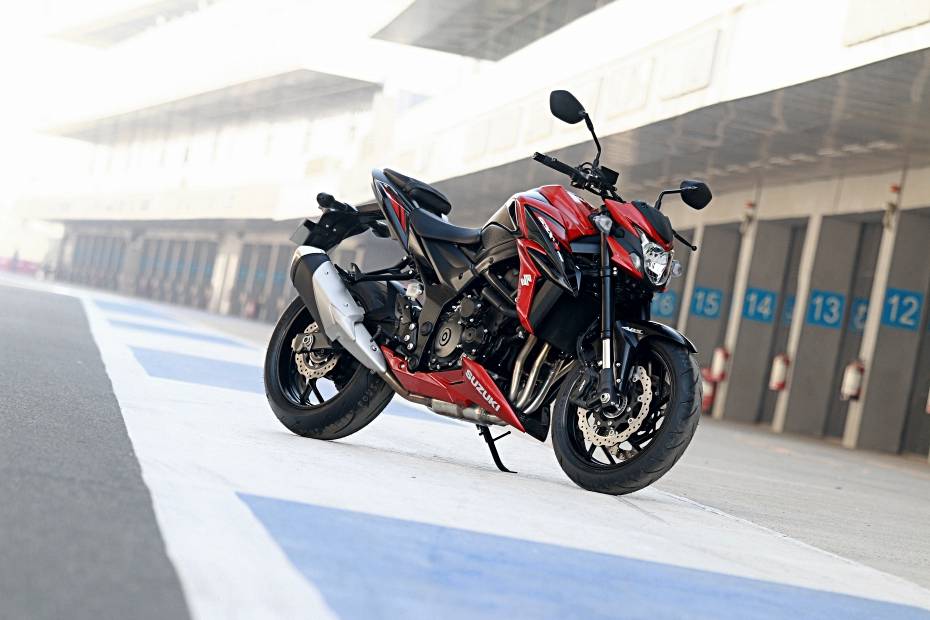 Thoughts
Suzuki's GSX-S750 can be summed up in one word: likeable. It has a bit of everything for everyone out for a sub-10 lakh sports naked. At Rs 7.45 lakh, it is priced less than the Kawasaki Z900 while offering more and better kit in the form of traction control, better suspension, brakes and tyres. However, it is slightly low on power compared to the Kawasaki and also weighs 5 kilos more. How much of a difference this makes in the real world asks for a head-to-head test, which we plan to do in the near future. As for the GSX-S750, it has a sweet, linear motor that will not have a rookie rider scared witless while having just enough grunt to put a smile on the face of a seasoned rider. If you are looking for a large capacity but friendly sports naked, something you could hone your skills on yet not get easily bored with, and are a sucker for sweet sounding inline-fours, the Suzuki GSX-S750 is definitely worth a dekho.