The pros: Unisex scooter, excellent ergonomics, highly stable and vibe free and easy to ride and maneuver.

The cons: Tyres deserve better rubber quality.

The crux: Overall, performance, durability and fuel economy are the factors that make a product successful and the Jupiter has all of these, it is more advanced than the Activa.
Rating


If you ask which one is the most popular automatic scooter in India, Honda Activa would be the obvious answer. But Honda cannot be credited in brining the culture of automatic scooters in India, as it was the Chennai based company TVS Motors who actually brought in this concept into the country. The home grown company launched the TVS Scooty in 1994, which presented the scooters in a unique positioning in India. However, in recent years Honda has become the segment leader due to popularity of its Activa and despite having products like Wego and Scooty, TVS failed to garner enough numbers. Now, to make its place stronger in the market, TVS has launched the Jupiter, a unisex scooter, which will compete against the segment leader Activa. As being marketed the Jupiter comes with many features, which are missing on the Activa as it is also being offered on a relatively lower price, therefore it looks like a worthy affair. Is that enough? No, because, an average Indian buyer seeks for performance, durability and fuel economy. So, when we recently got an opportunity to ride the Jupiter, we tested it on all these above mentioned aspects. Read on to see what we found during our comprehensive ride.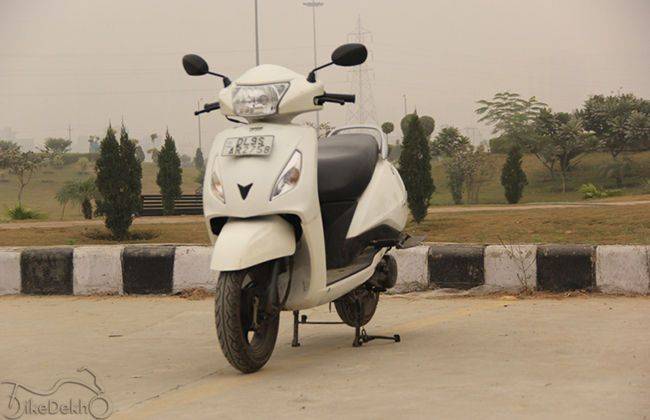 Styling –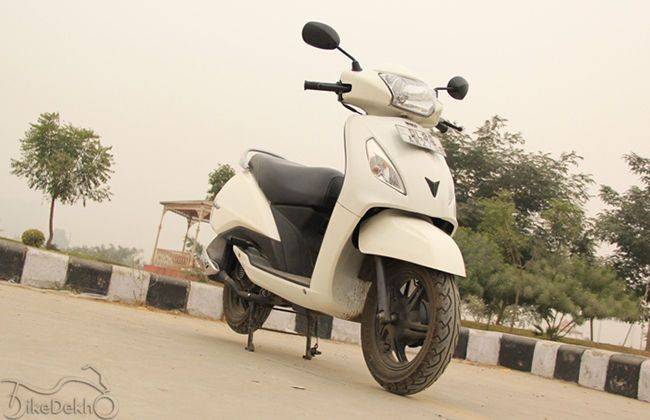 TVS played well with the Jupiter and cleverly make the basic silhouette close to the Activa. So, if you are seeing it from the front it resembles Activa. Now, the question arises why, one of the best thing associate with the Activa is its universal and unisex appeal, which has set a trademark. So, Jupiter also attracts almost everyone, who wants to own a scooter. But if you get into detailing the two scooters are very different in terms of design and styling. The wide and clear headlight with two pilot lamps make it look mature, while the turn indicator fitted within the apron make it sportier. The side profile looks muscular thanks to the big side panels with prominent scoops on them. Coming to the rear, the tail lights are smaller and edgier, and it features LEDs in the stop lamp as well.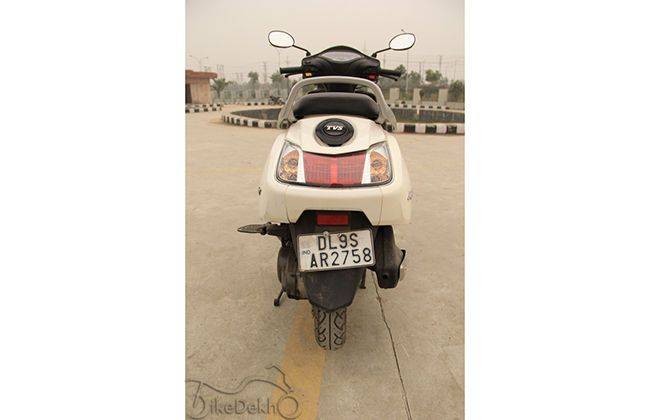 TVS has done a good job this time, elements like the huge 3D logo (Jupiter), fake air vent in the front, pilot lamps add to its styling. The scooter comes with black alloy wheels which look sportier and upmarket. However, I didn't like the exhaust canister, which is a boxy unit; however it fits inside neatly, aiding to mass centralization. The paint quality is not that great and could be better; the same goes with the fit and finish. However, keeping its price in mind the scooter is very good.
Instrument Cluster and Switch Gear –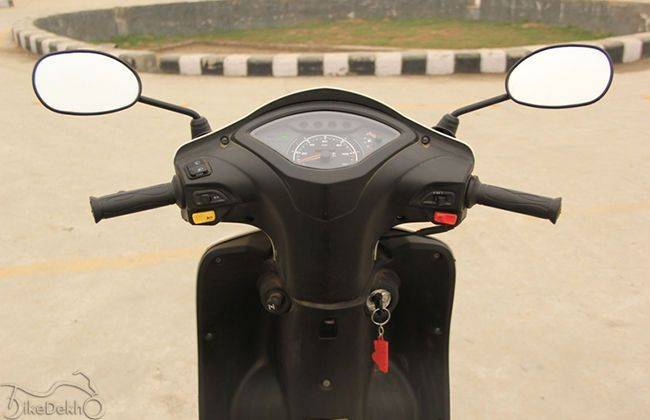 Like most of the scooters, Jupiter also features a simple and sorted out instrument cluster. The large console comprises of a speedo and odometer meter, fuel gauge and a unique Power-ECO indicator. The Power-Eco indicator helps in indicating whether one is riding economically or not. It was fun trying to get that Eco light on and keep it glowing. The console is completely different when compared with the Wego and other TVS scooters. It comes with typical scooter switch gear but there is a nice addition which is the pass button, which is integrated with the high beam button. Palm grips are soft and provide with a good hold.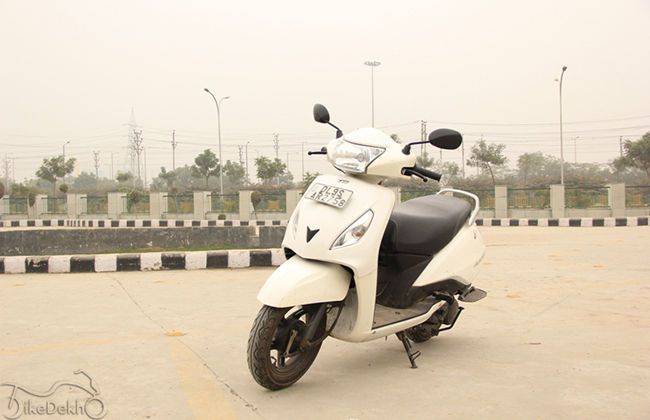 If you ask me what I most like about the Jupiter scooter, I would say it has best of the ergonomics which makes its ride very comfortable and easy. Each and every detail has been taken into account that ultimately reflects the way it helps its rider.  It comes with an upright sitting position, with your arms stretched while the rubbery floor provides enough space for your legs. I am almost 6 feet tall and it was very easy for me to ride this scooter. It comes with 17 litres of under seat storage, which is good enough. There is a hook which has been provided in front to hang your shopping bags. I liked the fuel lid, which has been provided at rear, so you can open it without getting off the scooter. You can open it from the same lock, which is given for the under seat storage. The rearview mirrors are positioned well. I also like the wide and long seat with white stitching and high quality cushioning. The well designed alloy grab rail is also good and gives a good and relaxed grip.
Engine and Performance –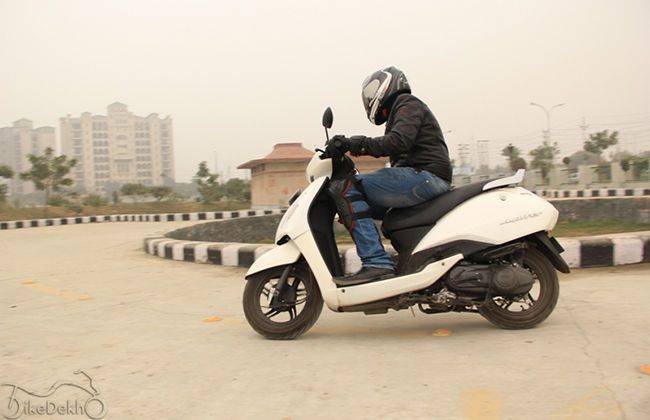 A 109.7cc, four-stroke, single-cylinder and air-cooled engine powers the Jupiter, which is almost same to that of the Wego. Why almost same because despite both the engines feature the same layout, an array of changes have been introduced to the Jupiter's mill. Starting from re-mapped ignition, higher compression ratio and increased spark plug gap, all give Jupiter a different state of tuning and quicker warm-up and cold starting. The revised ignition timing also improves the combustion and inclusion of a relatively slippery, friction cutting piston for improved wear character during cold starts. Bore and stroke still read 53.5mm x 48.8mm, which is the same as the Wego. Power reading for the Jupiter is 8bhp at 7500rpm, with a peak torque figure of 8.1Nm at 5500rpm. The changes that have been made to the compression ratios gives a strong mid range that adds to its character as a commuter. Throttle response is crisp, but the low end grunt is adequate for this scooter. It features a variomatic drive transmission system that works brilliantly and is in sync with the engine.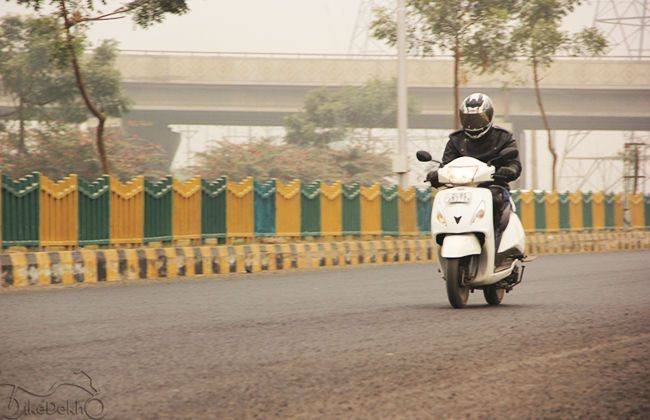 I was riding this scooter for almost a week in Delhi and using it for commuting in between Delhi and Noida. So, I got the chance to test it on both busy streets and wide open roads and the scooter proved itself in both conditions. I liked how it accelerated towards the high speed of 85kmph, the scooter is highly stable and vibe free even on high speeds, and it doesn't sound stressed like the Activa when pushing it hard. I enjoyed riding it and the way it pulls when you need to cover those small gaps while riding through traffic. On the whole, it has all that you seek in an automatic scooter.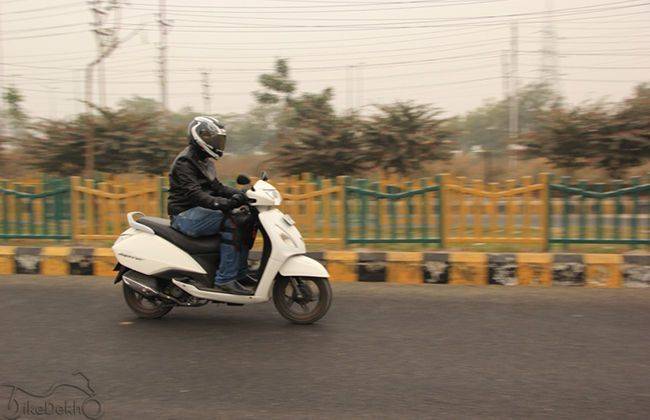 I got a fuel economy of 54kmpl on highways and 46kmpl on city roads, which gives an average fuel economy of around 50kmpl.
Riding and handling –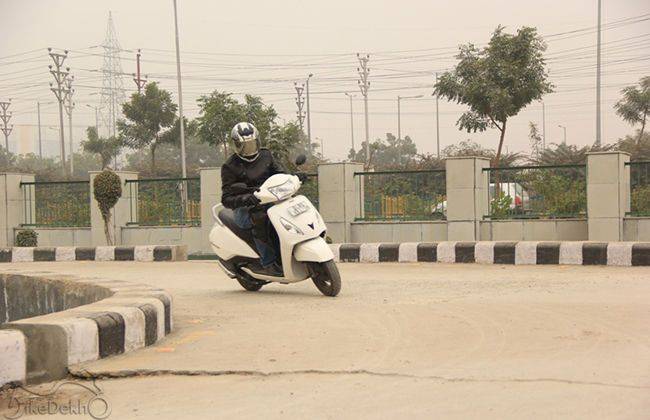 As Jupiter shares the same platform with Wego, which is one the best riding scooters available in India, its ride quality is right up there. The Jupiter has been bolted on a high rigidity underbone chassis and weighs 108kgs, which is 4kgs heavier than the Wego. The extra weight makes Jupiter more stable and improves it straight line performance. The Jupiter also gets a better set of Telescopic front forks along with gas charged shock absorber at rear, the suspension has been tuned pretty well. The dynamics and suspension of the scooter are excellent, which allows you to throw it around the corners and sweepers with utter ease.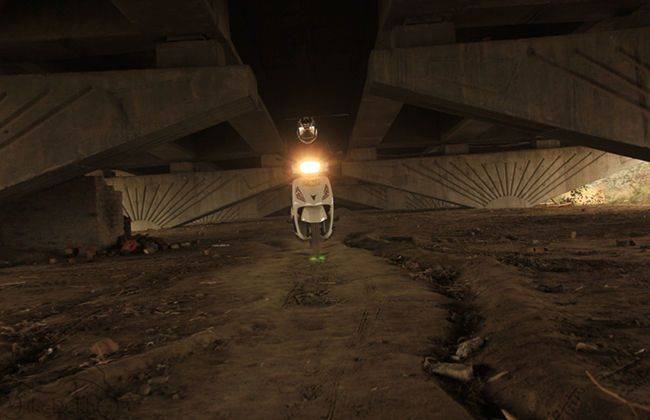 This scooter  rides on 12-inch alloy wheels, with front (90/90) and rear (90/90) tubeless TVS tyres, which gives you adequate grip, but it deserves better rubber. Jupiter allows you to sit in a very comfortable upright posture, and wide well cushioned is a plush here. Again the saddle height is 765mm, which makes it comfortable for any average Indian. As far as maneuverability is concerned, the scooter is easy to ride and maneuver. I rode it on high speeds and found that the scooter to be very stable. However, I didn't find it that impressive on broken patches courtesy its firm suspension.
Verdict –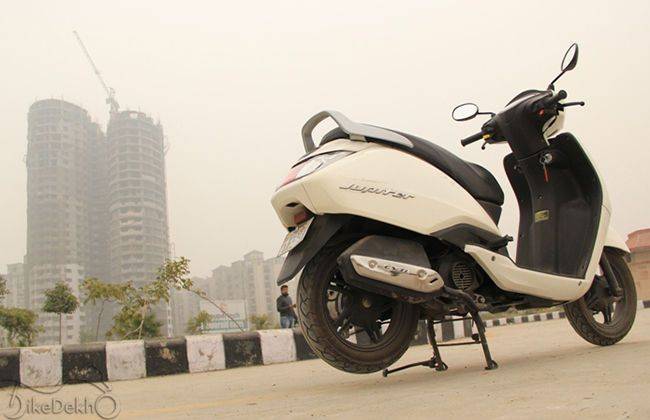 As I said above, performance, durability and fuel economy are the factors that make a product successful and the Jupiter has all of these. It has an advanced and refined engine, which performs well, better dynamics that helps it to ride well and a decent fuel economy. In short, it is more advanced than the Activa, but where it lacks is the brand image, while Activa has already proven itself as a durable scooter and Jupiter is yet to make that kind of an impact.